News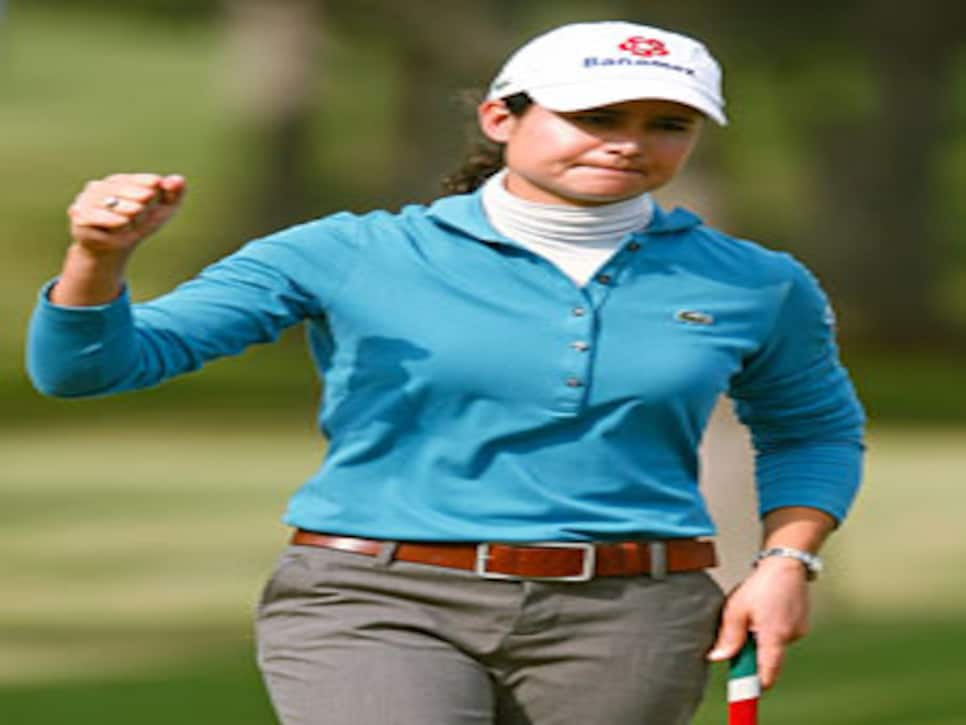 Ochoa trails Shin by eight points heading into the final event.
RICHMOND, Texas (AP) -- Michelle Wie withdrew from the season-ending LPGA Tour Championship because of a sprained left ankle Thursday, a few hours after Lorena Ochoa shot a 6-under 66 in breezy conditions to take a one-shot lead over Reilley Rankin.
The 20-year-old Wie, fresh off her first LPGA victory last week at Ochoa's tournament in Mexico, shot a 72 in the afternoon. She limped through her round on the gimpy ankle that she sprained during the Solheim Cup in August.
"I wanted to do everything I could do to fight through the injury," Wie said in a statement. "It bothered me last week in Mexico, but I was able to play through the pain. I realized today that I wouldn't be able to continue to play through it."
Wie drew the largest galleries at the Houstonian Golf and Country Club and she was 3 under through 12 holes. Her ankle gave way on the 13th tee, and she stumbled backward, sliced her tee shot into the rough and took her first bogey.
She bent over in apparent pain on No. 14 and slipped again hitting her tee shot to the par-3 17th. Wie smacked her right leg and yelled an obscenity as the ball sailed right and rolled into the water. She made a double bogey to slip back to even par.
Wie went for treatment after her round and withdrew about an hour later.
"I want to make sure that I'm being smart with it," Wie said. "I will return home to have it looked at by my doctors and follow their advice for treatment."
The first round was suspended because of darkness at 5:25 p.m., with four groups still on the course.
Ochoa teed off in the morning, before the wind picked up.
She was four shots ahead of Jiyai Shin (70) on the leaderboard, but the 21-year-old South Korean leads Ochoa by eight points in the race to become the tour's player of the year. To earn the honor for the fourth straight year, Ochoa must win this week or finish no worse than third and hope Shin places out of the top 10.
Shin and Ochoa started on the back nine and both were 2 under after three holes. Shin added birdies Nos. 13 and 15 to move to 4 under.
Both players bogeyed the difficult 17th, then picked up birdies early on their second nines. Ochoa added birdies on Nos. 6, 8 and 9, capping her round with a 15-foot putt and a modest fist pump.
"Tomorrow is a new start," Ochoa said. "I'm going to play like I'm a few shots behind and continue being aggressive and give myself chances to win on Sunday."
Ochoa is feeling more relaxed this week after dealing with the demands of playing the tournament host.
"Last week was a little bit tough in many different ways with all the things to do and all the pressure," she said. "Everything is a little bit easier, if you compare it to last week."
Shin bogeyed two of her last four holes as the wind strengthened. She is trying to sweep the rookie and player awards. Nancy Lopez is the only player to win both in the same season, accomplishing the feat in 1978.
Shin and Ochoa are also in a virtual dead heat for the Vare Trophy, given to the player with the season's lowest scoring average.
"I played 2 under, which was not bad in the wind," Shin said. "Lorena, she played really good, a 66. But we still have three more rounds. I will just focus on my game and try my best for three more days."
Rankin also teed off early and finished her 67 before the wind became a factor. The 30-year-old Rankin has missed seven cuts in 17 starts this season before matching her best round of the year on Thursday.
"It was nothing spectacular," she said. "I just tried to stay patient and not worry about how I hit it. I'm just giving myself chances and not getting too frustrated.