News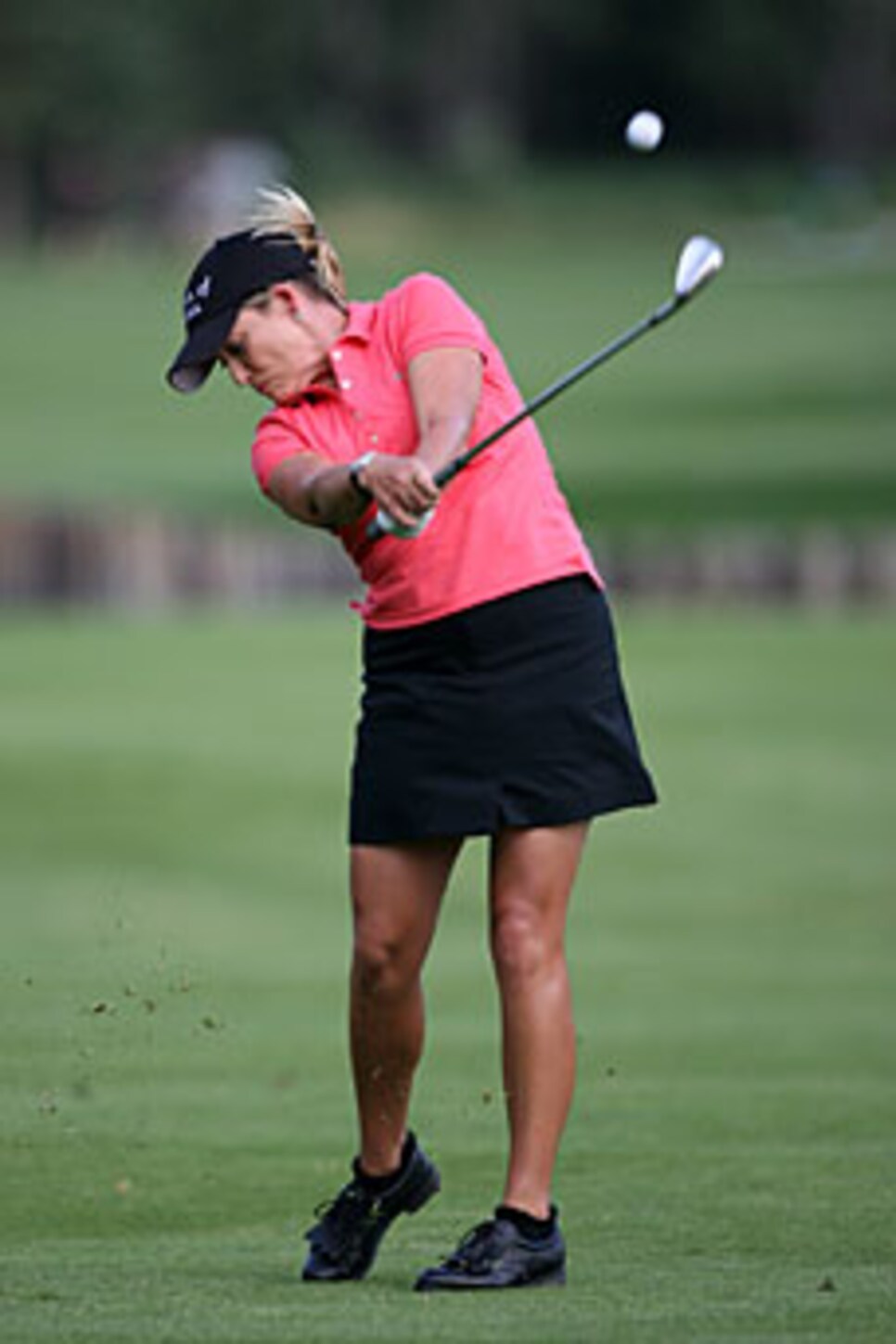 "It's a very selfish personal goal that I want to accomplish," Cristie Kerr said of a chance to become Player of the Year. "But at the same time, it's a bigger thing for women's golf and American golf to try to make it happen."
LA JOLLA, CALIF. -- It has been less a race than a dance in recent years, a waltz, with either Lorena Ochoa or Annika Sorenstam leading and everyone else following, at a substantial distance, as it were. Who said it takes two to tango?
This year has been an anomaly, the LPGA's traditional one-woman show having given way to an ensemble cast of stars -- Jiyai Shin, Cristie Kerr, Suzann Pettersen and, yes, Ochoa -- any of whom still could emerge as the LPGA's Player of the Year.
The most intriguing of them is Kerr, 31, who has evolved as a star in a career in which she herself expected that and more. Is it now her time to ascend to the top of women's golf? Or, more significantly, to help restore America's stature in the women's game?
"Player of the year and all that is very important to me," Kerr said at Torrey Pines Golf Course, site of the Samsung World Championship this week. "There are very few events left, so I know that I've got to play my very best golf that I've played this year to be able to attain that. That's kind of where I'm at. I want to do those things. I want them more than anything.
"I know how good I am. A lot of people say, well, she really doesn't know. I do know. Sometimes I get in my own way. That's why everybody loves playing this game, because you challenge yourself every day on the golf course."
Beth Daniel was the last American to win LPGA Player of the Year honors, in 1994. Once the foreign triumvirate of Karrie Webb, Annika Sorenstam and Lorena Ochoa came to power starting in 1997, it has been a competition closed to the outside world.
Indeed, the last time the Player of the Year race was even competitive was 2000, when Webb prevailed by virtue of her seven victories to Sorenstam's five. Ochoa has been the runaway Player of the Year the last three years, Sorenstam the five before that.
"I think it's huge," Kerr said regarding America's place in this race. "We have got to try to get it done. It's for American golf. It inspires all the little girls out there to play golf. It's bigger than us. It's a very selfish personal goal that I want to accomplish, but at the same time, it's a bigger thing for women's golf and American golf to try to make it happen."
Kerr once reigned over girls' golf, as the American Junior Golf Association Player of the Year in 1995. Her promise was so evident that few blanched when she took a direct route to professional golf, neglecting the familiar stepping stone of college competition.
She joined the LPGA in 1997 and quickly became a fixture, her improvement virtually linear. She has won tournaments in each of the last six years, the longest active streak on the LPGA and one matched only by Ochoa.
For most of the summer, Kerr has been the leading money winner and first in the Rolex Player of the Year standings, leads she relinquished to Shin last week when the South Korean won the P&G Beauty NW Arkansas Championship, her third victory of the season.
Kerr, meanwhile, has flirted with the kind of year that might already have sealed Player of the Year honors, which often turn on major championships. In the Kraft Nabisco Championship, she tied for second, and in the U.S. Women's Open she tied for third.
"When I won at Kingsmill (the Michelob ULTRA Open) I got to the top of the money list, but got passed and regained it for a number of weeks and just got passed again last week," she said. "I don't like to get passed. So it's going to be interesting for the end of the year."
A season is a marathon, of course, but this one will come down to a sprint, the final seven events determining its best player.
Ochoa, surprisingly, is the longshot in the group, despite having won twice. She's tied for seventh in the rankings and is 11th in money, statistics that largely can be traced directly to her impending marriage to Andres Conesa, the director general of Aeromexico.
"There are many things happening," Ochoa said. "I'm changing a little bit the things that I do outside the golf course. I'm living part-time in Mexico City. I'm trying to give a priority to my private life. I'm going to get married soon. I'm very happy on that matter. I'm trying to find myself a good balance. I'm doing OK. I'm happy. And I'm sure things will turn around soon."
Ochoa, at any rate, has provided a rare opening for others, an opportunity that won't necessarily become a pattern, particularly should Mrs. Conesa find that wedded bliss frees her mind to dominate again.