News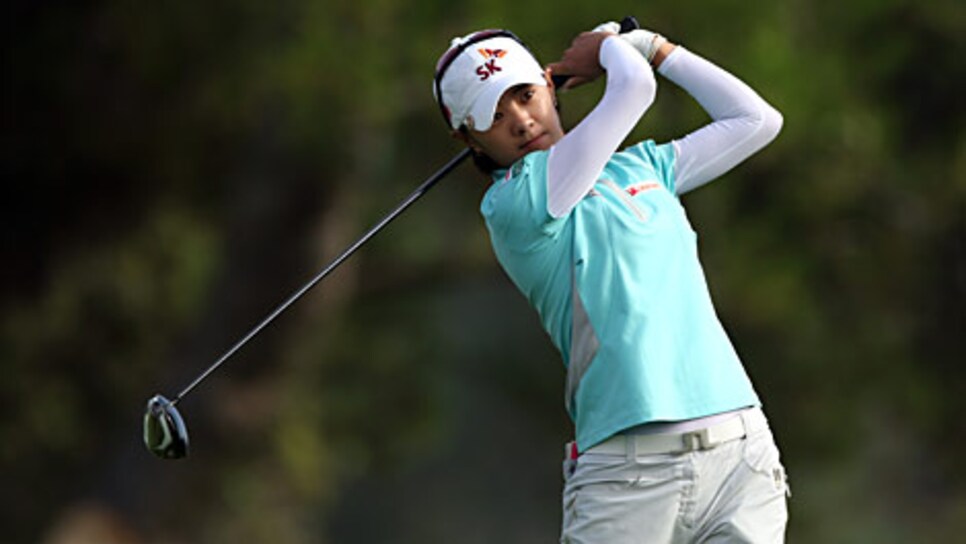 Choi has eight top 10 finishes, but is still looking for her first 2009 win.
SAN DIEGO (AP) -- All phases of Na Yeon Choi's game were clicking on Saturday and it showed in her third round at the Samsung World Championship.
The South Korean shot a career-best 9-under 63 to take a two-stroke lead over compatriot and second-round leader Jiyai Shin, who had a 68.
"I had a great round today," Choi said. "I feel almost perfect with everything. My driver was good, iron shot good, and wedge and putter good. I think perfect today."
Choi finished at 15-under 201 to tie the tournament's three-round record that Annika Sorenstam set when she won here in 2002 and 2005. Choi was a stroke from tying the tournament's single-round low set by Grace Park in 2004.
Choi has never won on the LPGA Tour, but has eight top-10 finishes this year, including a tie for ninth at the U.S. Women's Open.
After yielding 14 rounds in the 60s the first two days, the course was toughened up with faster greens and tighter pin placements on Saturday. Only Ai Miyazato of Japan (68), Shin and Choi shot in 60s. Shin and Miyazato, who played together, were amazed by Choi's score.
"That's a really solid round," Miyazato said. "Nine under, that feels like 12-under on a normal golf course. This is not a very easy golf course."
Miyazato was three strokes back in third after her third straight 68.
No. 1-ranked Lorena Ochoa of Mexico shot a 72 and was tied for fourth place with Paula Creamer, seven strokes back.
After making the turn at 30, Choi had birdies on Nos. 11-12 to get to 8 under and have a chance at a 59, the LPGA Tour record Sorenstam set in 2001 at the Standard Register PING.
"I didn't think about that," Choi said. "Actually I didn't know that after 12th hole I had made a birdie putt. I just try and reach the hole."
She stalled after that, making two pars and a bogey on the 419-yard, par-4 15th. Her approach was about 45 feet from the hole and she left her first putt 9 feet short then failed to convert the par attempt.
Choi rebounded with birdies on two of her final three holes.
"I think actually I was nervous today, but I'm just trying to talk more with the caddy and just keep trusting myself," she said. "More aggression and more confidence. Actually, I feel like I have no lows, so I'm just trying everything."
Though Shin and Choi entered the LPGA Tour about the same time, Shin has won three times while Choi is going for her first victory.
"I think that's a big thing," Shin said. "I think because I play a lot of time with Na Yeon Choi in Korea and also LPGA Tour. Because she never win at the LPGA Tour maybe she get big pressure and nervous."
Shin kept the lead until she stumbled on the back nine, bogeying two of the first three holes.
"I am nervous and feel pressure too," Shin said, "but I really like the adrenaline feel."
That will come in handy on Sunday.