News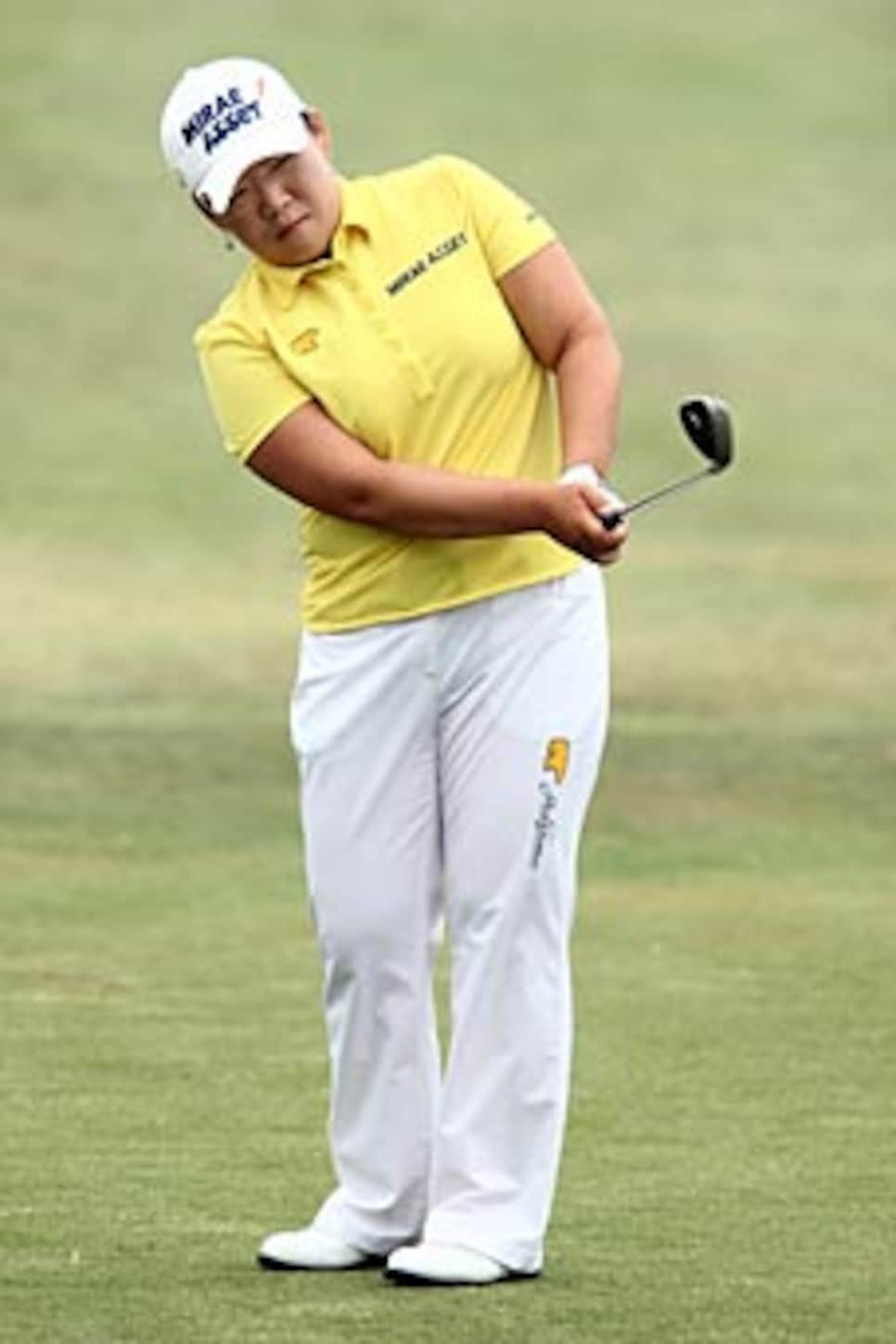 Jiyai Shin is looking for her fourth win of the season.
SAN DIEGO (AP) -- Jiyai Shin has her Saturday in San Diego all planned out. She'll try to protect her lead in the Samsung World Championship at Torrey Pines, then go hang gliding over the nearby shores of the Pacific Ocean.
Shin, of South Korea shot a 3-under 69 to take a one-shot lead over No. 1-ranked Lorena Ochoa and Ai Miyazato in the second round on Friday on the South Course.
Shin, who was tied for the lead after the opening round, has a 36-hole total of 135 atop the elite field of 20. She was 10 under for the tournament after sinking a 20-foot birdie putt on the par-5 13th, but followed with a bogey and finished with four straight pars.
She admits to being scared of heights, but was intrigued by the hang gliders that float silently over the holes that line the cliffs adjacent to the Pacific.
"Yes, I want to try," she said. "But today, a couple of holes, I saw the hang gliders. this is scary. At the course, I told my caddie, 'I want to cancel because it looks so scary.' He says, 'It's fine, try it, try it, try it.' I will try it tomorrow. Maybe it will make a good feeling for me. Fly the sky."
Shin is coming off her LPGA Tour-leading third victory of the year, at the NW Arkansas Championship.
She was a bit more erratic than during her opening-round 66.
After her bogey on 14, "my shot is up and down," she said. "So it was really tough the last few holes. But I think No. 17, 18, it was a great save, save the par, so I feel good, a little bit tired. Today was a little bit long day."
Ochoa, of Mexico, had a seesaw round of 69 that started with a bogey on No. 1 -- her first of four -- and ended with a 20-foot chip for eagle on 18. Her chip was from behind the hole, heading down toward the water.
Ochoa said she joked with her caddie that she was going to eagle 18 "just to make more of an up-and-down round, and we did, so it was kind of a funny way to finish. It really changed my position. I was really happy to make that eagle.
"It's a lot easier being as close to the leader than being a few back," she said. "I like where I am and I can't wait to be here tomorrow."
Her 7-wood approach shot bounced on the green and shot through it, settling on the second cut of rough. At first, she thought it was going to be impossible. "But when I got there, and I saw room, it wasn't in too steep, and the ball was just a couple of feet" from the green, she said. "And I thought, 'OK, we have a good chance,' and I did it."
Miyazato, of Japan, made a late charge and might have tied Shin, but her second shot on the par-5 18th splashed into the big pond that protects the green, leading to her only bogey of the day. As she stood over her third shot, the fountain in the pond -- known as Devlin's Billabong -- suddenly turned on. It was quickly turned off. She finished with a 68.
"I was like kind of laughing," she said. "I was a little bit ashamed. But it's not Sunday," she said. "I still have two days, so I think I will be all right."
Miyazato had birdied 15 and 16 before her misadventure on 18.
Torrey Pines, the site of Tiger Woods' epic win in the 2008 U.S. Open, was shrouded in light fog but the golfers once again benefited from calm conditions.
Sweden's Sophie Gustafson shot a 70 and was fourth at 137.
There was a four-way tie for fifth at 138 among defending champion Paula Creamer (69), Cristie Kerr (66), Song-Hee Kim (72) and Na Yeon Choi (67). Kim had been tied with Shin after the opening round.