News
Back In The Winner's Circle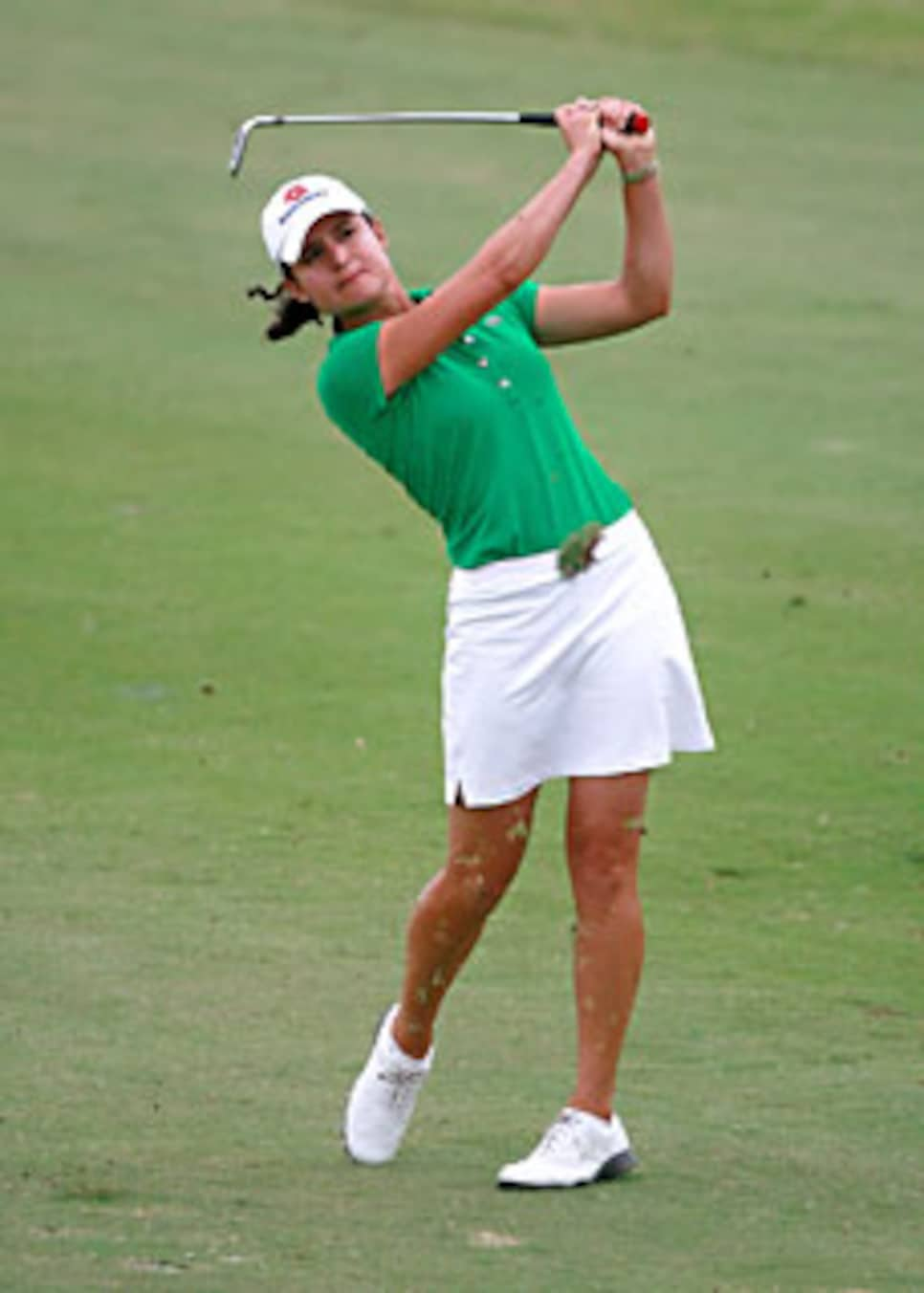 The win is Ochoa's third victory of the season, but first in her last twelve starts.
PRATTVILLE, Ala. (AP) -- Lorena Ochoa successfully defended her Navistar LPGA Classic title, overcoming early troubles to shoot a 2-under 70 on Sunday for a four-stroke victory over Michelle Wie and Brittany Lang.
Ochoa finished at 18-under 270 on The Senator course at the Robert Trent Jones Golf Trail's Capitol Hill complex to snap an 11-start winless streak dating to the Corona Championship in late April. The top-ranked Mexican star has three victories this year and 27 overall on the LPGA Tour.
"There are places where you feel comfortable and you feel a good vibe and you like the course," Ochoa said. "This has been really good for me. I feel comfortable here. I have a lot of good memories."
One more: Friends Shanti Granada from home and Marisa Baena, a Colombian LPGA Tour player, chased her around the green spraying her with cans of beer afterward.
"It feels good," said Ochoa, second behind Sophie Gustafson last week in California. "I have a lot of emotions because it hasn't been easy. I'm ready to keep playing good ball and would love the chance to finish with a few more wins."
Ochoa wiped out her three-stroke lead coming into the day with a bogey and double bogey in the first five holes, sending her drive into the trees for an unplayable ball on No. 5.
"I told myself, 'Forget it, you have many holes to play and just be patient,'" Ochoa said.
She erased any drama with a birdie on No. 17 for the third straight day. Ochoa two-putted from some 50 feet.
The conditions made for few low scores on the day.
"The wind picked up, the temperature was lower and the greens were a little harder," Ochoa said. "They were really hard. It changed the golf course."
Wie overcame a gimpy left ankle to close with a 66, while Lang had a 70 to keep pace with Ochoa. Yani Tseng (70) and Janice Moody (71) were five strokes back.
Fourteen-year-old Alexis Thompson shot her second straight 74 to tie for 27th at 6 under. She opened with rounds of 65 and 69 to share the second-round lead.
Wie sprained her left ankle about a month and a half ago, reinjured it Thursday by stepping in a hole and tweaked it again Saturday.
She had five birdies on the final nine holes, and the ankle might have actually taken some of the pressure off her.
"I'm very proud of the way I grinded out there, especially on the back nine," said Wie, who has finished second twice this year. "There were a lot of times where I felt like I had to stop and catch my breath and keep going.
"My ankle was the only thing I could think about -- one step forward, another step forward. That was all I was thinking about on the back nine. Score wasn't really a factor. I just wanted to finish."
The 14-year-old Thompson, a ninth-grader from Florida, finished with a crowd-pleasing shot to set up a 6-inch tap-in on the final hole, pumping both fists in the air as the ball rolled toward the hole.
"That was a pretty good shot to end it on," said Thompson, who was part of a five-way tie for the second-round lead. "That's all I wanted. I thought it was in there. I reacted like it was in the hole. That would have been nice."
Her caddie and father, Scott Thompson, said his daughter really wanted a strong finish. "She was like, 'I've played so bad, let me hit one good shot for all these people,'" he said.
Thompson was bombarded by autograph seekers, including plenty of girls about her age.
"It was a great experience," she said. "I wish I would have finished better. I didn't expect to do this bad. The first two days, it was pretty good. The last two days, it seemed like I hadn't hit a ball in forever."