News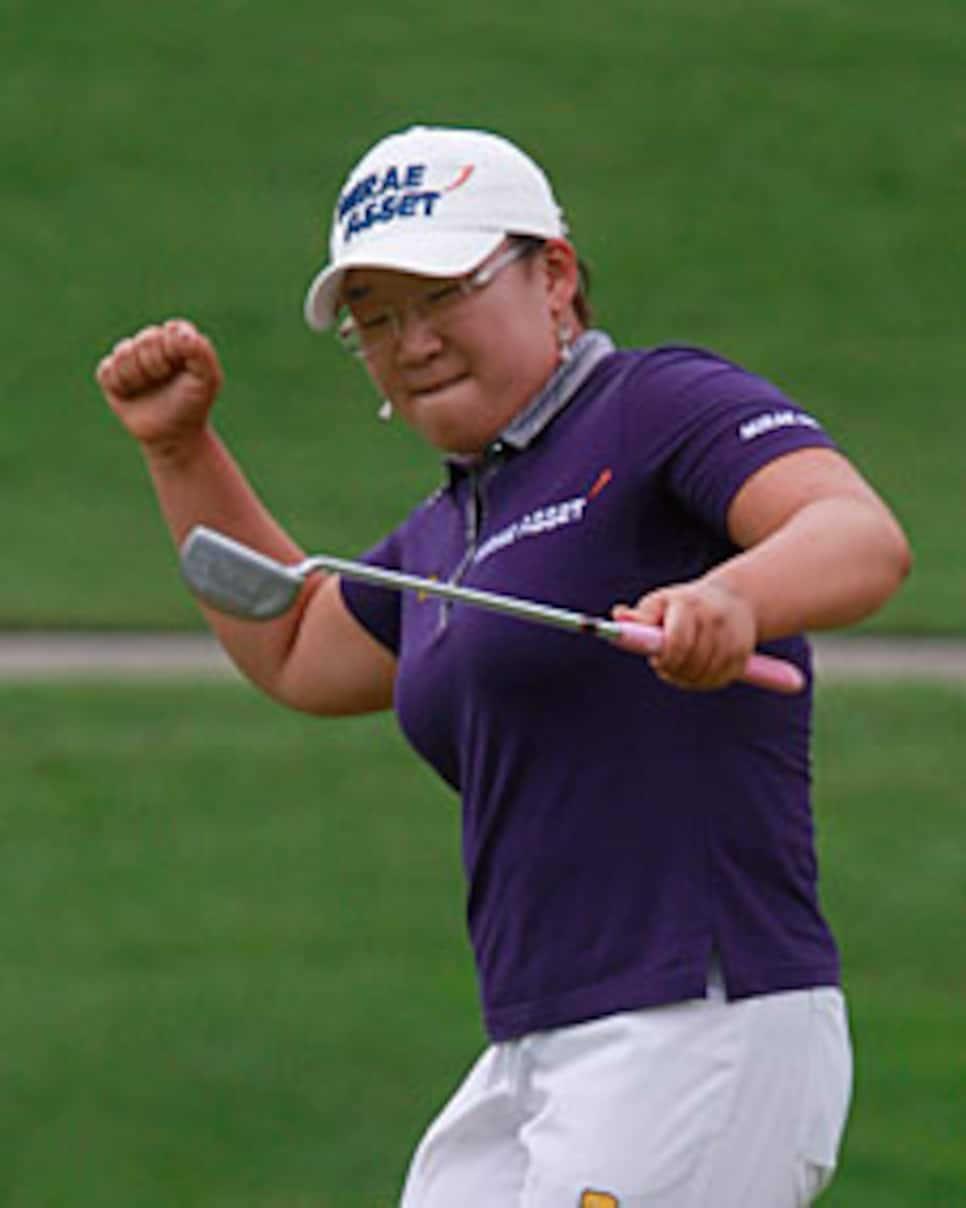 Jiyai Shin can become the first LPGA player since Nancy Lopez in 1978 to win both Player of the Year and Rookie of the Year honors in the same season.
The LPGA just might have found the dominant player it has been craving since Annika Sorenstam retired and Lorena Ochoa retreated. With her playoff win Sunday in the P&G Beauty NW Arkansas Championship, Jiyai Shin has captured six of her last 24 LPGA events, including her initial tour win at last year's Ricoh Women's British Open before she was a tour member. Shin is now No. 2 in the Rolex Rankings with her sights set on Ochoa, and Ochoa better watch out.
It's easy to overlook Shin for a lot of reasons, one being she is only 5-foot-1 and hides her shy smile behind nondescript wire-rim glasses. Another is that in a world of flashy sports stars, the 21-year-old Shin quietly and methodically goes about the business of driving the ball in the fairway, hitting it on the green and getting it in the hole.
In fact, except for distance off the tee -- she is No. 91 on tour at 248 yards per drive -- Shin is a lot like Sorenstam, who dominated the tour for more than a decade. She is second in driving accuracy (82.5 percent), sixth in greens in regulation (72.5 percent) and T-4 in putts per GIR (1.76).
With her victory at the P&G, Shin pretty much locked up the Rolex Rookie of the Year race, nearly doubling Michelle Wie's point total. She also moved into first place on the money list and in Player of the Year points. No Korean has ever topped the LPGA season-ending money list -- not even Se Ri Pak -- and no Korean has been Player of the Year, although six have been Rookie of the Year beginning with Pak in 1998.
If Shin should win both top player and top rookie honors she would join Nancy Lopez as the only ones to pull off that impressive double. Her three victories this year are the most on tour, with Ochoa's two wins making her the only other multiple winner. But Ochoa has not won since April and, with her wedding looming in December, seems to have her mind on things other than golf.
Shin is a member of the remarkably impressive class of 1988, a group of players born in Korea that year who, as 10–year-olds, watched on TV as Pak won the 1998 U.S. Women's Open and then decided they also wanted to play professional golf. Among the babies of '88 are 2008 U.S. Women's Open champion Inbee Park, this year's U.S. Open winner Eun-Hee Ji and LPGA members In-Kyung Kim, Song-Hee Kim, Na On Min, Ji Young Oh and Angela Park.
But Shin stands out from the pack in many ways. Her six LPGA wins (three as a member) mean only Pak with 24 and Mi Hyun Kim with eight have more than her among the dozens of Koreans who have played the LPGA. And, at her tender age, Shin already has a reputation for final-round flair that earned her the nickname "finals queen" in her homeland, where she has won two dozen professional events. LPGA players have hung another nickname on Shin: "Chalk line," because of how straight she hits it.
Shin first displayed her ability to close at last year's Women's British Open when she shot 33 on the front nine Sunday and then put the tournament way with birdies at 10, 13 and 14 on her way to a 66 that made her the first non-LPGA member to win a major championship since Laura Davies took the 1987 U.S. Women's Open. Shin amplified on that reputation at the P&G Beauty, coming from seven strokes down with a 64 in the final round and then making birdies on both sudden-death holes to get the win.
Some might say another thing standing in the way of stardom for Shin is her ancestry. She is one of 47 Koreans on the LPGA. But Pak proved a decade ago fans will flock to a player when they establish star credentials. The more times a player wins, the more opportunities the fans have to get to know their backstory, and to develop an emotional attachment to the player.
And Shin has an amazing backstory. In 2003, while hitting balls on the practice range when she was 15, Shin was told her mother, brother and sister had been injured in a terrible car crash. Her mother, Song Suk Na, died, and her two siblings were hospitalized for almost a year. Many of those nights saw Jiyai sleeping in a chair next to their hospital beds.
"I never won a tournament when my mother was alive," Shin says. Then, playing for a higher cause, she won four amateur events in 2004 and seven in 2005, before turning pro at the end of that year. She then won four KLPGA events in 2006, nine in 2007 and seven in 2008.
Shin is an intelligent woman with a playful sense of humor and passions that extend beyond golf. She loves to sing and has recorded a CD sold in her homeland. She also understands the work needed to become an international star. Shin needed an interpreter when she won the 2008 Women's British Open but was able to conduct the media session on her own when she won the ADT Championship just four months later. And Japanese journalists say she is fluent in their language as well.
In an odd irony, almost exactly one year after the LPGA's short-lived effort to impose an English proficiency test on its members, it could be that the next best thing on tour is going to emerge from Korea. Shin seems to have it all on the course, and the public is becoming aware that she has it off the course as well. A few more wins and she'll no longer be golf's best-kept secret.