News
Gustafson Remains In Front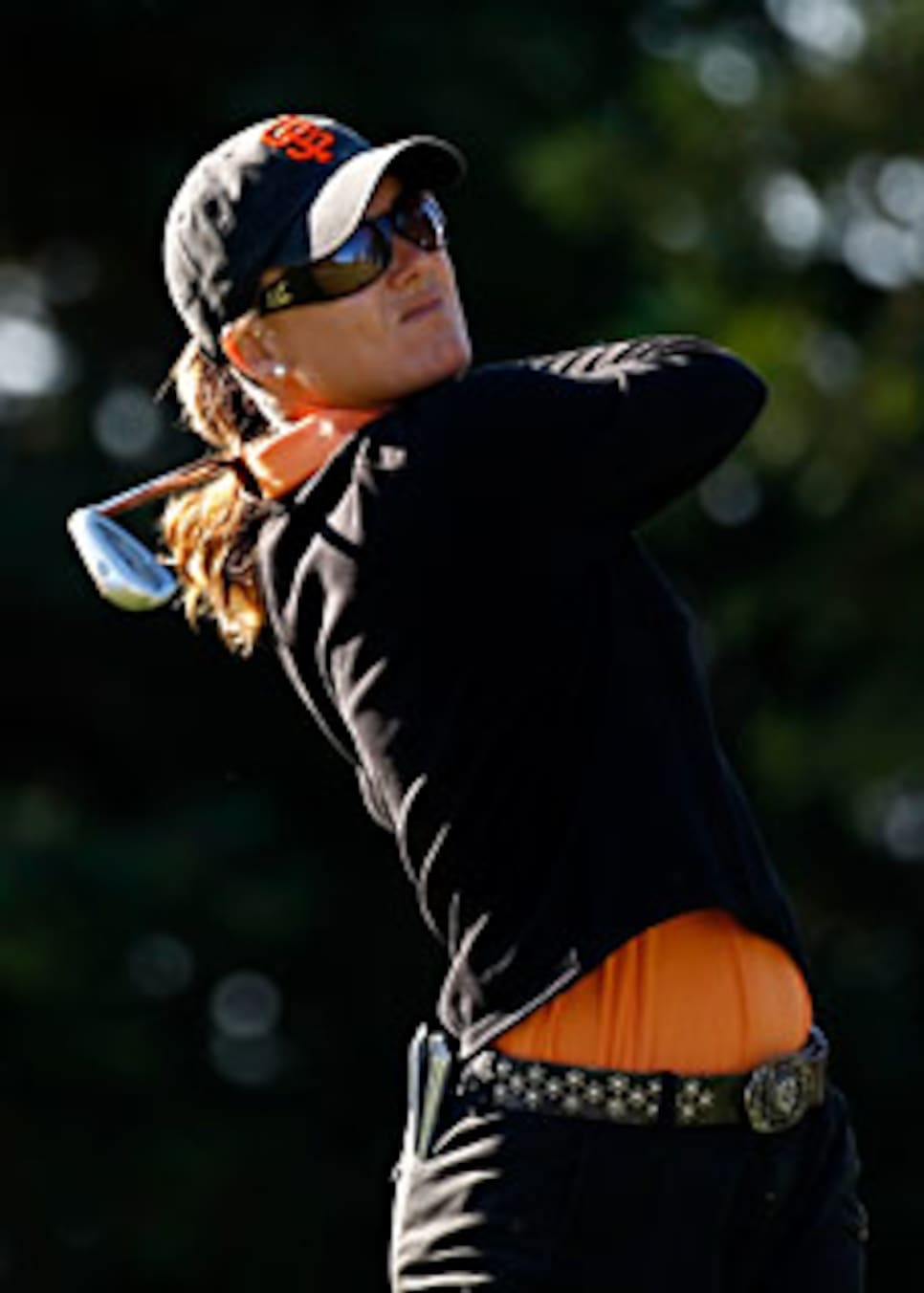 Gustafson is halfway ending a six-year winless streak
DANVILLE, Calif. (AP) -- Sophie Gustafson's powerful swing gives her an advantage over most of her peers. It's her putter that keeps bringing the Swede back to the pack.
Gustafson missed three eagle putts and struggled with her touch on the greens Friday, but managed a 3-under 69 to take a one-stroke lead at 10-under 134 after two rounds in the CVS/pharmacy LPGA Challenge.
"The putting is not good," Gustafson said. "It was pretty much the same as it was yesterday, but I'm playing good so that helps."
Gustafson, who opened with a 65, was a stroke ahead of top-ranked Lorena Ochoa (67), Maria Hjorth (66) and Shanshan Feng (67).
Sixth on the tour in average driving distance this year, Gustafson played well off the tees but was bogged down by her putter for a second straight day.
Sporting a San Francisco Giants polo shirt and hat as part of her sponsorship from Major League Baseball, she drove the green on No. 6, a downhill 318-yard hole, but left her eagle attempt 3 feet short and settled for par.
Then on the par-5 ninth, Gustafson reached the green in two, but missed again on her eagle putt, taking a birdie to move to 10 under.
A bogey on No. 13 dropped Gustafson back into a three-way tie for the lead with Ochoa and Hjorth. Gustafson missed another eagle try on No. 17 after coming within two inches of the green with her drive. Her birdie broke the tie and left her with sole possession of the lead for the second straight round.
"On this course there are two par 4s that are reachable, and that's not normal, so that's an advantage for me," Gustafson said. "I feel good about my shots. I'm going to go and work on my putting now."
Jiyai Shin, who leads the player of the year and rookie of the year points races and also tops the money list, withdrew after five holes. The South Korean, who shot a 72 in the first round, was ill earlier this week and carried an umbrella with her on Friday when temperatures at Blackhawk were in the 90s. She pulled out after bogeying the second and fifth holes.
Sun Young Yoo had the day's best round and matched the tournament record with a 64 to move within three shots of Gustafson at 7-under 137. Angela Stanford (70), Suzann Pettersen (68) and Joo Mi Kim (68) also were 7 under.
Paula Creamer and Vicky Hurst shot 67s to move into a tie for ninth at 6 under.
Cassie Cathrea, the 13-year-old qualifier who made a hole-in-one Thursday, had a 75 and finished at 5 over to miss the cut. Helen Alfredsson, the 2003 winner, started the day two shots behind the leader, but couldn't keep up and had a 78 and also missed the cut.
Hjorth, seeking her first win since 2007, was 3 under after the first round but made three birdies and an eagle over her final five holes Thursday to pull within one shot of the lead.
"The greens are firming up a little bit ad I prefer when the greens are a little bit more firmer," said Hjorth, who had seven birdies to help offset three bogeys. "When they are harder I can hit it a little more straight."
Ochoa started her round on the back nine and had an eagle and two birdies in her first five holes to quickly move eight under par but she bogeyed No. 1 before closing with birdies on Nos. 7 and 9.
"I made two mistakes, especially on the par 5s," Ochoa said. "But I can't complain about a 5-under par so I just hope I can be in a good position for the weekend."