News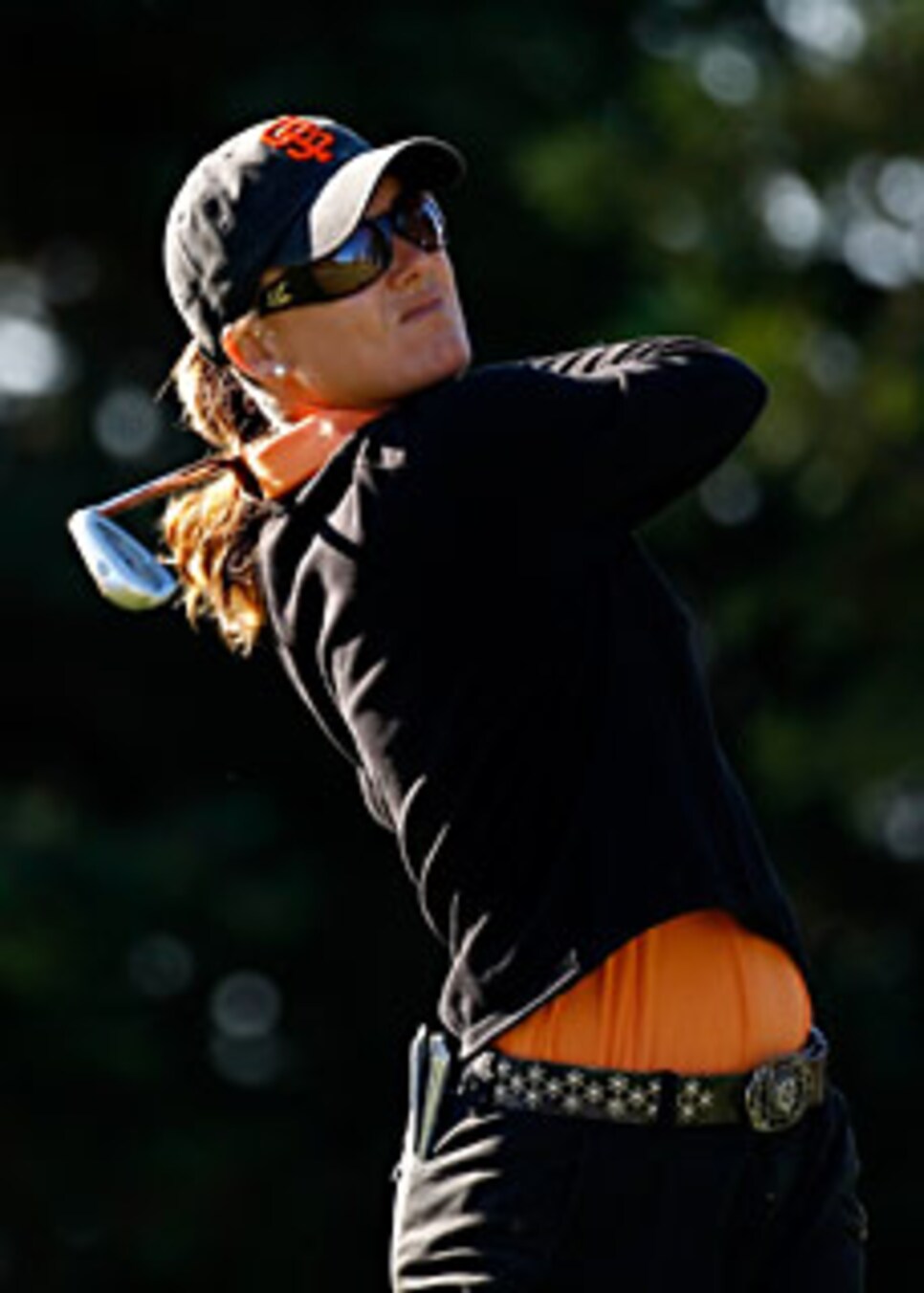 Gustafson's eight opening-round birdies have her on track to break a six-year winless streak.
DANVILLE, Calif. (AP) -- Sophie Gustafson is on a bit of a roll, one that's been long overdue.
Gustafson, the long-hitting Swede who won the last of her four career LPGA Tour victories in 2003, shot a 7-under 65 on Thursday to take a two-stroke lead after the first round of the CVS/pharmacy LPGA Challenge.
Gustafson had eight birdies and a bogey on the Blackhawk Country Club course, continuing her recent streak of solid performances that include three top-10 finishes in her previous five tournaments.
"You never know what can happen, but it's always nice to have that bit of history," Gustafson said. "I have good confidence now. It is never enough, though."
Sophia Sheridan, playing in her third tour event of the year, matched Angela Stanford and Na Ri Kim at 67. Top-ranked Lorena Ochoa had five straight birdies in a 68 that left her three strokes back along with 2006 winner Karrie Webb, Shanshan Feng, Kyeong Bae and Mikaela Parmlid.
Jiyai Shin opened with a 72. She has a tour-high three victories, leads the player of the year and rookie of the year points races and also tops the money list.
Defending champion In-Kyung Kim struggled to a 73.
Ochoa was in the middle of the pack before the string of five consecutive birdies pushed her near the top of the leaderboard. She came up a foot short of an eagle on the par-5 No. 11 then ran her birdie attempt on No. 13 just left of the cup, then had a bogey on No. 14 to drop four strokes back.
"It was a good day," Ochoa said. "It is getting a lot more harder than the practice rounds. This course is one where you need to have a good strategy because if it gets a little bit windy, it (could) be tough."
Gustafson had it fairly easy all afternoon. She had four birdies over a six-hole span on the front to hit the turn at 4 under, then added another four birdies on the back nine. Only a bogey on No. 14 -- a hole that seemed to give nearly every player fits -- prevented Gustafson from extending her lead.
A member of the European Solheim Cup team, Gustafson missed the cut in four straight tournaments beginning in May and also missed the cut at the U.S. Women's Open before starting to turn her season around with a runner-up finish at the Evian Masters in late July, losing to Ai Miyazato in a one-hole playoff.
The Swede had to save par out of the sand twice Thursday and stayed out of trouble the rest of the afternoon to take the first-round lead.
Casie Cathrea, a 13-year-old playing on a sponsor exemption after winning a qualifier Monday, made a hole-in-one on the 155-yard 12th and finished with a 74.
Cathrea had a small crowd following her all afternoon and the bubbly teenager gave them something to remember with her ace on No. 12. But the high school freshman had a double bogey on No. 13 and bogeyed No. 14 to fall off the pace.
"It went OK today," Cathrea said. "I wasn't actually like hyped up until I got to the golf course and I knew I was finally here. Mostly I just really wanted to play with the Tour people and see what they do differently than I do so I could learn what they do."
Sheridan, whose previous career-low was a 70, was 2 under at the turn before making her run. She had a birdie on No. 10, eagled No. 11, then added another birdie on the par-5 No. 15th before a bogey on No. 16 left her tied for second.
Ochoa had predicted scores would be lower at Blackhawk than in past tournaments and she was right. Thirty-five players broke par and 10 were within four shots of the leader.
Webb was one of four former tournament winners within striking range. Suzann Pettersen and Helen Alfredsson were four shots back at 69, while Christina Kim had a 70. Two-time winner Juli Inkster opened with a 71, and Se Ri Pak had a 72.