News
Rookie Nordqvist Wins LPGA Major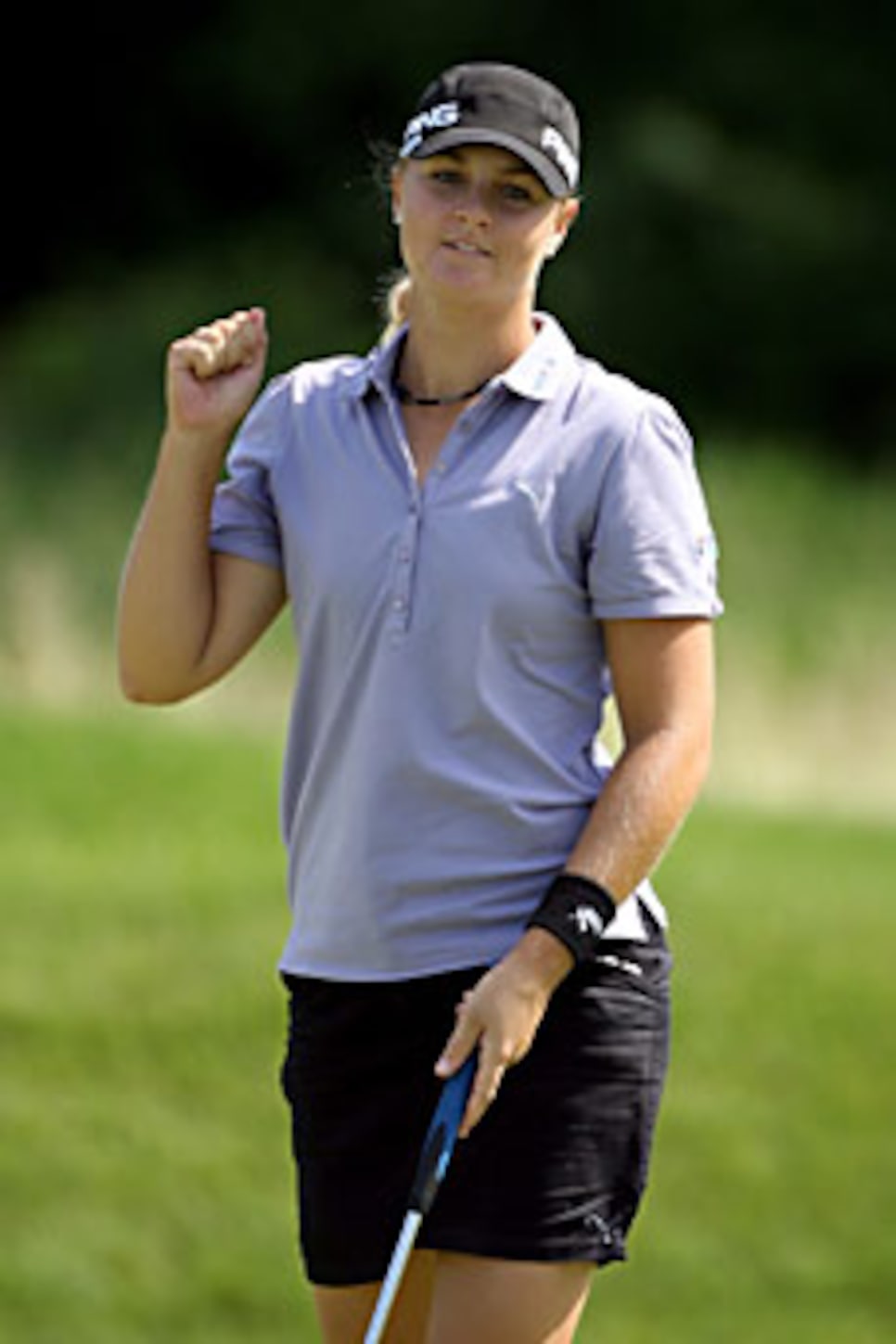 Nordqvist becomes the second rookie in a row to win a LPGA major.
HAVRE DE GRACE, Md. (AP) -- Anna Nordqvist completed a long day and a memorable week in splendid fashion, shooting a 4-under par 68 Sunday to become the second straight rookie to win the LPGA Championship.
Nordqvist finished at 15-under 273, four shots ahead of Lindsey Wright in the tournament's final stand at Bulle Rock Golf Course. The LPGA Championship will get a new sponsor and a new home in 2010.
After letting a five-shot lead dwindle to one, Nordqvist sank a 12-foot birdie putt on No. 14 and essentially clinched her first career victory with a 35-foot putt for a birdie on No. 15. When the shot dropped into the cup, the 22-year-old Swede pumped her fist with delight.
Nordqvist completed the final four holes of the suspended third round at 7:30 in the morning, then teed off as part of the final twosome shortly after 2:30 p.m. She took a two-shot lead into the fourth round, quickly increased the margin and held on to earn the $300,000 top prize.
Looking surprisingly fresh and displaying none of the jitters one might expect from a rookie playing in her first major tournament as a pro, Nordqvist birdied No. 1 and opened up a four-shot lead with an 18-foot birdie putt on 6. The gap widened to five shots when Wright bogeyed 7, but birdies by Wright on Nos. 8, 9 and 12, combined with Nordqvist's lone bogey on 13, cut the gap to one.
Nordqvist rebounded with her birdie-birdie salvo, leaving the final three holes a mere formality. A bogey by Wright on No. 17 increased her deficit to three shots, and Nordqvist used a marvelous approach to set up a 3-footer for birdie on 18.
Playing in her fifth LPGA tournament, Nordqvist celebrated her birthday Wednesday, shot a 66 on Thursday, took the lead in the second round Friday and held onto it throughout the weekend.
Her best previous finish this year was a tie for 17th in the Corona Championship.
Nordqvist's victory follows that of Yani Tseng, who won as a rookie in 2008 at Bulle Rock. Tseng tied for 23rd in this tournament.
Nordqvist said this week she patterned her game after Swedish great Annika Sorenstam. Now, like Sorenstam, Nordqvist's first win on the LPGA Tour is in a major tournament. Sorenstam broke into the win column in 1995 at the U.S. Women's Open.
Wright, who had to arrive early Sunday to finish her final three holes, shot a final-round 70. The Australian began with six straight pars, dropped back with a bogey, then birdied three of the next five holes to makes things interesting.
Jiya Shin (68) took third at 10 under; Kyeong Bae (68) was 9 under; and Angela Stanford (69), Nicole Castrale (69) and Kristy McPherson (70) tied at 8 under.