News
Nordqvist Moves Into Lead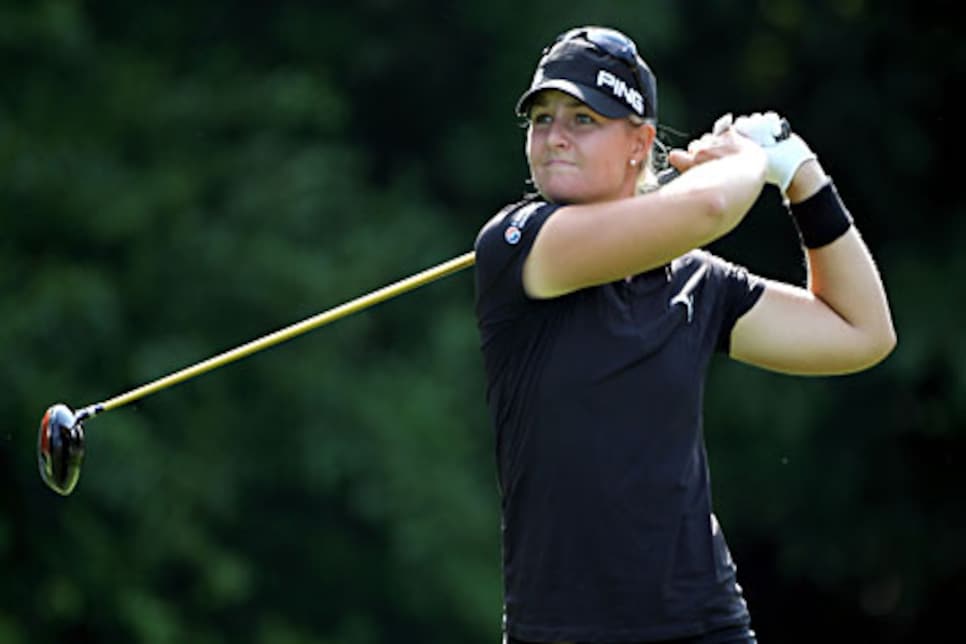 The LPGA Championship is Nordqvist's first appearance at a major as a professional.
HAVRE DE GRACE, Md. (AP) -- Anna Nordqvist made a 36-foot birdie putt on the final hole Friday to break a tie with Nicole Castrale and take the lead after two rounds of the LPGA Championship.
Nordqvist, a rookie from Sweden who played at Arizona State, began the day in second place -- one stroke behind Castrale. Starting on No. 10, Nordqvist birdied three of the first eight holes before losing momentum.
She was 2 over during a nine-hole stretch before making her 11th birdie of the tournament, on No. 9, to move to 8-under 136.
Castrale stumbled at the outset and charged to the finish while shooting a par 72.
Katherine Hull (69) and Lindsey Wright (68) were 6 under.
Playing in her first major as a professional, Nordqvist insisted that she felt no pressure on the Bulle Rock course.
"I was just trying to go out there and have fun and enjoy the day," said Nordqvist, who made the cut in the Women's British Open the last two years as an amateur. "Just a lot of patience, hit fairways, hit greens."
Birdies on Nos. 10, 15 and 17 dropped her to 9 under, and she refused to be bothered by bogeys on 18 and 4.
"I knew I was hitting it solid. I just tried to pace myself and forward to the next holes," Nordqvist said.
Starting her round on No. 10, Castrale parred the first two holes before hitting her tee shot on the par-3 12th hole into the water. She then two-putted from 20 feet.
"Obviously it wasn't an ideal start, but going into 14 I had made one bad swing," Castrale said.
She three-putted from 12 feet on No. 14 for a bogey, yet remained confident.
"I thought if I could get it back to even for the day I would be close to the lead," she said. "The course is playing tougher today; the pins were very tough and there was a little bit more wind. It's hard to get real aggressive."
On Thursday, Castrale breezed through the front nine at 6-under 30 and coasted to a 65. Her trip was decidedly different Friday, and it wasn't just the weather.
"I didn't quite have it today," she acknowledged. "But I was still able to grind it out for par under these conditions, which is good."
Hull was delighted to be in the hunt after shooting a second straight 69, but she lamented her lone bogey on No. 6.
"We were actually on the clock and I had to obviously speed up my routine a little," she said. "I didn't have a good feel on the first putt, and I left it maybe 4, 5 feet short. Then I missed the par putt."
That offset a wonderful 35-foot putt for birdie on 18, one Hull described as "a monster."
The Australian, who has one career win in six years, had no complaints about her position at the midway point of the tournament.
"I'm very happy with the way it's gone," Hull said. "I think 6-under par in any major is a good score going into the weekend."
Wright's 68 featured six birdies and two bogeys. She was tied with her former teammate at Pepperdine University, although Wright dismissed the suggestion that the two are friendly rivals.
"Not for me, because now I've got 144, 143 other Katherine Hulls I play against," Wright said. "I'm just playing against the golf course and myself."
Lorena Ochoa was five behind Nordqvist following a 69 that included four birdies and several near misses.
"I gave myself a lot of birdie chances. A few putts didn't drop, but I'm happy," said Ochoa, the third-leading money winner on the Tour. "I'm right where I want to be."
Other notables: Angela Stanford (71-141), Karrie Webb (70-142), Michelle Wie (74-144) and Paula Creamer (70-144).