News
Castrale In Familiar Spot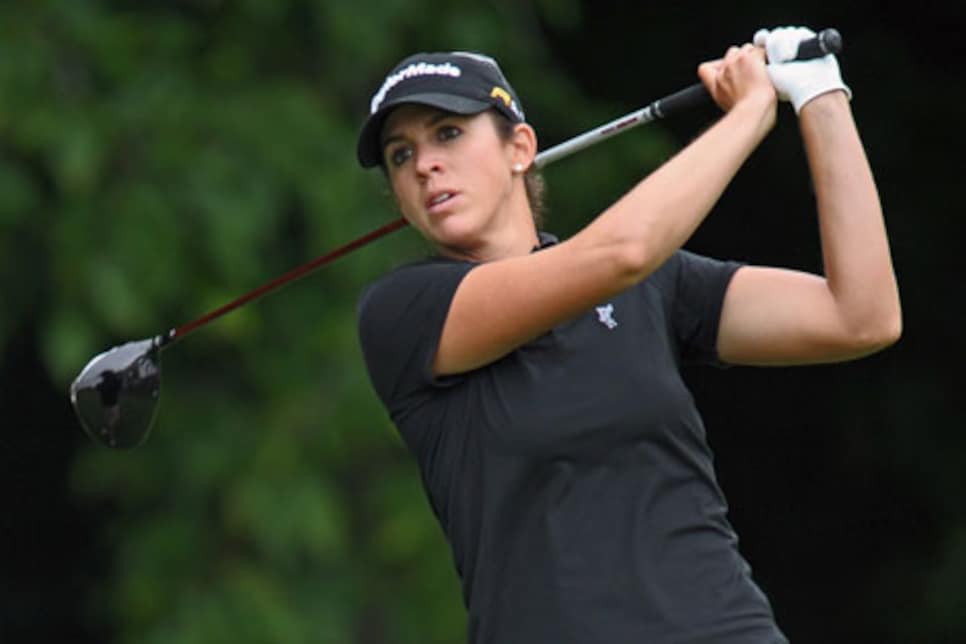 Nicole Castrale's opening 65 was one stroke better than Anna Nordqvist.
HAVRE DE GRACE, Md. (AP) -- For the second time in four years, Nicole Castrale topped the leaderboard after the first round of the LPGA Championship.
This time, if she can avoid twisting her ankle on a pesky drain, Castrale might leave Bulle Rock with a memory worth cherishing.
Castrale birdied six of the first nine holes and carded a 7-under 65 Thursday to take a one-shot lead over rookie Anna Nordqvist.
Castrale's 6-under 30 was the lowest score on the front nine at Bulle Rock since the tournament moved from DuPont Country Club in 2005. Taking advantage of a wet course that rendered the greens slow and true, Castrale played virtually flawless golf until a drive into the rough on 18 led to her only bogey of the day.
The last time Castrale had a record-setting round at Bulle Rock was in 2006, when she opened with a career-low 64. No one in tournament history shot that before at Bulle Rock, and no one has done it since.
But Castrale followed that with a 75, then stepped in a drain after leaving the fitness trailer that night. She sprained her left ankle and ended up tied for 34th.
"I walked home with my shoe in my hand and an ice bag," she recalled. "I had it taped for two or three months."
"I've walked by that drain the past three years, and now you can't get to it because the tents are on it. So that's a good thing," Castrale said.
Her memory of that tournament involves hobbling over the course for the final 36 holes, then playing in a 36-hole Open qualifier the following week.
Now Castrale has the opportunity to replace that story with a far happier one. She sank a 25-foot birdie putt on the opening hole Thursday, and that set the tone for the rest of her sensational round.
"It was good to start off well," Castrale said. "On the front nine all my iron shots were going right at the pin, and it was a great feeling."
Putts of 6, 12 and 20 feet produced birdies on Nos. 2, 5 and 6. Then, after a par, she used a pair of 3-foot birdie putts to make the turn at 30.
The back nine wasn't nearly as impressive, but birdies at 14 and 15 thrust her past Nordqvist atop the leaderboard.
Castrale has one career win in seven years on the LPGA Tour - the 2007 Ginn Tribute - and hasn't finished better than a tie for 15th this year. But she was better than everyone else Thursday, and can't wait to do it again Friday.
"My goal is to hit the fairways and greens and to keep rolling the putter well," she said. "I can't go out there and compare what I did today. I might shoot 30 on the back nine and shoot even on the front nine."
Nordqvist turned 22 on Wednesday and is playing in her fourth professional tournament. That's not the only reason why her 66 was so surprising; she also had to wake up at 4:30 a.m. for a 7:15 tee time.
Showing absolutely no signs of nervousness in her first major, Nordqvist started with a par, then birdied Nos. 2 and 5 before a shot into the bunker on 6 produced her lone bogey of the day.
Birdies putts of 3, 5 and 18 feet followed, enabling the Swede to make the turn at 4 under. Nordqvist said she "lost momentum" at that point because of slow play ahead of her, but long birdie puts on 14 and 17 and a solid par on 18 completed her best round as a pro.
"Obviously, this is where you want to be," she said, relishing the clubhouse lead. "I'm a rookie and haven't played that much this year, but I'm here to learn and have fun. There are three more days, and I really look forward to it."
Shanshan Feng of China was third at 67. Feng made her only bogey on No. 13, but moved up the leaderboard with birdies on 15 and 16.
Seven players were tied at 68, including Na Yeon Choi and Paige Mackenzie.
Michelle Wie, seeking her first win on the tour, shot a 70. Lorena Ochoa carded a 72, defending champion Yani Tseng was at 73, and Brittany Lincicome, seeking to win a second straight major, had five bogeys and a double bogey en route to a 75.