News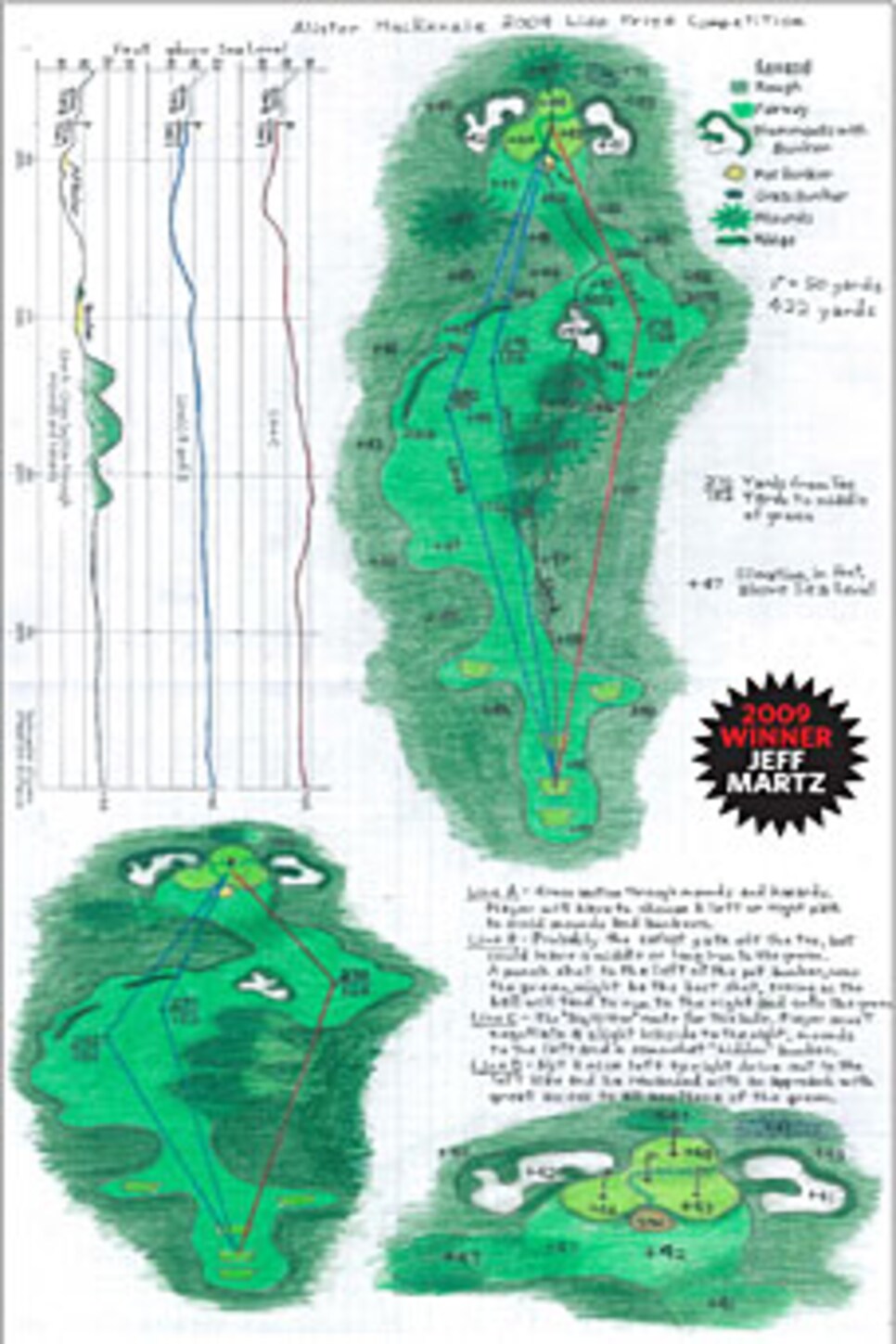 On a Friday morning in early June, Jeffrey A. Martz, a 40-year-old senior cartographer for GeoNova Publishing in Lititz, Pa., was told his position was being eliminated due to the sagging economy. After 18 years with the company, he was out of a job, a victim of technology. GPS systems are making road maps obsolete.
Although dejected, he went ahead with a weekend camping trip with his family, wife Mandie, son Cameron and daughter Hannah. When they returned Sunday night, there was a message on their answering machine. It informed Jeff he had won the 2009 Lido Prize Competition, the annual golf-hole design contest co-sponsored by Golf World and the Alister MacKenzie Society.
"That was really a shot of good news," said Martz, whose dual-fairway par 4 was selected as the best example of Alister MacKenzie architecture by course architect Robert Trent Jones Jr., who served as the contest judge this year.
Martz (no relation to Vicki Martz, a senior course designer for Arnold Palmer) received a cash prize of $3,000 and will be feted at the MacKenzie Society annual meeting next month at Crystal Downs CC in Frankfort, Mich.
Job or no job, he will attend the event. "I've never played a MacKenzie course," he said. "I can't wait."
Martz grew up near Lancaster, Pa., learned the game at a junior academy in Pinehurst, N.C., and played on his Shikellamy High School golf team. He started doodling golf holes as a kid and continued the hobby at Penn State, where he graduated with a degree in geography in 1990. He still has many of his imaginary holes stored in a large binder. He began a more serious study of course design about 10 years ago and had just finished reading Dr. MacKenzie's Golf Architecture when a friend told him about the Lido Competition. He worked and reworked his design and sent it in just a few days before the deadline. Its salient features: a gambling right-hand fairway, a generous and longer left-hand route, tall mounds separating the two, along with a half-hidden bunker, and a three-leaf clover green with lower and upper tiers.
The entries were taken to Jones' office in Palo Alto, Calif., where Jones set his ground rules. "For better or worse, I'm seeking a hole that best represents MacKenzie's philosophy," he said. "And it has to be realistic, something that could actually be built in today's economy."
So he rejected one entry that featured a jagged ocean coastline that wouldn't be accessible these days and another with a massive sculptured bunker that looked far too modern.
His first impression of Martz's entry (which, like all entries, bore no author identification) was favorable. "I like that the fairway bunker is partially blind," Jones said. "The modern school of design says that golfers should be able to see everything. Personally, I like a bit of mystery, a little ooh and ahh in a hole.
"I also like that this hole gives different skill levels different options, but all playing from basically the same tees. This hole reflects complex thoughts. It's wide yet narrow.  It's sort of a MacKenzie green, but more radical, with more options. The pin position may well dictate which fairway you play, so it's not a hole where very few would take the riskier right side fairway."
But one aspect troubled him. Martz had positioned a pot bunker directly in front of the green.
"That bunker certainly forces you to make a decision on your approach," Jones said. "But I'm a bit bothered. MacKenzie didn't design pot bunkers. Not that I know of."
So for a time, Jones shifted his attention to other entries, then one by one eliminated them. It finally came down to two designs, that of Martz and a very similar dual-fairway hole by David Hoekstra of Pella, Iowa. Jones really liked Hoekstra's design. "Simple, straightforward," he said. "Nicely rendered. There's ample fairway for a bailout to the left, and only the strong can carry it to the right. But the orientation of the green is wrong for the risk. There's no reward for taking the risk."
So he returned to Martz's entry and resolved his last doubt.
"You know," he said, "Dr. MacKenzie was a great fan of the Old Course at St. Andrews, and the Old Course has pot bunkers. I could see MacKenzie using a pot bunker in this situation."
Martz's chuckled when told that his pot bunker came close to derailing his victory.
"I like pot bunkers," he said. "One of the thrills of golf is seeing your shot carry over a nasty bunker and landing safely. I used one here because I wanted to instill a bit of fear. That's a bunker that must be avoided at all cost. So a nice shot becomes a super shot. Maybe I made it too hard. But I guess not, because it won."
And what of Bo Links? The two-time defending champion of the Lido Competition submitted a dogleg-right with a string of diagonal bunkers that must be carried from the tee. Jones was intrigued by the design, dubbed "Kookaburra," and it was one of four finalists. But he ultimately gave it thumbs down.
"This is a beautifully done drawing," he said. "It's a competent piece of architecture with an explanation that's downright poetic. But I think this one is a little oversold in its presentation."
While this was the first Lido Competition Martz had entered, this is not the first time his artwork has appeared in a national magazine. His map of then newly created Nunavut territory in Canada was published in the September 1997 issue of National Geographic.
Nunavut is north of Manitoba, a dogleg left around the Northwest Territories. Every geography major knows that.