News
Perry Wins Payne Stewart Award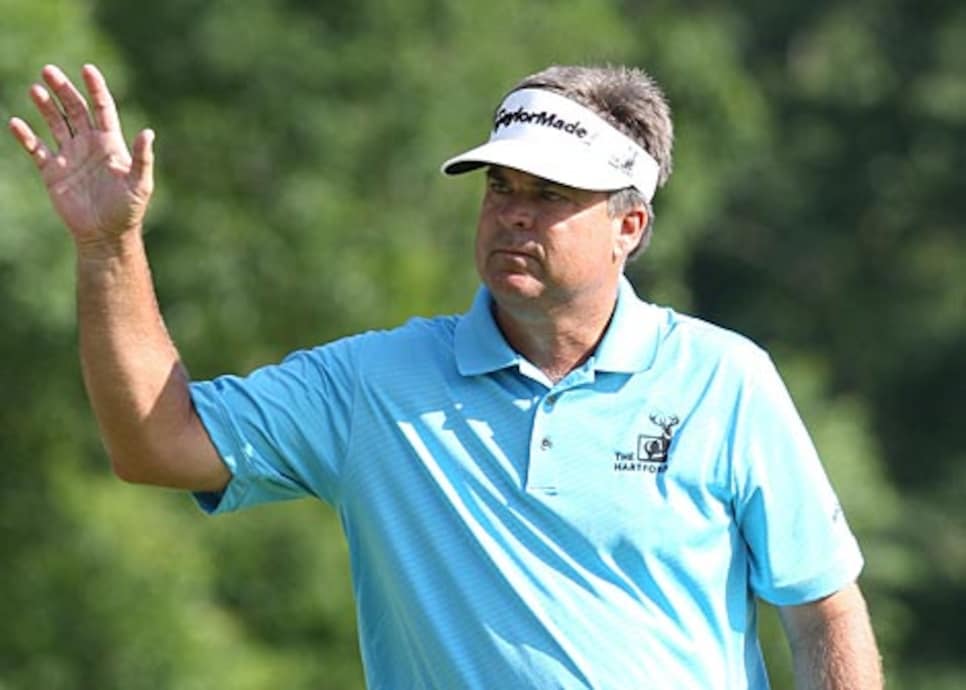 Perry, a two-time winner in 2009, will compete at The Tour Championship.
PGA Tour veteran Kenny Perry has been named the 2009 winner of the Payne Stewart Award as announced today in a press conference with PGA Tour Commissioner Tim Finchem. Perry will be honored during a private reception this evening as part of the festivities at The Tour Championship presented by Coca-Cola, the culminating event of the PGA Tour Playoffs for the FedExCup.
Celebrating its 10-year anniversary in 2009, the Payne Stewart Award is presented annually to a player sharing Stewart's respect for the traditions of the game, his commitment to uphold the game's heritage of charitable support and his professional and meticulous presentation of himself and the sport through his dress and conduct. Stewart, an 11-time winner on the PGA Tour and World Golf Hall of Fame member, died tragically the week of The Tour Championship in 1999.
"There is no greater honor for a professional golfer than to receive the Payne Stewart Award," said Perry. "Payne personified all the virtues the game of golf can teach us, so being recognized as a person who is worthy of an award created in his memory is incredibly humbling. This award is and will always be one of my greatest accomplishments."
With 14 PGA Tour titles to his credit, including two victories in 2009, Perry, 49, epitomizes the saying "good things come to those who wait." A PGA Tour member since 1986, Perry won three times in his first 14 years on the PGA Tour. However, since turning 40 in August 2000, Perry has won 11 times, highlighted by a five-victory stretch over the last 16 months. Perry's two victories in 2009 came on the heels of a career season in 2008 in which he won three times, finished 15th in the final FedExCup standings and made his second-career Ryder Cup appearance in his home state of Kentucky.
A native of Franklin, Ky., and member of the Western Kentucky University and Kentucky Golf Halls of Fame, Perry began playing the game at age 7, and giving back to the game that has been so kind to him is an important part of his life off the golf course. Winner of the 2002 Charles Bartlett Award, given to a professional golfer for his unselfish contributions to the betterment of society by the Golf Writers Association of America, Perry donates five percent of his winnings to a scholarship fund at Lipscomb University in Nashville, Tenn., for students from Simpson (KY) County.
A resident of Franklin, Ky., Perry was concerned in the mid-1990s that there was no public golf course in the community. In 1995, Perry bought 142 acres of land and borrowed more than $2.5 million to design and build Country Creek Golf Course, an affordable public facility that caters to mid-to-high handicappers.
"In celebrating the 10-year anniversary of the Payne Stewart Award, we can't imagine a more deserving recipient than Kenny Perry," said PGA Tour Commissioner Tim Finchem. "Kenny embodies all of the qualities this award represents in his character, passion for growing the game of golf and commitment to charitable giving. We are thrilled to add his name to the distinguished list of individuals who have been honored with the Payne Stewart Award."
Perry becomes the 12th recipient of the award. The inaugural Payne Stewart Award was presented in 2000 to Byron Nelson, Jack Nicklaus and Arnold Palmer. Ben Crenshaw was the 2001 recipient, followed by Nick Price (2002), Tom Watson (2003), Jay Haas (2004), Brad Faxon (2005), Gary Player (2006), Hal Sutton (2007) and Davis Love III (2009).