News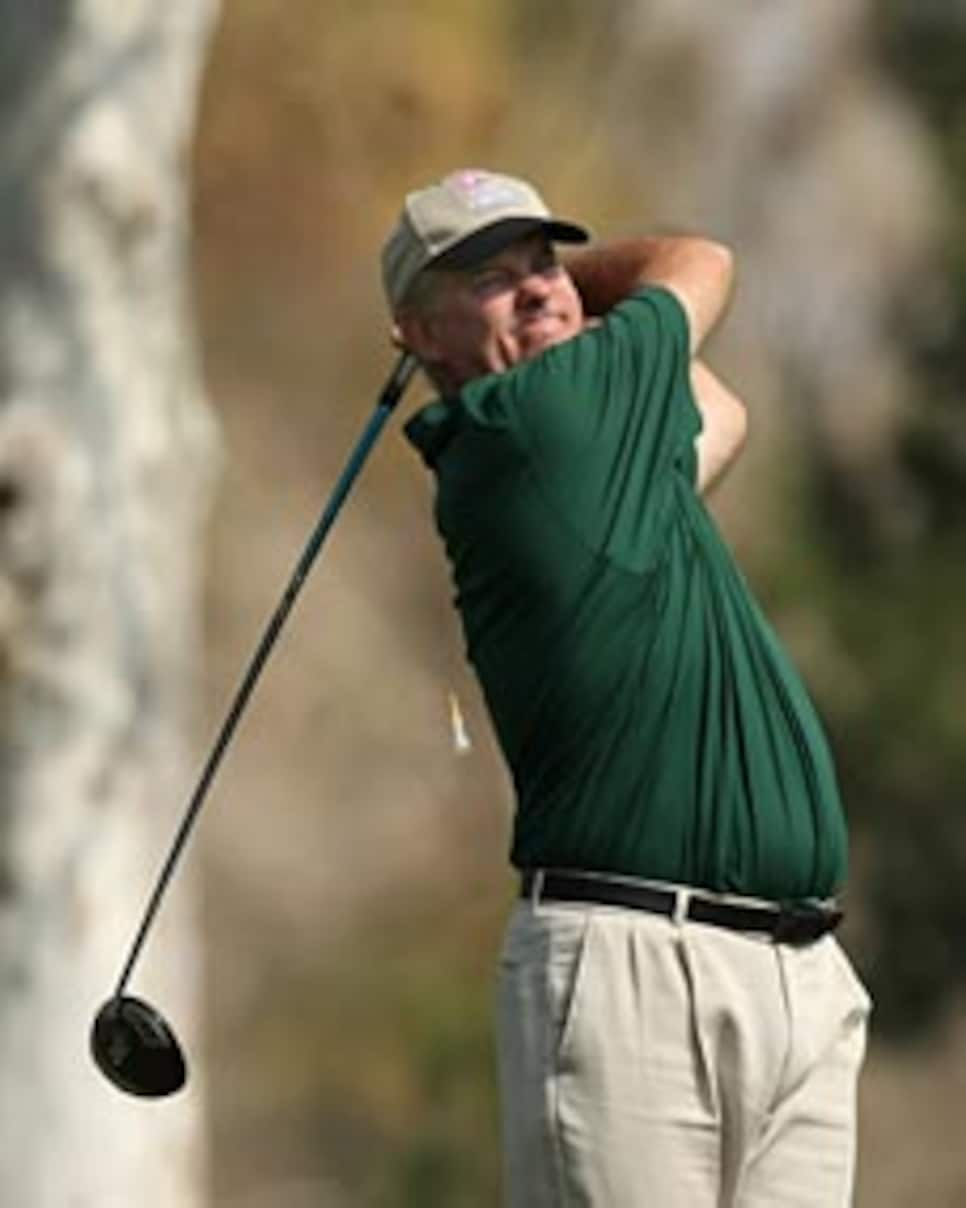 Green won five times on the PGA Tour.
DANBURY, Conn. (AP) -- Ken Green has overcome depression, financial troubles and a bad back. He doesn't plan on letting the loss of a leg keep him off the Champions Tour.
The pro golfer had his lower right leg amputated after an accident in June that killed his brother and girlfriend. He said Monday that he hopes to be back on the tour by April.
"It's probably not realistic, July might be better," Green told The Associated Press. "But I don't know, I've never done this before. The question is, can I get back to the highest level? Our level and just golf are two different worlds."
The five-time winner on the PGA Tour was in his hometown, where pros including Fred Funk, Curtis Strange, Mark Calcavecchia and Phil Blackmar played at the Ridgewood Country Club to help raise money to pay some of his medical and personal expenses. They expect the event will bring in about $150,000, and plan a similar fundraiser in Florida in November.
Green was with his brother Billy, his girlfriend Jeannie Hodgin, and his dog Nip on June 8, when the RV his brother was driving blew a tire and went off Interstate 20 near Hickory, Miss, hitting a tree.
Ken Green was the only survivor.
Green says he doesn't remember the accident, just waking up in the hospital. He said the doctors told him they might be able save his leg, but that it would never function properly.
"I told them to cut it off, because that was my only chance," he said. "I wouldn't have been able to swing properly with that leg the way it was."
Green's sister, Shelley White, has been with him since the accident. She said he has been focused on golf almost since the moment he woke up. Green, who is being fitted with a special prosthetic that includes an ankle that will pivot, had hoped to be able to play a few holes on Monday, but said the pain in his leg would not allow it.
"He has no patience," White said. "He wants everything to happen at once."
Green said this isn't the toughest thing he's ever been through. After gaining a reputation as one of the most outspoken golfers on the PGA tour, he went through a bout with depression in the 1990s, which combined with a back injury almost cost him his golf career.
He lost his Tour card in 2000, and said he made no money between 2005 and 2008, the year he turned 50 and became eligible for the Champions Tour.
He was 54th on the money list with $123,906 in 11 appearances at the time of the accident.
"When I was fighting through my depression, that, I believe was harder, because I didn't know I was in it," he said. "Whereas this one, you know what you have to tackle. You have to get your leg, then you have to go change your swing, and then you have to go start playing like a pro again."
Calcavecchia, a longtime friend, said he's among those who believe Green can make it all the way back.
"This is going to have a happy ending for sure," Calcavecchia said. "Even if he doesn't get back to the level he wants to. He just wants to play golf. And if he does reach his goal -- beating some guys on Champions Tour -- well, he knows he's going to make history if he does that."
Green acknowledges that he lost a lot in the accident, but said he's never been one to ask, "Why me?"
"Obviously, I lost three of my best friends and I think I'd be doing them a dishonor if I didn't come back from this," he said. "Just 'cause I lost a leg, you have to say, 'OK, we'll work around that.'"