News
Jordan Violates City Rule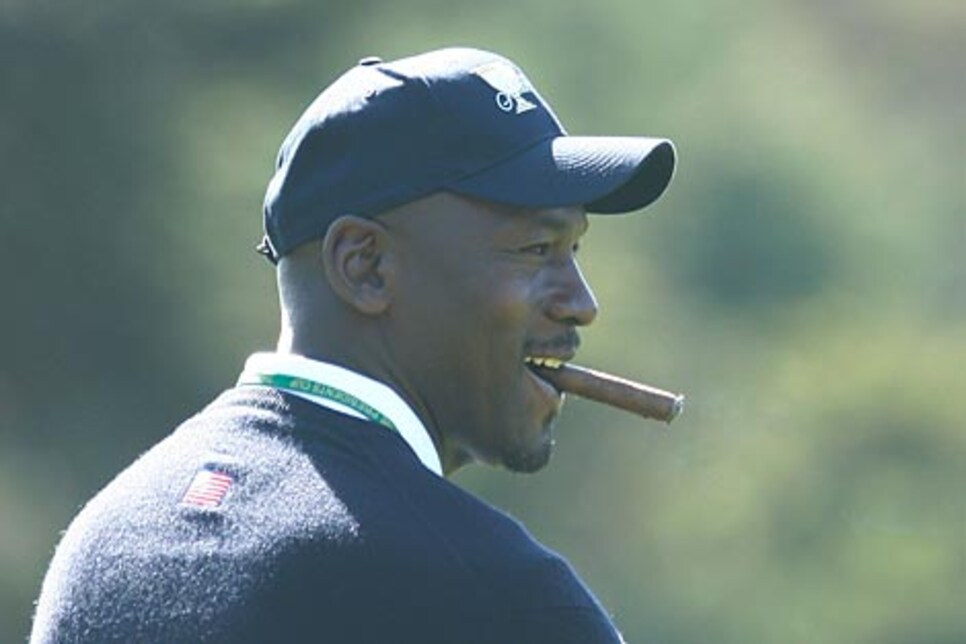 Jordan is serving as an honorary assistant for the U.S. squad.
SAN FRANCISCO (AP) -- Michael Jordan spends most of his time on the golf course these days, just not like this.
And he can't smoke his cigar.
U.S. captain Fred Couples invited Jordan to be an honorary assistant captain at the Presidents Cup, and the NBA icon even teed it up during a practice round Monday at Harding Park before the week officially got under way.
But when city officials saw a picture of Jordan in the San Francisco Chronicle toking on his stogie, they were quick to remind the PGA Tour that Harding Park is a city property and smoking is not allowed.
"You mean about Spare the Air Jordan?" Recreation and Park general manager Phil Ginsburg told the newspaper. "I've already sent off an e-mail to the PGA Tour director. It was sort of a gentle nudge reminding them that smoking is illegal, and that we would appreciate their support."
It was not clear which PGA Tour official received the e-mail. Tournament director Tom Clark was not aware of it until he picked up the newspaper Wednesday morning.
"This is a non-smoking facility," Clark said. "He probably wasn't aware of it."
The PGA Tour might have been. It has declined to make Jordan available to the media this week, except for its own Web site. Asked about his cigars during that Q&A on Monday, Jordan said the number he smokes might depend "because I heard this is a public place, so they limit what you can smoke."
"I'm not even supposed to be smoking, but this was a practice round and no one said anything," he said. "So I've been very cognizant of that to some degree."
Jordan, dressed in a team uniform as he walked with the U.S. team during practice, still had his cigar Wednesday. He simply chewed on it without lighting up.
"The tobacco usage did become a little bit of a story out there, because I saw Michael with a cigar in his mouth that was unlit," Stewart Cink said. "He's trying to set a good example for the rest of the people who see on TV what we are doing out there, just try to set a good example and try to chew his tobacco instead of smoke it."
According to the Chronicle, public golf courses were exempt from the city's smoking bans until 2006 - one year after John Daly lost in a playoff to Tiger Woods in a World Golf Championship. The Board of Supervisors narrowly voted to apply the rules equally to golf courses as other city parks.
That comes with a $100 fine.
Couples defined Jordan's role this week as walking with groups, hanging around the team room and talking to players.
"His role is to have fun with the guys," Couples said. "He's certainly not telling them how to hit a chip shot. That I can promise you."
He won't be smoking his cigars, either. At least not at Harding Park.