News
JD's Return: 'I've Had Enough Drama'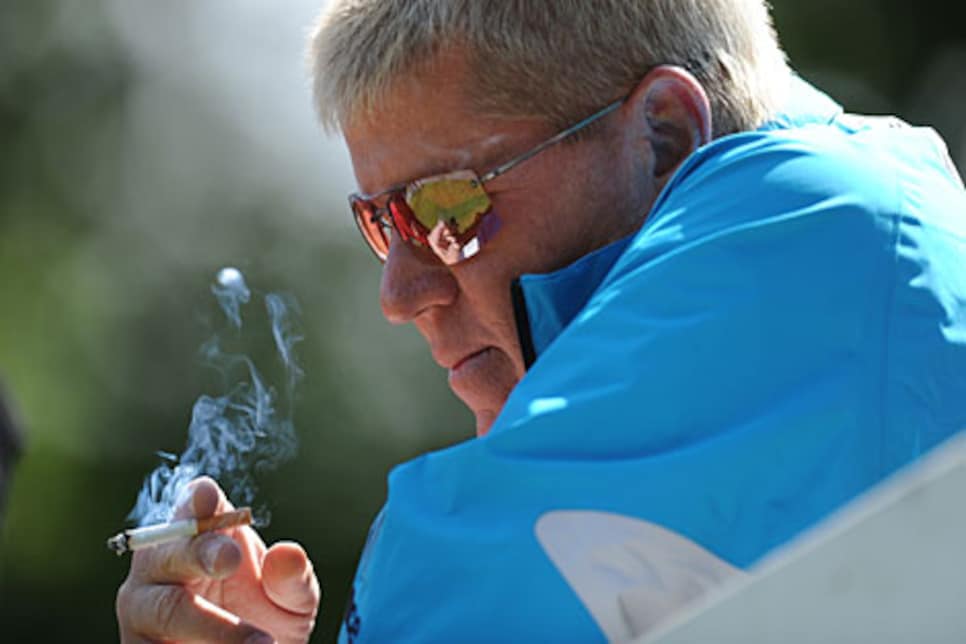 He's back, and he's smaller than ever! John Daly, with his suspension and spirits lifted, is scheduled to return to the PGA Tour via a sponsor's exemption at the St. Jude Classic in Memphis June 11.
One hesitates to categorize this as Big John's last chance because he has jumped through so many fiery hoops during his 43 years. So, let us describe it as a great chance. Various and sundry critics have branded the 2009 golf season as "flat," especially when Tiger Woods is absent from an event. Now, Phil Mickelson has an uncertain schedule while wife Amy battles breast cancer. Thus, any Daly sighting is likely to generate interest, particularly if his name appears on leader boards.
"I need to play as much as I can, and I need to play well," said Daly over the telephone during the European Open, his last stop on an overseas foray that yielded some positive results, notably a T-2 at the BMW Italian Open. Daly also has secured a sponsor's exemption for the Buick Open, and he hopes for more as he attempts to resurrect his career with a new regimen and a new physique.
While banned from the U.S. tour for six months, Daly underwent lap-band stomach surgery. He has dropped 60 pounds and counting, and insists a paltry diet of 1,200 calories per diem is no problem. "I had to do something about my weight, and I did it the right way, the safe way," Daly said. "I eat what I want, but I don't want as much as I used to. Portions are tiny. And I did it without going to the fitness trailer. I ain't ever been there, and I ain't ever going there. I walk six miles a day when I'm playing. That's still the best exercise there is. Doctor told me fat is hereditary in our family. You know, I was big even when I was little."
While on the European Tour, Daly said he maintained regular contact with coach Rick Smith. Golfers who experience drastic alterations with body type have been known to struggle, but Daly feels dedication will conquer all. "I can get quick at times, not having to get the club around as much of me as there used to be," he said. "But Rick has been working with me on slowing it down, anyway. I'm seeing some results. And I'm practicing better. Harder and better. I'm more prepared to play than I've ever been.
"I'm way ahead of where I thought I would be," Daly continued, "and I'm starting to get some confidence back. The fire is still there. Even when I've been out of it over here, not in contention, I'm grinding, working on things. People have accused me of giving up, mailing it in. But I'm a fighter. I'm trying, and I want to be competitive. I've still got a good feel for the game. Before Memphis, I'm gonna try qualifying for the U.S. Open."
Daly stressed he is concentrating on surrounding himself with "the right people." (His suspension—which Daly calls unjust—ended with the week of the Memorial Tournament and stemmed from an October incident in North Carolina where Daly was jailed overnight.) He lauds players on the European Tour "who have made me feel really welcome … guys coming up to me every day telling me they were glad to have me there."
Daly also cited Dr. ­Tiffany Jessee, who performed the lap-band operation; Dr. Harold Shinitzky, a sport psychologist; and his new companion, Anna Cladakis, who traveled with Daly, then returned home before the European Open, where he missed the cut. "I've known John for a while, and this is as upbeat as I've ever seen him," Cladakis said. "But I still feel he underestimates his ability." Cladakis lives near Tampa/Clearwater, where Daly has indicated he might be moving his social and business interests.
Cladakis plans to accompany Daly to Memphis, where in 2007 he showed up at the tournament with scratches on his face. He stated in a police report that his wife, Sherrie, attacked him with a steak knife. She alleged that Daly's wounds were self-inflicted. Divorce proceedings between Sherrie, his fourth wife, and Daly are ongoing. She still lives in Memphis. It is never dull with Big John. In 1993, during a practice round at the Masters, Daly was served divorce papers between nines by Bettye, his second wife.
"I don't need any more drama," said Daly. "I've had enough drama for 100 lifetimes. People think I'm a raging alcoholic, raising hell every night. But here in Europe, I play golf, practice, maybe have dinner with Anna when she was with me, then go back to the hotel room and go to sleep. Still smoking? Yeah, gotta do something. I love people and still like to have a good time, but I've been laying low, concentrating on my game. Been through a lot of emotional stuff the last couple years, lost a bunch of sponsors, and I've taken a beating in the media. But I ain't giving up."
Daly said he "definitely" could use a financial boost and will continue to play the European Tour. "I got no chance to make 15 events in the States, but I got a shot at the Race To Dubai," he said. One commercial affiliation that Daly has added during his switch to svelte is with Loudmouth, which manufactures rather colorful pants. Detractors might cringe, but as Daly's agent, Bud Martin, says, Big John is one guy who can pull it off. Now, if only Daly can apply a similar glow to his résumé. He owns two majors, but his last tour victory was the 2004 Buick Invitational, not that his adoring public demands he finish first. Just show up.
"I'm excited about getting back to the States," Daly said. "People are great to me there. Support is unbelievable. I still think I could win, and if I did, that would be awesome. I'm rolling the ball pretty good on the greens. You never know. For sure, the weather will be better. Love these Loudmouth pants, but we get lots of rain in Europe, and they don't make gear for that. Gotta talk to them about that."