News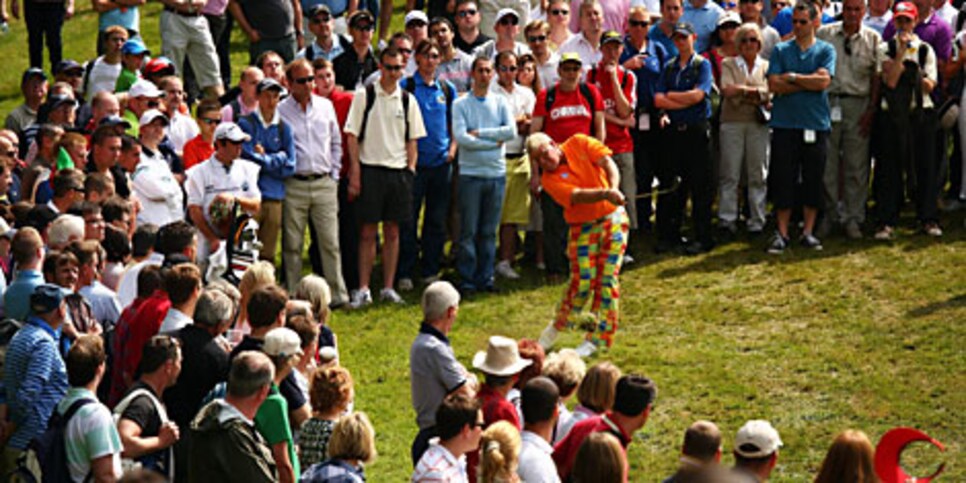 Other than Tiger Woods and Phil Mickelson, no player draws a gallery like John Daly.
The latest John Daly sightings have been pleasingly positive, yielding yet another harvest of hope for pro golf's patron saint of troubled souls. Perhaps Daly can continue putting one foot in front of the other and walk in a direction other than down the road to ruin. His six-month ban for conduct unbecoming of a PGA Tour pro is about to end, making Long John Suspension eligible to return to action next month in Memphis, his adopted hometown.
In his new wardrobe and surgically refined body, the 2009 version of Daly is quite an eyeful. He underwent the gastric-band procedure back in February, which turned his enormous gut into something more presentable, and to showcase that slimmer physique, he apparently raided Greg Brady's closet.

Never a man to exercise much in the way of restraint, Daly debuted his outrageous retro threads while spending all of May playing in Europe. You may not recall the fashion statements of the 1970s being quite this loud, but then, a man who loses 80 pounds in three hours can probably get away with a pair of pink and orange Harlequins or a five-alarm inferno of purple paisley.
Hey, it beats wearing a lampshade.
Did six months in the Tim Finchem Penitentiary teach the big fella a lesson? Your heart says yes, your head says no, but only time will tell. Almost four years have passed since Daly was last competitive as a golfer, and though he did finish second earlier this month at the Italian Open, that was against an extremely weak field at a tournament held the same week as the Players Championship.
He recently turned 43, a life that has included about 83 years of stress and trauma. Nobody saw Daly getting his act together and winning the 1995 British Open, or the 2004 Buick Invitational, or taking Tiger Woods to a playoff before losing the WGC played at Harding Park in 2005, but of all the comebacks he has (and hasn't) made, this one is the toughest, at least on paper.
That said, it's hard to imagine one coming at a better time. With Phil Mickelson out indefinitely to be with his wife, Amy, in her fight against breast cancer, Daly's return means the tour replaces the needle-moving presence it just lost. Long John Spectacle still sells tickets, still gets people talking, still generates more buzz than anyone not named Tiger Woods. He might be damaged goods, but the flaws are a big reason Daly has remained so popular and retained his commercial value.
Unlike Woods and Mickelson, JD plays in a lot of lower-tier events, the tournaments a lot of people wouldn't otherwise attend or watch on TV. Daly really has no choice on that matter-his only tour status is as a past champion. He'll never have any trouble maximizing his sponsor's exemptions, but if he gets five starts between now and the end of the regular season, that would be a lot. He's simply not dealing from a position of strength.
I've been pretty tough on the guy in recent years, particularly as a regular on the Golf Channel's "Grey Goose 19th Hole." Woods, Michelle Wie and Daly generate more viewer emails than anybody, and there have been times when I've gotten tired of talking about JD's off-course behavior, his self-destructive tendencies and recent penchant for doing everything but playing decent golf.
Maybe he's starting to feel the same way. Maybe a man with all the talent in the world is ready to show the world he still has that talent, only this time, maybe he'll work harder and quit stigmatizing himself as a pathological excuse-maker. People like John Daly because he's just like you and me in so many ways, because he's real, because he wasn't manufactured on some tour-pro assembly line.
There comes a point, however, when a professional golfer has to act like one, and that means playing like one. At the end of the day, the numbers on the scorecard are all that matter, and soon enough, a player with staples in his stomach and pastel-striped trousers will be given the opportunity to make a difference.
Not just for himself, but for all of pro golf. Six months is a long time. Hopefully, it was long enough for Long John Second Chance to do some big-time thinking.