News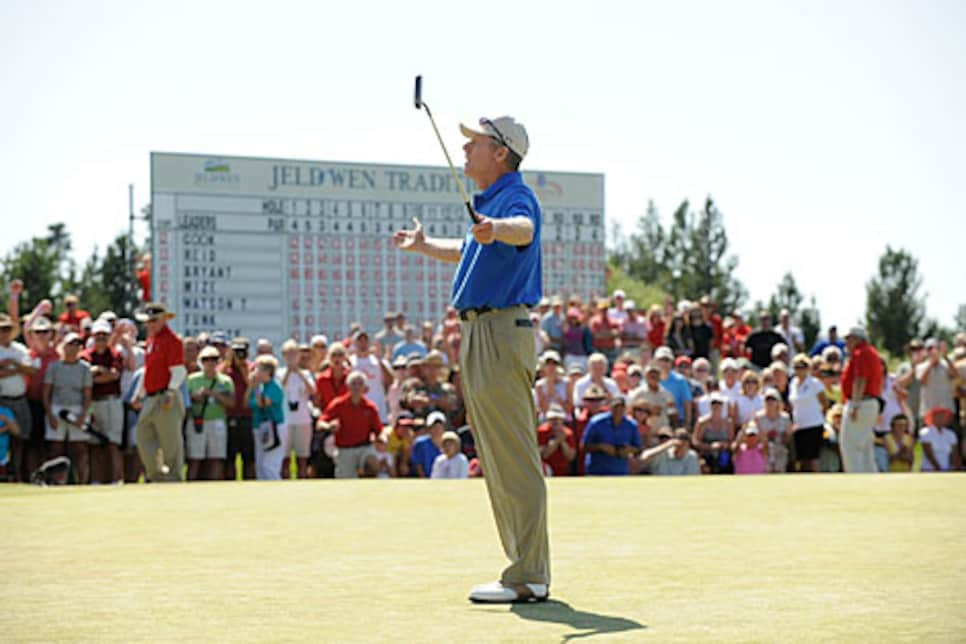 THE Opportunist: As he had in his only other Champions Tour win, Reid took advantage of an opponent's late error then cashed in with a birdie on the first playoff hole.
Mike Reid goes about his life and his work as a humble gentleman, and when it comes to his golf, he is as old school as they come. Even though Reid is 55, his swing has the reverse-C finish he had—and hardly anyone else still does—when he graduated from Brigham Young in 1976. No golf glove for Reid, or much of the latest and greatest from the equipment RD labs, either. His irons are from 1986 ("The year I was born," said his son/caddie, Daniel), his 5-wood from 1991, his driver from 2001. "I'm looking for a contract with the Smithsonian," Reid joked at the Jeld-Wen Tradition, where his play, and the plot of the Champions Tour's fourth major of 2009, was straight out of 2005, specifically that year's Senior PGA Championship.
For a nice guy with consignment-shop clubs, Reid sure knows how to throw a knockout punch at an opponent who has gotten a bit wobbly and exposed a china chin. Four years ago, in the Senior PGA at Laurel Valley GC in Ligonier, Pa., Reid eagled the 72nd hole and when Jerry Pate three-putted the same hole for a bogey moments later, Reid found himself in a playoff with Pate and Dana Quigley, which he won with a birdie on the first extra hole.
At the Tradition, while John Cook made a mess of the 72nd hole at the Crosswater Club in Sunriver, Ore., bogeying from a greenside bunker to finish at 16-under 272, Reid deftly saved par from a similar position to tie him. The third member of the pairing, Brad Bryant, who shot a first-round 62 and was bidding to become the first wire-to-wire winner of a senior major since Doug Tewell at the 2001 Tradition, closed with a 73 to finish third at 274 and is now 1-for-12 on the PGA and Champions tours when taking at least a share of the lead into the final round.
Cook and Reid returned to the 456-yard, par-4 18th for the first extra hole. The playoff didn't last long. Reid hit a solid drive with his ancient war club, a 365cc Titleist, a head about a third smaller than many current models. From there Reid hit his approach to 12 feet, a yard closer than Cook had hit his 7-iron from the right rough. "I think I had 182 yards—8-iron," said Reid, long known for precision instead of power. "Put that in print. They'll wonder what I've been taking, won't they?"
Reid's birdie putt trickled in, not only earning him $392,000—triple what he had won in a dozen starts this year before getting to central Oregon—and vaulting him from 64th to 20th on the 2009 money list but also allowing him to skip a Monday qualifer for the Boeing Classic, for which he was third alternate. "I know all that was on his mind," said Daniel, about to start his junior year at his dad's alma mater. "I was trying to get him to not think about that and just to enjoy the moment. I told him to keep things simple."
Given how he had played lately (no top-10s since the 2007 Ace Group Classic), Reid wasn't bubbling with confidence and seemed stunned that he had pulled off the victory, especially after "being nervous out of my mind" on the first hole Sunday and doubting himself even late in the round. "It got to where it was hard for me to paint that picture of me holding a trophy," admitted Reid.
It was a bitter loss for Cook, whose previous frustration in majors stretched from the 1992 British Open, when he led with two holes to play but lost to Nick Faldo, to the 2008 Senior British Open, when he bogeyed the 72nd hole to fall into a tie with Bruce Vaughan, who then prevailed in a playoff. After a 20-foot birdie putt on No. 17 at Crosswater to take the lead, Cook was indecisive on his second shot at No. 18, eventually choosing a 7-iron instead of an 8-iron. "I got caught between clubs, and I knew better," said Cook. "I made my worst swing of the week at the wrong time. I didn't finish like a champion—I've had a number of opportunities in majors and let them slip away."
Meanwhile, in the playoff, Reid used a remnant of his most painful golf day—blowing a two-stroke lead with three holes left at the 1989 PGA Championship—to help himself. Coming down the stretch at Kemper Lakes, Reid tried to finesse a 4-iron shot. He thought it was going to be perfect, but it flew the green and cost him. "Tom Watson said, 'Did it ever occur to you to just hit a hard 5? You're under pressure, you've got the adrenaline going,' " Reid recalled. "That sort of haunted me ever since."
So Reid pulled an 8-iron older than his demons and did a little exorcising.