News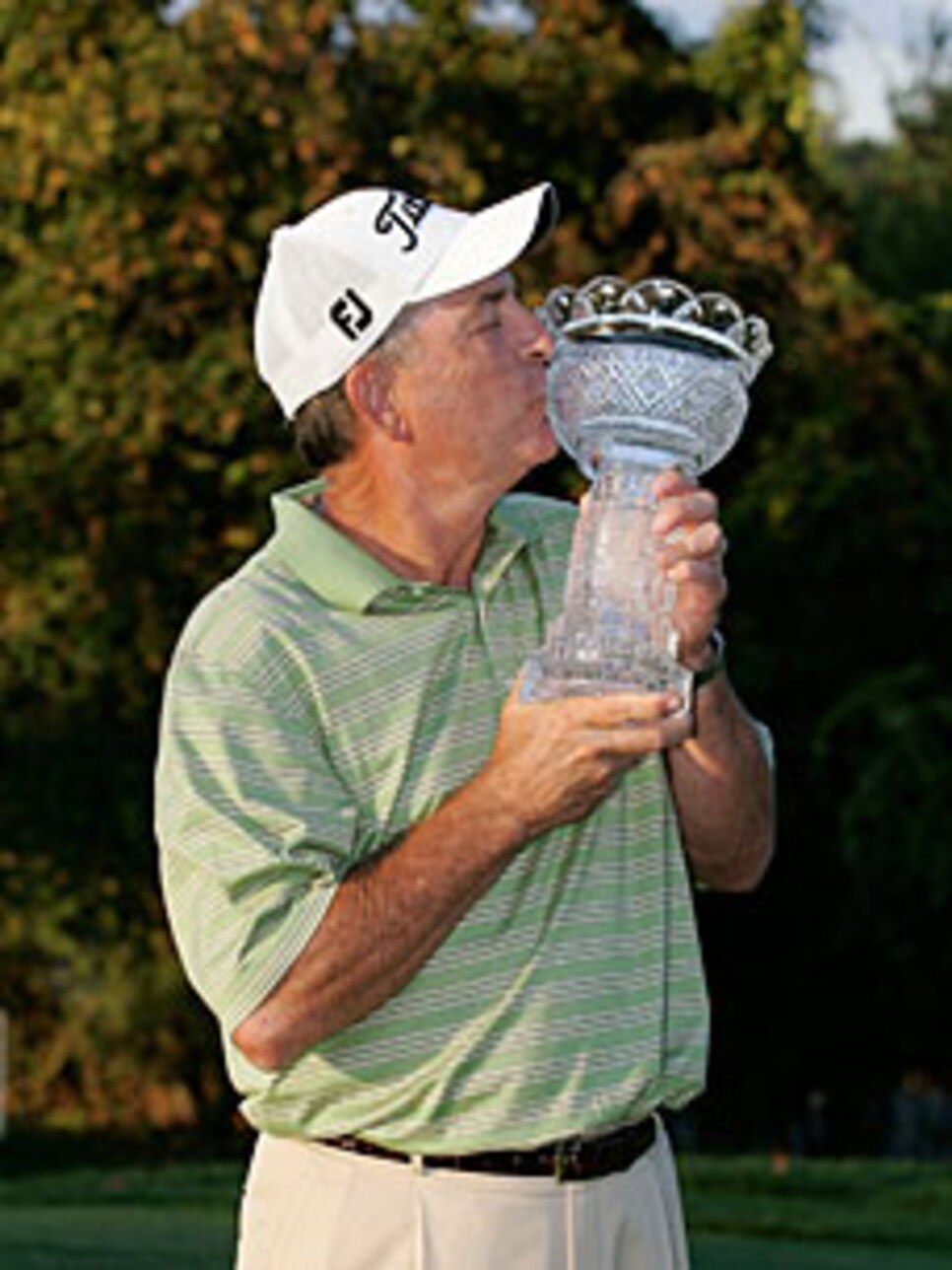 Jay Haas' closing 64 at Baltimore Country Club will give him immediate "street cred" with the American team.
Jay Haas could be excused for swaggering into the team room at Harding Park on Monday, but he's too humble a man to do that. With wins in his last two events, including a Champions Tour major, he's as hot as Jacory Harris, Brandon Marshall, the Manning Brothers, Sidney Crosby or any of the athletes Fred Couples watched on ESPN over the weekend in San Francisco. It may not make Plays of the Week, but his 64 on Sunday was a candidate for golf's round of the year, considering it came on the Tillinghast greens at Baltimore CC and that it beat the greatest of his contemporaries, Tom Watson. "I sent Jay a text that said, 'You're bringing serious Presidents Cup street cred into that team room,' '' longtime friend Billy Harmon said. "They better do what he says."
This is Couples' team, no doubt, but behind the scenes this week, it will be Haas' team, too. While Freddie brought in Michael Jordan for the competitive edge, his appointment of Haas as assistant captain was a sign of Freddie being a team-building fox. When it comes to strategy, putting together the pairings, keeping things organized, Haas is expected to be a stabilizing sage for Team USA. Because he never won a major, the PGA of America wouldn't seriously consider him for Ryder Cup captaincy; neither did the PGA Tour when it came to honoring one of its great citizens -- so Couples took it upon himself to do so. It may prove to be the most valuable captain's pick.
Haas will be the glue of the operation, as respected by Tiger Woods as he is by some of the younger players on the team. A few weeks ago, after a run of five birdies on his last six holes led to a victory at the Greater Hickory Classic, Haas laughed when he said, "At least maybe when I do some assistant coaching, maybe the guys will say, 'Well, this guy can play a little bit.' ''
Actually, he can play big -- as proven with his birdie-birdie finish at the Constellation Energy Senior Players Championship. Before leaving Baltimore for the cross-country flight from Dulles, Haas told Harmon it might have been the best round of golf in his career. Then he told Harmon that it dawned on him: This gets me in to The Players, and a spot in the field next May with son Bill, whose career kicked into gear this year with the coaching of Harmon. "That was really cool to me," Harmon said from his home in LaQuinta, Ca. "That was kind of vintage Jay."
Vintage Jay. Yes, like a fine wine, Haas literally keeps getting better with age. At Wake Forest, he was the understudy to roommate Curtis Strange. Out on tour, his nine wins were dwarfed by the 39 amassed by Watson, who had almost as many majors (8) as Haas had tour victories.
But like Hale Irwin and Loren Roberts, Haas has used the Champions Tour to elevate his standing in the game. The Senior Players was his third senior major and the 14th trophy presentation since turning 50. At 55, it looked like Haas hit the wall in 2009. A sloppy short game and the twinge of tendinitis to his elbow caused the two-time Player of the Year to go winless the first eight-plus months of the season.
Instead, Haas blew right through the age limit with the type of golf that is the best of his career. "I hate to put a number on it, where I'm going to say, 'This is it,' '' Haas told me driving home from Rock Barn two weeks ago. "I'm going to play it by ear. Gil Morgan is 62 and he hits it by me every time. He's kind of a freak, but it proves 55 is not a death sentence. The good thing is I don't have to return a serve, guard anyone, hit a 95 mph pitch. It's just golf. You can do it all sorts of ways."
As Harmon said, "All players go through doubt. On that tour you get to a certain age, you don't think you can do it anymore." Haas left Harmon a voice mail after a disappointing finish in the Senior Open (T-19), implying that if this were the way he was going to putt and chip, he'd have no chance of winning anymore. Then his arm started acting up, so for a three-month period, Haas was discouraged.
But watching Steve Stricker putt -- and make everything -- triggered his late-season surge in confidence and rise in the Charles Schwab Cup standings, from 12th to fourth with three events remaining and points worth double in the final event of the year. "He saw how Steve Stricker had his hands high, so he moved in closer to the ball and won two tournaments with that in mind," Harmon said. "When he sees Stricker at the Presidents Cup, I hope he gives him props."
No doubt, he will. "I never heard anybody explain Jay better than my brother Dick," Harmon said. "He said, 'I've never seen anybody who wears on you better than Jay. Just when you think you like him the most, you wait a month and like him more. He's been so consistent all his life."
Haas won the Payne Stewart Award in 2004 and played on Ryder Cup teams in three decades (1983, 1995, 2004), reinventing himself several times to play well late into his 40s and become a dominant player in his 50s. But like the father who realized he'd be playing with his son in the fifth major, who has always been a pro's pro, defining Jay Haas is more than just about playing record.
"Funny thing, you don't have to be a major winner, you don't have to be current," Harmon said. "I think some of younger guys will come away from this week and say, 'Jay is a pretty cool guy.' If you combine life and golf together, he'd be in the Hall of Fame."