News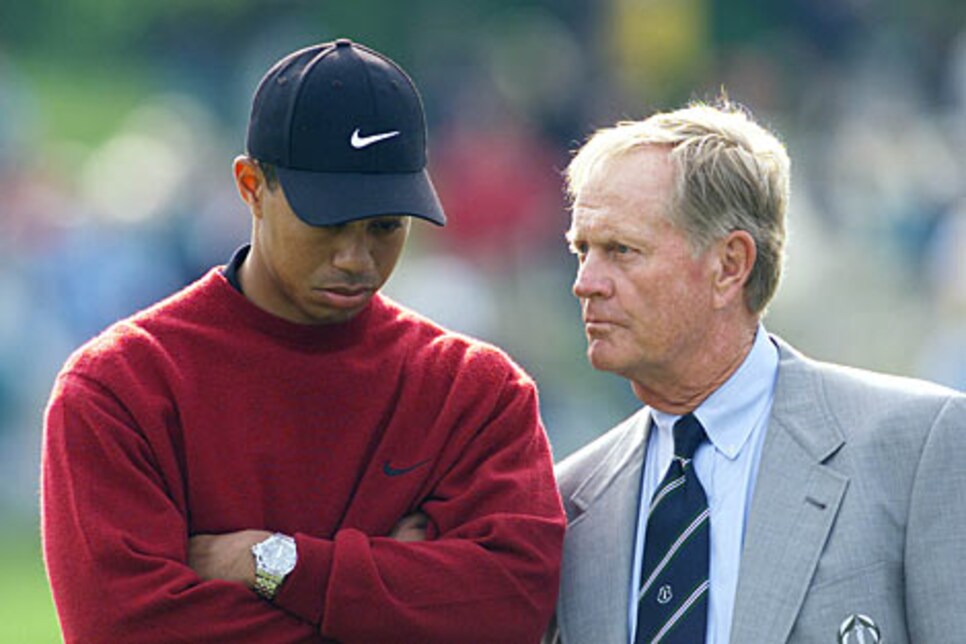 Though linked by history, recent events have also underscored the profound differences between Tiger Woods and Jack Nicklaus.
NORTH PALM BEACH, Fla. -- Two summers ago, while Tiger Woods was coming off ACL surgery, Jack Nicklaus picked up the phone and made a call to the man who just moved within four major championships of his record. With Woods laid up for an indefinite time after his U.S. Open victory at Torrey Pines, what had become a foregone conclusion -- breaking Nicklaus' once-indomitable record of 18 grand slam titles -- was now very much up in the air.
"I told him Tiger, you know nobody ever wants their records to be broken," Nicklaus said last Friday from his corporate office. "Certainly, I don't want you breaking my records. However, I don't want you not breaking my records because you're not healthy.' I don't want outside forces preventing him from performing as an athlete."
Read between the lines here. As much as his comeback from knee surgery, Jack was talking about the trauma Tiger is going through today, and how he feels about owning one of sports' all-time great records.
The response was typical of Nicklaus, and a reminder of the sportsmanship with which he competed in the '60s, '70s, and '80s. He won majors from age 22 at Oakmont in 1962 to age 46 at Augusta in 1986. Longevity was another of his trademarks, and until Woods came along, his record was as safe as Joe DiMaggio's 56-game hitting streak.
There is a part of Nicklaus that wishes he worked harder just before his father died in 1970, but never once did he feel conflicted by putting family ahead of fame. As he said during a conference call at his State of the Bear news conference, "I played for the sake of the game."
While he made a fortune later in golf course design, he wasn't making $100 million a year in commercial endorsements. That's not what it was all about. Neither was rooting against an opponent. That wasn't for the sake of the game, either.
"Golf was never all that important to me," he said, explaining how his family was. "In other words, I play a game because I loved it, played for the sake of the game, the competition, the charge I got."
The charge was in winning six Masters, four U.S. Opens, three British Opens and five PGAs against the likes of Arnold Palmer, Gary Player, Lee Trevino and Tom Watson. He won seven majors in 20s, eight in his 30s and three in his 40s, at the end of his career beating a generation of stars in Greg Norman, Seve Ballesteros and Tom Kite with a final-round 65 at the 1986 Masters.
The record is the record, and it has defined and connected Nicklaus and Woods, even though they are 36 years apart in age. Who knows what to believe anymore, but the lore is Tiger put Jack's records on the wall of his bedroom in Cypress, Calif., almost 30 years ago. While Nicklaus never "focused on a number" once he passed Jones at Canterbury in the 1973 PGA, Tiger did.
Nicklaus swears he never thought of a major championship count until Bob Green, the Associated Press golf writer, told him after winning the British Open at St. Andrews in 1970 for his 10th major that he was only three behind Bobby Jones. "Honest to goodness I can promise you I never added them up," he said. "The game is different today. The focus is different today, and my focus was always different."
Woods had the laser focus going through the first 13 years of his career, but even with the Tiger Slam in 2000-2001, even with winning the Masters and U.S. Open in 2002, the Masters and British Open in 2005 and the British Open and PGA in 2006, Woods was only two majors ahead of Nicklaus at the same age, 14-12. This year was destined to be a year in which Woods made up significant ground, maybe even tie the record with a Tiger Slam. That was before the car accident and the subsequent crisis turned his world upside down.
Now it becomes a numbers game. Woods was on a roll before his knee surgery, but the train has slowed down. He won just one of the last eight majors, missing the 2008 British Open and PGA while in rehab. Last year proved Nicklaus' belief that it wasn't a lock; that lulls occur. When I interviewed Jack before the Golf Writers dinner last April at Augusta, he said Tiger "still had to do it." In a year when he won seven times worldwide, Woods finished T-6 at the Masters and U.S Open, missed the cut at the British Open, and was second at the PGA, losing to Y.E. Yang on Sunday at Hazeltine.
I asked Nicklaus what he thought about the safety of his record, now.
"I think Tiger is Tiger," he said. "He's a terrific player, a terrific athlete. He's got great discipline. His work ethic has been fantastic. I don't think that will change. Tiger has his own personal problems right now and they're none of my business. This is a tough year for him. If he comes back this year and plays the Masters, Pebble Beach, and St. Andrews which are his meat, I think Tiger will do well. I expect him to come back and be Tiger."
But this latest turn in the Woods story could be the game changee. Tiger could come back for Augusta. He could not come back this year at all.
As Nicklaus added, "If he doesn't come back and doesn't play those three almost gimmes, for him, particularly Pebble Beach and St. Andrews, then he'll have a harder time breaking my record."