News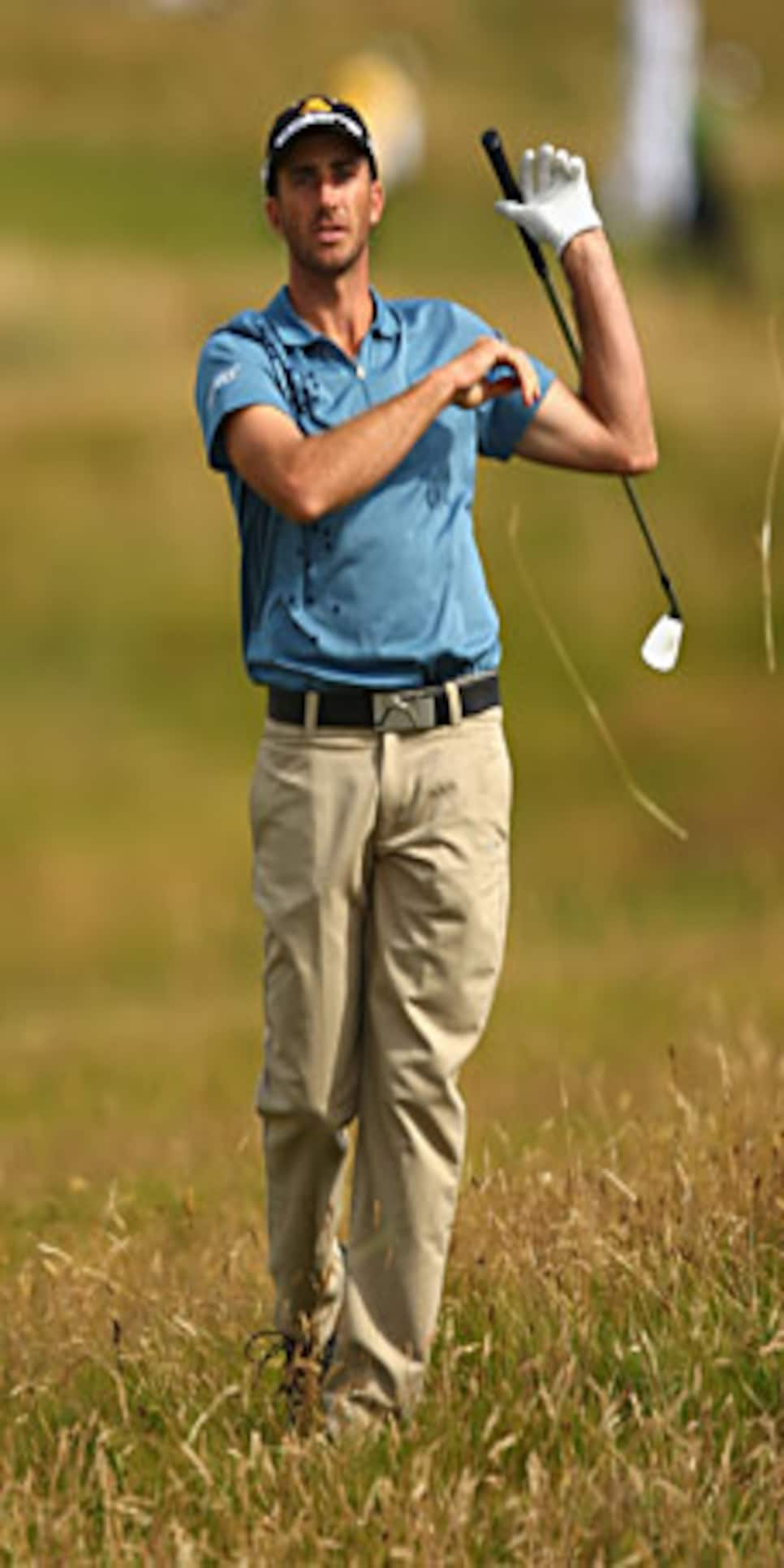 Geoff Ogilvy has been one of the most vocal critics of the current trend to use longer rough as a counter measure to club and ball technology.
As per usual in an era history will surely recall as one of golf's least imaginative, the word "length" cropped up more than once during last week's PGA Championship at Hazeltine National.
Stretched to a potential and rather obscene 7,674-yards, the course represented what has become the standard -- and unthinking -- response to club and ball technology that has sadly reduced a once-beautiful art form into a prosaic, by-the-numbers science, at least at the highest level. Exhibit-A, of course, is players like the young Spaniard, Alvaro Quiros, and American J.B. Holmes, whose prodigious and basically mindless hitting is but the latest example of a sport that has lost both its way and almost any semblance of creative shot making. Where have you gone Seve Ballesteros?
But far more disappointing than either of those factors in an event that produced the first Asian major champion -- a much overdue happening -- was, yet again, the length of the grass allowed to grow over large portions of Hazeltine. Not for nothing did former US Open champion Geoff Ogilvy, via Tweeter.com, recommend that the competitors pool together to make a lawn mower the PGA of America's next Christmas present.
This is nothing new, of course. To officials seemingly the world over, long grass is the easiest way of combating the silly distances top players are these days capable of propelling golf balls. "Stop them using their drivers" is the philosophy and, while we're about it, "let's all but eliminate chipping and pitching from the game too." Anything to keep the scores up and obscure the fact that the game's authorities were long ago caught napping by equipment companies whose first aim is (understandably) to make money now, rather than do what is right for golf's long-term future. Utter and complete incompetence is, after all, a difficult thing to own up to.
Anyway, last week followed the usual pattern and was pretty much summed up by the shots Tiger Woods hit to the last two greens in the final round. Both were beautifully struck and both missed the putting surface by inches. And both left the game's best-ever player, a man possessed of a wondrous touch, playing the same shot every 15-handicapper would attempt: the "hacking hit and hope."
This, folks, is not what golf is supposed to be about. As Ogilvy pointed out in the wake of what was a generally disappointing personal performance, "the difficulty of your shot should be dictated by the position the ball is in, not the lie that the ball is in."
"Some shots that bounce next to the green, yet don't get into a bunker, are in this," he continued, his hands about six inches apart to indicate the depth of the grass. "I think you should have hard shots from good lies, not easy shots from bad lies. So if your greens are not good enough to defend themselves without six inches of rough, then your greens aren't good enough. You don't need six-inch rough at Augusta or Oakmont, although they grow it. You don't need it at Pinehurst or Royal Melbourne or Shinnecock Hills. And if you don't have greens like that, then let the guys make birdies."
Such obviously sound statements are again nothing new as far as the 31-year old Australian is concerned. He's been banging on about the evils of long grass for a while now. And he is as depressed as I am about the consequences of a ball that has made the 350-yard drive almost commonplace.
"I have to think that, if you asked every leading professional one question -- in hindsight, rather than letting the ball get out of control, wouldn't it have been better to just change one rule for the professionals so that we didn't have to spend millions of dollars making golf courses tougher and longer? -- most would agree, theoretically at least, that such a proposition is attractive," he argues. "Like so many people I am tired of seeing the recovery shot -- the most interesting in the game -- all but eliminated. When that is the case, golf is boring and frustrating to play and, I'm sure, to watch."
Even more depressingly, this aspect of modern golf is not exclusive to the PGA Tour or even the United States. Over the last week your correspondent has played four of Scotland's best links and on three of those -- Cruden Bay, Muirfield and Dunbar -- overly narrow fairways and excessive rough were factors (North Berwick was the enlightened exception). Cruden Bay, in fact, was easily the worst and the least fun despite its quirky and interesting design, unless looking for balls on almost every hole is your idea of a good time.
Still, as Ogilvy rightfully points out, the famous Aberdeenshire course is hardly alone in its point-missing. Indeed, one of his fellow Aussies, a former runner-up in the Open Championship no less, is of the opinion that the solution to everything is simply to "grow more rough." And he is not without company in that dark and unenlightened place.
"Clubs like Oakmont seem to be overly obsessed with how hard their course is," continues Ogilvy. "And how high a score will win when the best players are there. I don't understand that. Two years ago at the US Open, the members at Oakmont baffled me. I mean, why would you want the best 100 professionals in the world leaving your course saying they never want to come back because they have just had the least fun they have ever had on any golf course? They seem to enjoy that, but I don't get the motivation behind it."
The inspiration may be unclear, but the underlying reason for such nonsense has long been obvious. As with so much that is wrong with top-level golf in the 21st century -- slow play being another currently topical example -- the root cause is the ball. It goes too far; it flies too straight. And as long as that is the case, the less inventive among us are going to keep harvesting long grass as a first-line of defense.