News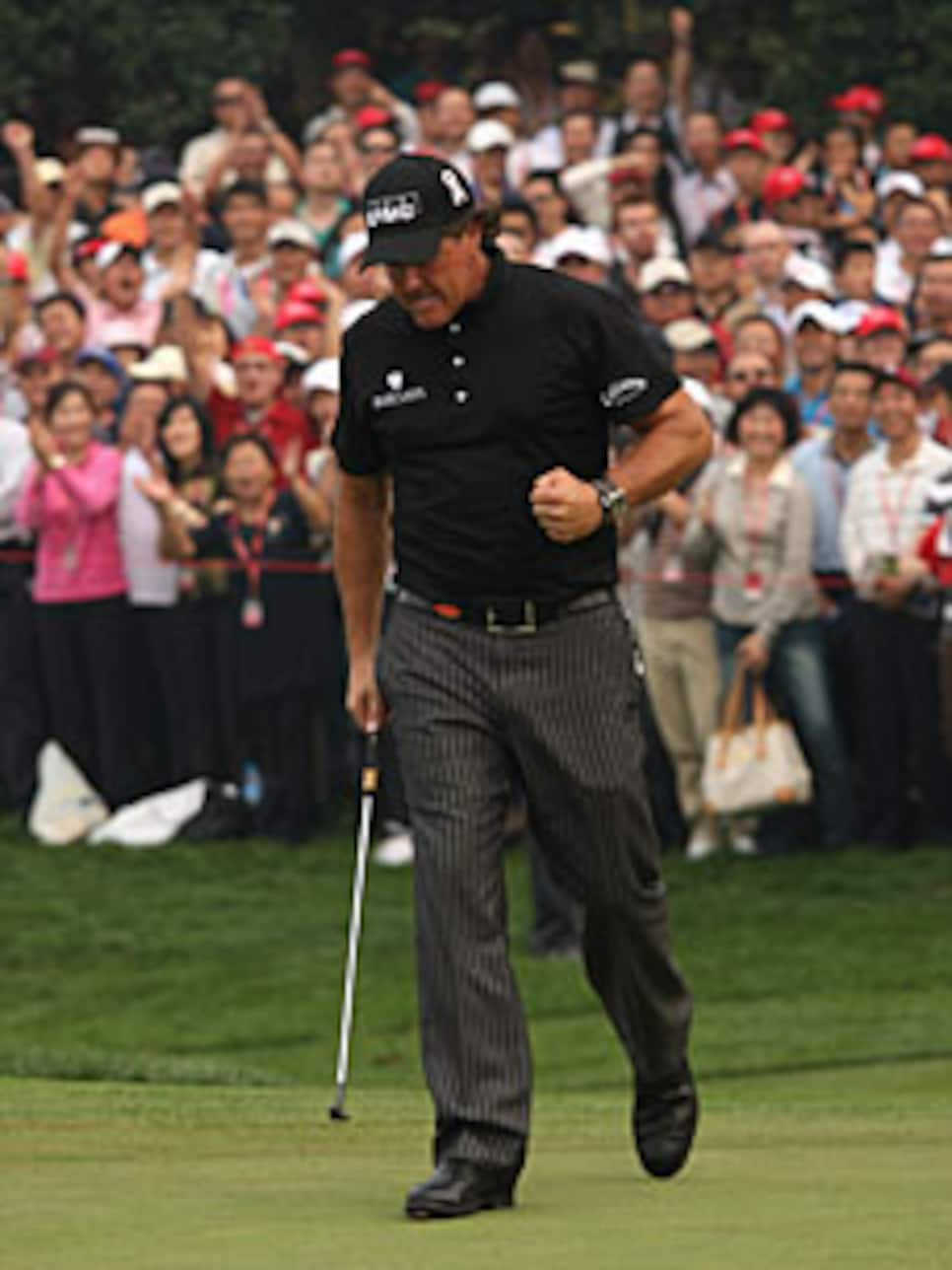 A renewed confidence on the greens has made Phil Mickleson a dangerous rival to Tiger Woods.
Johnny Miller made the early call. In late September, while Phil Mickelson was polishing off the Tour Championship, NBC's color analyst poked a stick into the cage of Tiger Woods by predicting that Lefty, not Woody, was favorite for Player of the Year honors in 2010. There was a murmur in the audience that really knows golf, but what Miller saw was the difference in Mickelson's putting stroke and the rise in his confidence level since his visit with putting wizard Dave Stockton. A few weeks later, while Mickelson was stepping up as the consummate team leader and putt-maker at the Presidents Cup, Miller again went cage rattling, saying Phil was currently the best player in the world. Again, Miller was being Miller, guilty of nothing but putting it out there.
On Sunday at Sheshan International, against a World Golf Championship field in the HSBC Champions, Mickelson indeed was the best player in the world, beating not only Woods, but a spirited run by Ernie Els and an almost total whiff of a wedge shot deep in the final round. This was Classic Mickelson, in many ways, whether it be the fist pump after a crucial par save at 16, the clutch birdie at 17, and the anxiety involving his play at the 18th, all punctuated by that trademark "aw shucks" grin. Back home in San Diego, a nervous wife Amy, recovering from cancer treatment, was cleaning cupboards in the midnight hour.
With four rounds in the 60s, Mickelson won his fourth tournament of the year, two shy of Woods in the 2009 victory count. But while finishing strong was always a Tiger trademark, this year it's been Mickelson who has saved his best for last, shooting 66-65 on the weekend at East Lake, going 4-0-1 at Harding Park, and finishing off a season on Nov. 8 that was wrought with personal turmoil -- the cancer diagnosis to his wife and mother within a six-month period -- and the regret of leaving two majors on the table with faulty putting. "I gutted this one out," Mickelson said. The irony is that pre-FedEx Cup, Mickelson was lethargic post-PGA Championship, guilty of shutting it down early while Tiger grinded to the finish line.
Phil's HSBC was the ultimate walk-off home run in a year where many thought he could have hit his last golf shot when Amy was diagnosed in May. It was further fortification in the relationship with Stockton bringing out all the qualities in his three years of work with Butch Harmon -- and a reminder of the big game he brings to the arena. "He's like a kid with a new toy," Stockton said Saturday from his cell phone in California. Their text messages from China were highlighted by Phil trash talking his putting guru about the money he's going to lose on the greens this winter, a sign that once Phil chills, he's going to spend time with Stockton and take this confidence level to a higher plane.
While Phil shuts it down competitively until the Torrey Pines event in late January, Tiger still has two more events before turning 34 in late December, this week's JBWere Masters in Melbourne, Australia and his own Chevron World Invitational Dec. 3-6. Coming off knee surgery, Woods says he is proudest of level of consistency, rattling off the number of second- and third-place finishes, almost as if he's defending himself.
Woods is still Woods, the difference in his weeks always being dictated by his putter. This week he didn't have it going, evidenced by the birdie putts of 4 and 10 feet he missed early in a disastrous front nine. While Mickelson went 67-69 on the weekend -- with Woods in the final-group stare-down position on Sunday -- Tiger went 70-72. As the wire report from Shanghai pointed out, this was the third time in four tries that Tiger played in the final group on Sunday and didn't come away victorious, including the PGA pairing with Y.E. Yang.
Tiger will process all this and come out in 2010 a better player, because that is his creed. But this run by Mickelson is more than just a two-month hot streak while Tiger fights his putter and shakes off the final pieces of rust. This is enough of a competitive message that the 2010 season, with majors at Augusta, Pebble Beach, St. Andrews and Whistling Straits, could be epic, should Mickelson and Woods keep on their competitive tracks; and should Els build off his second-place finish in China, and not the 5-wood he fatted into the middle of the pond on the 72nd hole.
Another thing about Phil: Approaching 40, he appears to be getting smarter in his old age, constantly keeping Tiger up on his pedestal, unlike Miller, knowing better than to rattle a cage. Asked late in his news conference if he would return to the United States and offer any advice to Woods on how to win the HSBC, Mickelson calmly said, "Ah no," and reminded everyone of all the majors that Tiger has won and he has not.
With or without Amy's hardship, Mickelson lost the Masters with a 9-iron into Rae's Creek at Augusta National and the U.S. Open with bogeys at 15 and 17 at Bethpage. But he did protect three third-round leads and two of his victories were WGC events and the other two, at Riviera and East Lake, came on quality tracks.
"I'm excited about 2010 because I'm starting to play the best golf of my career," he said, talking about the stars aligning thanks to the direction provided by Stockton and Harmon. "And going into 2010, not only am I excited about it, but I have very high expectations."
That's Phil's way of making his own early call.