News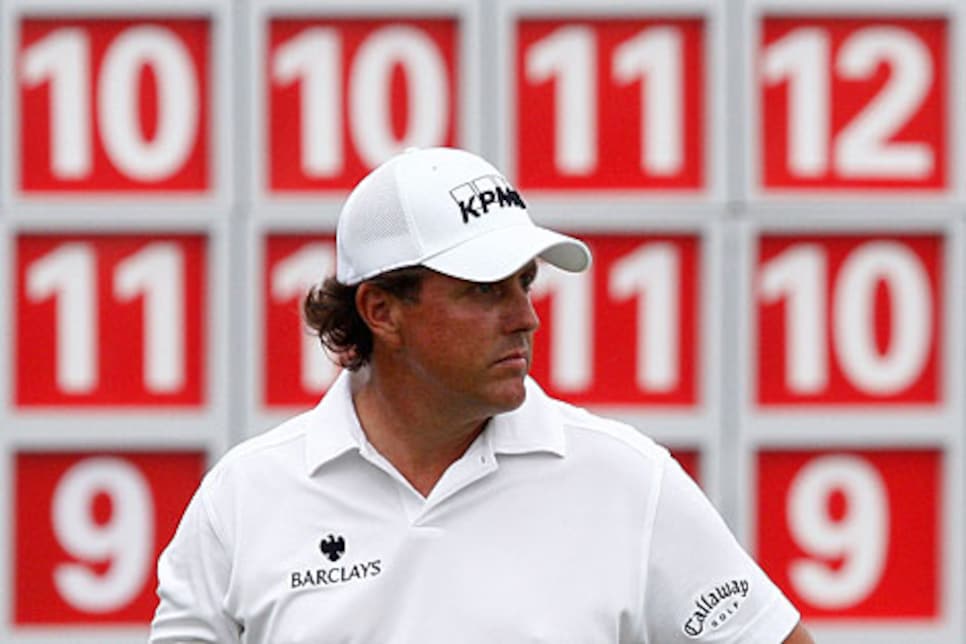 Phil Mickelson is looking to outlast Tiger Woods for the second time this fall.
SHANGHAI (AP) -- Tiger Woods stalled with pars. Phil Mickelson poured it on with birdies.
The back nine Saturday at the HSBC Champions changed names atop the leaderboard, as Mickelson made three birdies over the last five holes for a 5-under 67 that took him from a two-shot deficit to a two-shot lead over Woods and Nick Watney in the final World Golf Championship of the year.
What didn't change was the excitement level at Sheshan International, especially with what awaits on Sunday.
Mickelson and Woods will be in the final group Sunday for the first time since 2005, that famous "Duel at Doral," when Woods rallied from a two-shot deficit in the final round to win.
Mickelson, who was at 14-under 202, was the only player among the top 18 on the leaderboard Saturday to break 70. He made three birdies in his opening five holes and three birdies over his last five holes, his lone bogey coming at No. 9 that provided what he hopes is a good sign. Trapped in the bushes, Lefty inverted a wedge and blasted out right-handed to the fairway.
He hit a similar shot at Doral this year when he went on to win his first World Golf Championship.
"I thought that might have been a good omen, even though it led to a bogey," Mickelson said.
Woods appeared to be in control with a 15-foot birdie putt on the 10th to build a two-shot lead. That was his last birdie of the round, however, as he twice missed good birdie chances in the final hour and closed out a frustrating round by hitting into the rough and the bunker on the par-5 18th and having to save par. He wound up with a 2-under 70.
"I didn't take advantage of the par 5s and 16, I hit it in their stiff and missed that one," Woods said. "Consequently, I was three shots worse. That's about right."
Woods and Mickelson also were paired in the final round at the Masters this year, when both lit up Augusta National with birdies until they ran out of holes. They also played together in the final round of the Deutsche Bank Championship in 2007, which Mickelson won by four shots, although they weren't in the final group.
And they will have company Sunday -- and Mickelson's view, not just in the final group.
Watney continued to fall farther back with a three-putt bogey on the 17th, but he finished with a bang. The 28-year-old rolled in a 50-foot eagle putt on the last hole for a 70 and left him tied with Woods, and it gave the first WGC event in Asia an All-American - for that matter, an all-Californian - final group.
"I thought I played pretty well overall, considering it was my first time playing with Tiger in a tournament, and I was happy that I was able to concentrate and play the shots I needed to play," Watney said. "Hopefully, at only two back, I might have a shot at the tournament, and I really can't wait."
Ryan Moore, who played alongside Woods and Watney, had a 70 and was at 11-under 205.
The best round belonged to Lee Westwood, who leads the Race to Dubai on the European Tour and did himself a huge favor by running off eight birdies in his 65. Westwood was at 10-under 206, and now can consider winning his first WGC event.
"This is a golf course that you can make up a lot of shots over a round," Westwood said.
Mickelson didn't have to make up that many, starting only one shot out of the lead. He was briefly tied for the lead on a couple of occasions with birdies early in the round, then seemed to stall on the back nine.
He came to life in the final hour, however. It started with a lob wedge he had to throw up into the strong wind, leaving him a 6-foot birdie putt. Then came a drive he smashed through fairway at the 15th, giving him only a 9-iron to 15 feet and another birdie that had Mickelson singing on the way to the next tee, "Somebody's got his putter back."
He missed opportunities on the next two holes, then finished with a pitch that brought an enormous gallery surrounding the 18th green to its feet. Woods had a good view of it all in the group behind him, but he couldn't answer.
The last time they competed against each other was the Tour Championship six weeks ago, when Mickelson won at East Lake with newfound confidence in his putting stroke, and Woods captured the FedEx Cup trophy.
Only one trophy is at stake Sunday.
"I know we are both looking forward to it," Mickelson said. "I think it will be a fun day, and we're excited to be playing in the last group here in China."