News
Woods Grabs Share Of Lead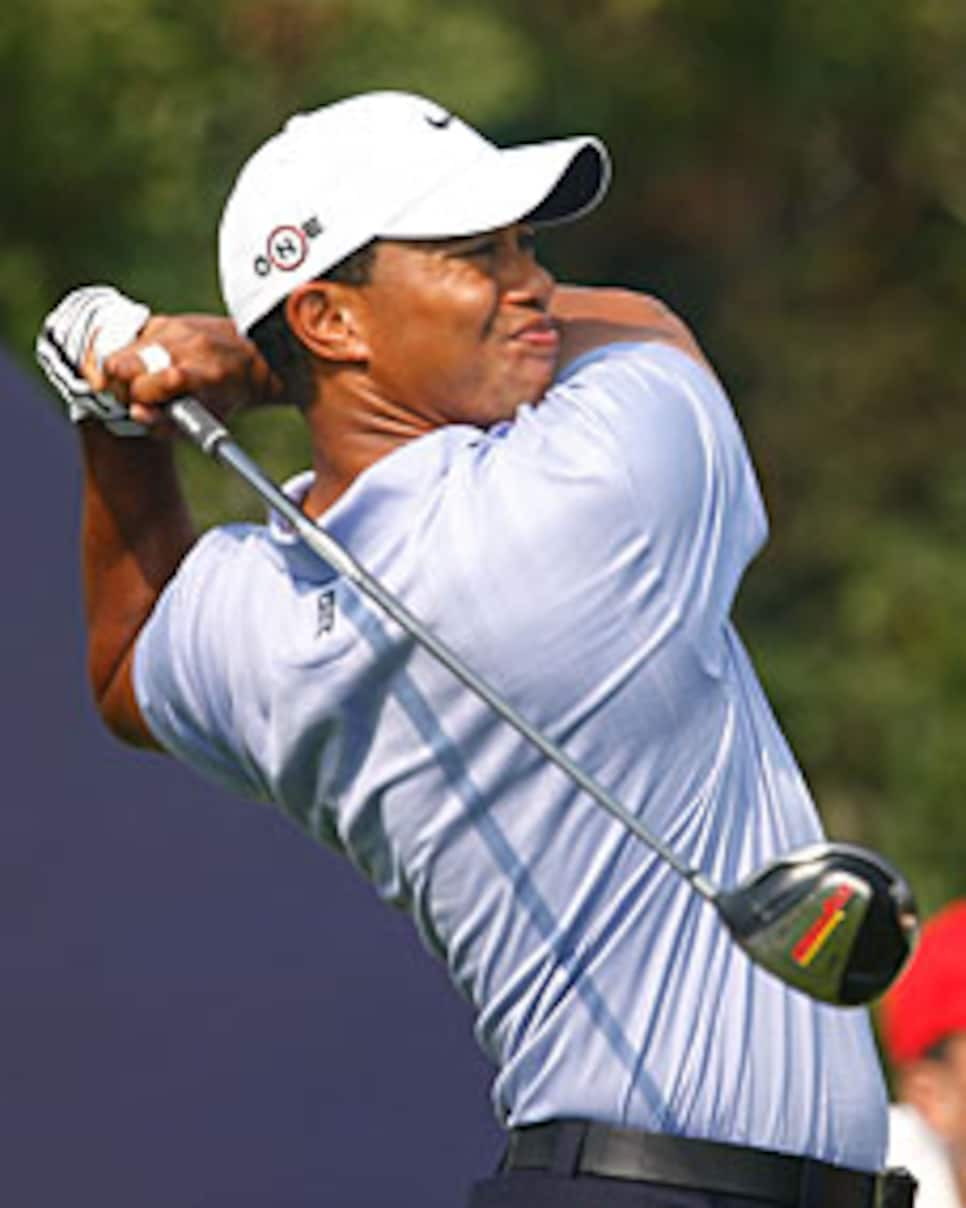 Woods birdied five of his final 10 holes to pull into a tie with Nick Watney.
SHANGHAI (AP) -- Tiger Woods realized that no one was pulling away at the HSBC Champions on Friday, so he settled into a good groove with the putter and made sure he caught them.
Woods birdied five of his last 10 holes for another 5-under 67, giving him a share of the 36-hole lead with Nick Watney in the final World Golf Championship of the year that continues to have a distinct American look.
Seven of the top nine players on the leaderboard are from the United States, and the possibility of another No. 1 vs. No. 2 showdown looms with Phil Mickelson making three birdies over the last four holes for a 66 to finish one shot behind.
Woods has been runner-up twice at the HSBC Champions, and he put himself in contention again at Sheshan International. After consecutive holes failing to make birdie with a wedge in his hand, he knocked in a 10-foot birdie on the ninth and was on his way.
"I certainly had some looks and didn't really capitalize on anything," Woods said. "Made a putt on 9 and from then on, I hit a lot of good putts and basically played the last 10 holes at 5 under."
He reached the par-5 18th in two for one last birdie to catch Watney (70) at 10-under 134.
They were one shot clear of Mickelson, Ryan Moore (69) and Alvaro Quiros of Spain, who chose to lay up on the 18th instead of hitting 4-iron to the green because the putting surfaces were firm and quick. He had to settle for a par and a 66.
Another shot behind was Anthony Kim, who made eagle on the 18th for a 69, while Pat Perez made a bogey on his final hole for a 69 that put him at 7-under 137.
Perez said he is working on some swing adjustments and not really paying attention to his score, so while he is in contention for the first time in a World Golf Championship, he is not particularly sure how he got there.
At least he might get a few more fans on Saturday.
"It felt like Sunday afternoon on the wrong side of the course," he said. "We had like two people following us. It's an awesome tournament, but we had no atmosphere. It made me realize I'm actually a nobody. I thought I was decently somebody, but this confirms it. In worldwide golf, I'm a nobody."
Still laughing, Perez stated the obvious. Most of the fans were following three groups, the bulk of them with Woods.
They lined the entire side of the fairway on the 603-yard eighth hole, although most of the cheers were for Thongchai Jaidee of Thailand as he opened with three birdies over the first seven holes.
Woods had birdie putts inside 18 feet on every hole over the first hour, converting only one of them and losing his patience. The Chinese gallery doesn't speak his language, although it understands that a player flipping his club at the golf bag is not a good sign.
Only when he glanced at the leaderboard did Woods realize no one was doing that much better.
"It certainly was a bit frustrating," he said. "But the guys weren't running off and hiding, either. I knew if I could just play the back nine at 3-under par ... I figured that would probably be a good number. And I did a couple better than that."
Putting also was the difference for Watney, who made just about everything on Thursday and was stunned to miss a couple of short putts in the second round. He was even for his round until closing with two birdies that put him in the final group of a WGC event for the second time this year. He played the final two rounds at Doral with Mickelson, losing by one shot.
Watney wasn't the least bit shocked to see Woods atop the leaderboard, with Mickelson and Kim right in the mix.
"I knew from the start they were in the field, so it's no surprise they're playing well," Watney said. "Whatever the lead is at, that's not going to win the golf tournament. I need to go out and keep playing well and keep making birdies to have any shot."
Watney and Woods will be joined in the last group with Moore, who messed up the easy holes and picked up shots on the harder ones. He finished by missing the green in a miserable spot on No. 9 and chipping in from 60 feet for birdie.
"I was happy to walk away with par, and to have birdie ... that was nice," Moore said.
Mickelson has been driving the ball great since the Tour Championship, and he gets to stack his length up Saturday against Quiros, one of the longest hitters in golf. Quiros is one of the few who has even dared go for the green on the 603-yard eighth, with a stream fronting the green. He reached it Friday with a 4-iron.
"I'm playing OK," Quiros said. "I'm lucky with bad shots. I'm able to hit recovery shots."
Mickelson won at Sheshan International two years ago and has done just enough to be near the lead. He chipped in twice, but perhaps his best shot followed a mistake. He hit hybrid into a fairway bunker on the 16th, leaving him an awkward yardage with the ball slightly plugged in the slope. He hit wedge to 12 feet and made birdie.
"I put myself in good position heading into the weekend," he said. "There's a lot of guys there, and I'll need to play well."