News
Haas Gets First Tour Title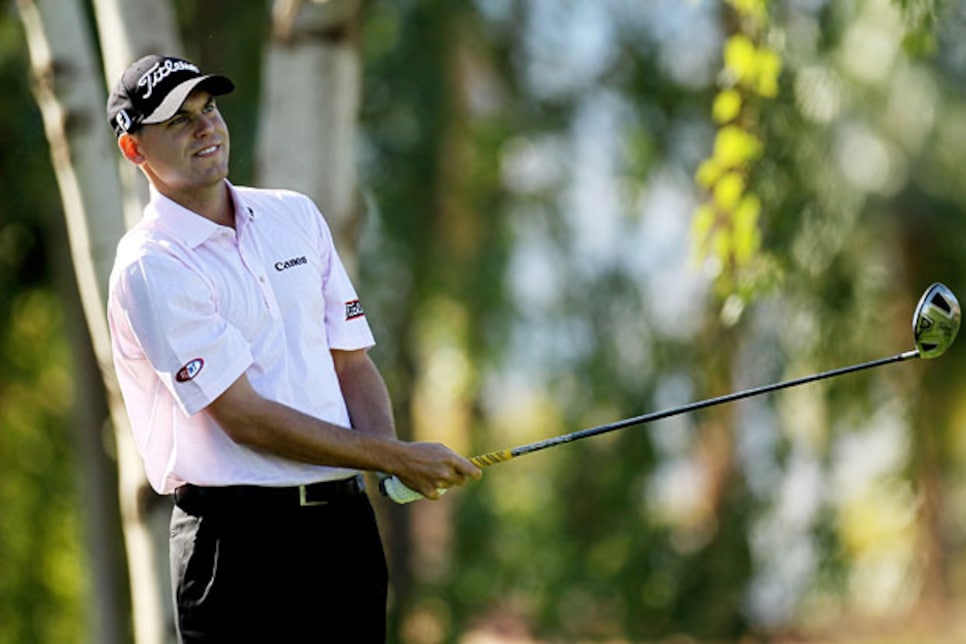 Haas along with his father Jay became the eighth father-son combination to win on tour.
LA QUINTA, Calif. (AP) -- Bill Haas followed his father's advice to be patient through six long days at the Bob Hope Classic until his final hole, when a highly impatient shot clinched his first PGA Tour victory.
Haas made a short birdie putt after an aggressive approach shot on the 18th hole to win the Hope Classic on Monday, beating Matt Kuchar, Tim Clark and Bubba Watson by one stroke with an 8-under 64.
"I'd been wanting to win from the first tournament I played, but it's a process, and there's a lot to it," said Haas, a rookie in 2006. "It's special, but I don't know if it's a monkey off my back. I know how hard it was to win, and I'm grateful."
The 27-year-old son of 1988 Hope Classic champion Jay Haas was the last of three co-leaders to play the par-5 18th. Kuchar and South Africa's Clark had both missed birdie putts at the Arnold Palmer Private course, with Kuchar lamenting the execution of his approach shot before Clark laid up.
Haas expertly dropped his 3-iron behind the pin, allowing him to two-putt his way to a 30-under 330 finish and his long-anticipated first victory.
Fourth-round co-leader Watson birdied the 18th to grab a share of second place.
After grinding through five rounds on four courses in the rain-delayed tournament, Haas couldn't celebrate until he made it through the last hole with his hands shaking and fingers going numb — and at that point, he didn't even know his father had made it back from the Champions Tour event in Hawaii to watch him.
"It was the most nervous I've ever been," Haas said.
Haas credited his steady play to a tip he received Monday while practicing with his father in nearby Indian Wells last weekend when Bill Haas missed the cut at the Sony Open. Jay Haas made it back just in time to watch his son's final round, which ended with back-to-back birdies.
"It's definitely neat that down the road, 22 years from now, we can look at both our names on the list here," Bill Haas said. "I'm not trying to compare myself to him. He's almost unreachable."
They're the eighth father-son combination to win on the PGA Tour, but Bill Haas spent most of the day trailing Kuchar, who came from three shots back and rocketed up the tight leaderboard.
Kuchar had eight birdies in his first 11 holes, but just one in the last seven. Although his 63 was the best final round, he wished for a better second shot on the 18th. His hybrid approach landed well back on the fringe, eventually leading to a missed 13-foot birdie putt.
"It's a hole where you're counting on making a 4," Kuchar said. "I put myself in a difficult situation ... but shooting 63 is fantastic. I wasn't sure if I had that much in me today. It was a great round of golf."
After rain wiped out Thursday's play in the PGA Tour's only five-round, four-course event, the Hope Classic was extended to Monday. The tour's next event is close by at Torrey Pines, making travel easy — but the top Hope finishers may want to take an extra day to catch their breath after a nail-biting finish.
Rookie Alex Prugh, who shared the lead with Watson entering the final round, started slowly but closed with three straight birdies to finish fifth at 28 under in his third career PGA Tour event. Veteran Mike Weir was sixth at 26 under.
Kuchar's fast start also didn't shake Clark, who has never won on the PGA Tour. He has a runner-up finish for the sixth straight year, including his 2006 finish at the Masters.
"I made a bunch of birdies, (and) you would think that I putted my eyeballs out, but I missed a lot of short ones," said Clark, who famously sent home Tiger Woods from the second round of the Accenture Match Play Championship last year in Woods' return from an eight-month absence.
"There's always going to be an exciting day with so many guys bunched in there, and I started to make some birdies on the back nine to get back into it," Clark added. "When you know you have to make birdies, it makes things a little bit easier."
Kuchar went ahead with six birdies on the front nine at the Palmer course, surging past Watson and Prugh early in the round. Haas stayed close to Kuchar's blistering pace with five birdies on the first eight holes, and Clark caught up on the 15th hole with a 6½-foot birdie putt.
After five straight pars, Kuchar made a near-perfect tee shot on the 130-yard 17th before calmly making a 16-foot birdie putt. Clark wouldn't be shaken, answering with a birdie putt of his own in the next group — and after Watson missed his birdie putt, Haas nailed his own.
"As I was making my way through the back nine, I thought 30 under would have been a good score," Kuchar said. "And there it was. It was the winning score."