News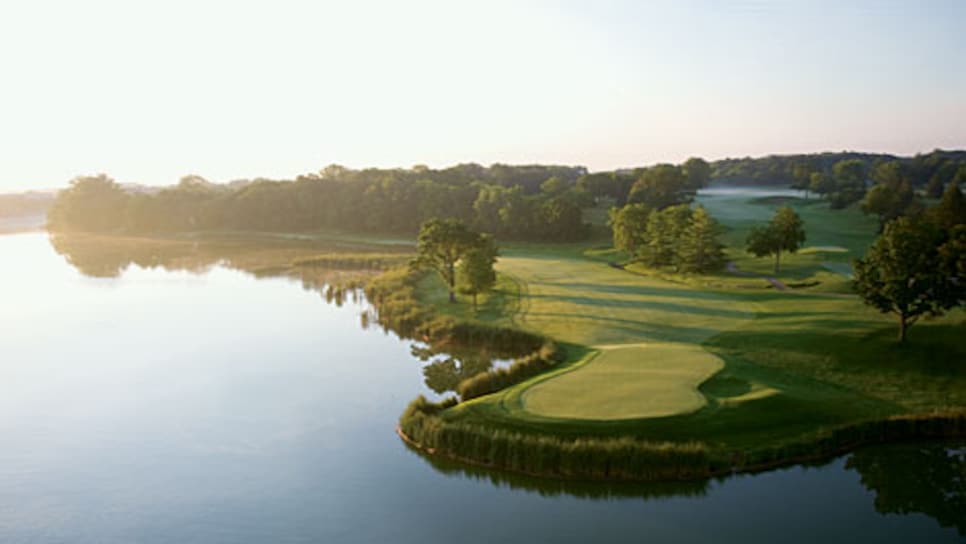 RemaKe BY The Lake The 402-yard, par-4 16th was reworked considerably in the late 1970s following suggestions from three influential club members.
We all know Tiger Woods finished second to Rich Beem at Hazeltine National GC in the 2002 PGA Championship, that Payne Stewart won his first U.S. Open on the course in 1991 and that Dave Hill called it a cow pasture in 1970.
Here are a few items you may not know about the Chaska, Minn., track that hosts this year's PGA Championship:
1. Robert Trent Jones wasn't its original architect
Hazeltine's origins began in the mid-1950s, when members of The Minikahda Club, one of the oldest courses in Minneapolis, became concerned that a proposed freeway would compromise their course. Club member Totton Heffelfinger (USGA president 1952-53) located land 20 miles south, along Lake Hazeltine, and brought in Chicago golf architect Robert Bruce Harris (who had just finished nearby Wayzata CC) to design a course. Harris prepared a 27-hole layout for what was termed, rather pretentiously, "The Honorable Company of Minnesota Golfers Playing at Hazeltine." (That blueprint now hangs in the Hazeltine clubhouse.)
Harris' design had the clubhouse in the same location where it was eventually built, although his faced the lake. The main 18 occupied the same land as today's course, but only one hole followed the same corridor as any hole actually built; his 10th was pretty much today's 10th.
Minikahda members voted not to build Heffelfinger's course, so he had his grain business, Peavey Co., take an option on the land, then convinced banker Robert Fischer to get involved. Fischer was friends with Robert Trent Jones and showed the architect the land in 1959. Jones told Fischer if he couldn't create a great course on that land, he should get out of the business.
2. Once Trent Jones got involved, it was going to be an executive course
Not the par-64 kind of executive course, but a full-blown championship course for business executives. Trent suggested the club be called The Executive Golf Club of Hazeltine. He envisioned a nationwide network of Executive Clubs with reciprocal memberships. But when charter memberships were offered ($1,500 initiation fee, $400 annual dues), prospects found the name rather stuffy. So the club was quickly renamed Hazeltine, after the nearby lake, and National, to reflect the desire for a widespread membership base. "We hope within a few years to bring the national open here," Heffelfinger told sportswriter Dwayne Netland months before the club opened in 1962, and using his clout with his fellow USGA committeemen, he got his wish. Although terribly immature, Hazeltine National hosted its first U.S. Women's Open in 1966 and its first U.S. Open in 1970.
3. Dave Hill's criticism of Hazeltine was just an act
Tony Jacklin won the '70 Open at Hazeltine National, but we all remember Dave Hill, who finished second. He dominated the press accounts with his pointed barbs at the course design.
Years later, in his book Teed Off, Hill admitted he'd had four vodka tonics before entering the pressroom after his second-round three-under 69 (one of the best rounds that day), and once he found he could get some laughs, he played to the crowd for nearly an hour.
"How did you find the course?" he was asked. "I'm still looking for it," he shot back.
"Somebody ruined a good farm," he added. "A monkey is as good as a man out there.
"The man who designed this course had the blueprints upside down. All the greens slant away from you."
Complaining about the par-3 eighth hole, he said, "My two boys could come up with a better hole than that one."
Asked what the course lacked, he answered, "Eighty acres of corn and a few cows."
He finished by saying the golf course "ought to be plowed up."
(Others were equally critical, but less vocal. "You stole my lines," Arnold Palmer told Hill. "I don't think Trent Jones designed it," joked Bob Rosburg. "There are so many doglegs, I think Lassie did it.")
In hindsight, one wonders what all the fuss was about. But Hill's remarks did create a fuss. Fans "mooed" him during the final two rounds (and he threatened to send them to a slaughterhouse). Some writers chided him for his boorish behavior.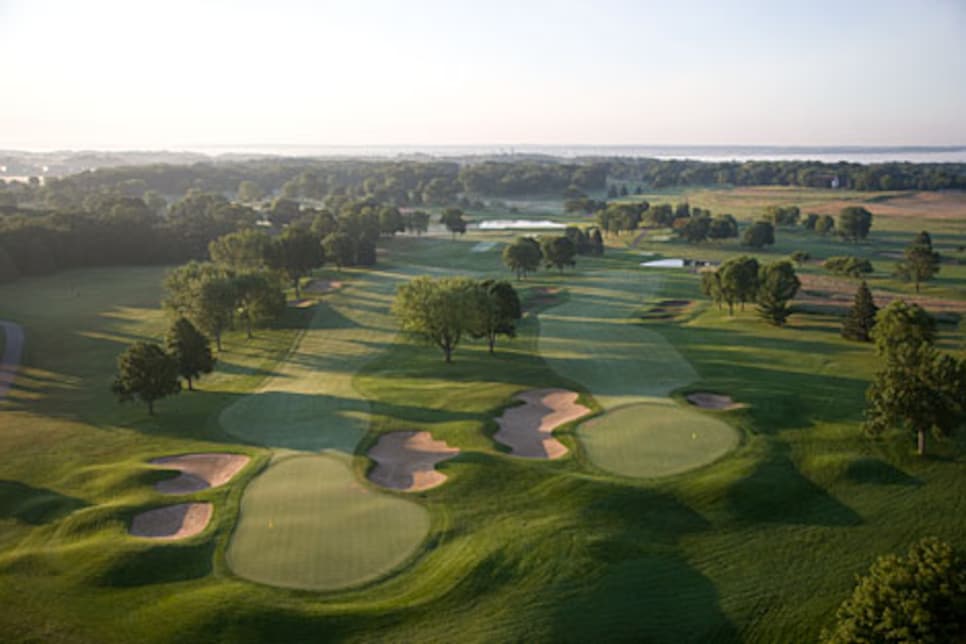 Joseph C. Dey Jr., commissioner of the Tournament Players Division of the PGA (now the PGA Tour) fined him for "conduct unbecoming a professional golfer." It was a token $150 fine (Hill would win $15,000 for finishing second), nothing more than "a bogey," Hill termed it. He would know. He had been fined more than 20 times before, including $500 for deliberately lifting a ball from a bunker and rolling it to the hole in order to be disqualified from the Colonial National Invitation Tournament earlier in 1970. (That led to a $3 million lawsuit by Hill against the TPD; it was settled out of court.)
Hill had a second act planned at Hazeltine. Had he won, he was going to ride a tractor at the trophy presentation. Jacklin spoiled that plan, and USGA executive director P.J. Boatwright Jr. had to persuade Hill to attend the trophy presentation as runner-up.
"Why should I go out there?" Hill asked.
"What has the USGA done against you?" Boatwright replied.
"They put this tournament on this golf course," Hill said.
4. Hill finally caved and Trent Jones got the last laugh
Trent returned to Hazeltine before the 1977 U.S. Women's Open to revise several holes. He cut down hills on the first and second to make those fairways visible from the tees, built a new fairway on the par-5 seventh so it wouldn't be a 90-degree dogleg right and softened several green contours.
"I felt a little indignant when the harsh remarks about the course were first made," Trent said. "But if a hole doesn't live up to championship standards, it should be changed. They are changing Augusta National all the time."
Dave Hill toured the course before the Women's Open. "It is just a 100 percent better golf course right now than it was in 1970," he said, to the astonishment of some.
But USGA officials told Hazeltine members that if they ever wanted another men's Open, they had to get rid of the awful 17th. (The par-4 17th was a 5-iron off the tee to a hilltop fairway; anything longer left a downhill lie to a green perched over two ponds. The fairway was ridiculously skinny; anything left was into trees, while anything right was down a ravine into a creek.)
To solve that dilemma, Bob Fischer and fellow club members Warren Rebholz and Reed Mackenzie (later a USGA president) wandered the shoreline behind the 15th green, found flat spots for a tee and fairway and suggested to Trent the present par-4 16th. (Ironically, the old Robert Bruce Harris 1957 plan had an 11th hole in the same spot, but running in the opposite direction.)
The old par-3 16th green was bulldozed into the lake to form the present peninsula green, while the old 17th was made into a par 3 by building tees where the fairway had been.
At the same time Jones altered several other holes. He created a new par-3 eighth on the right side of a pond so he could put the second tees on the spot of the old eighth green, which straightened that hole. He convinced the club to abandon its small pitch-and-putt children's course so he could build new uphill-but-straight fairways for the ninth and 18th, replacing tandem sharp dogleg-lefts.
In November 1978, before work on some holes had started, Jones gave Dave Hill a two-hour sneak peek of his proposed modifications. Sportswriters looking for more fireworks were disappointed.
"I am glad Mr. Jones invited me to come here," Hill said. "He does me a great honor by outlining the proposals for the course. What he has shown me here, and what has been done, has convinced me that it will be a much better golf course than it was. There is no doubt it will be a great championship test … You could play the U.S. Open on it—and if they do, I'll play in it. You can quote me on that."
Thanks to the changes, Hazeltine got that second Open, in 1991 (Hill, then 54, did not play), plus the PGA Championship in 2002 and again this year.
5. The 14th might play as a drivable par 4 in this year's PGA
Since 1987 Rees Jones, younger son of Robert Trent Jones, has been the consulting architect to Hazeltine. He revised the course before its three most recent majors. His work for this year's PGA involved several new tees, the shifting of several bunkers closer to greens and the addition of new bunkers.
Perhaps his most significant change is on the tree-lined 352-yard par-4 14th, previously an untouched Trent Jones hole. In 2005 Rees added a fairway bunker some 50 yards short and left of the green. He calls it a cross bunker because it protrudes into the fairway and must be carried by anyone attempting to reach the green from the tee.
Few would try that at 352 yards, so narrow is the corridor beneath tall hardwoods. But Rees' bunker now provides the sort of risk-reward that may convince Kerry Haigh, managing director of championships for the PGA of America, to move the tees up to the 300-yard range in the third or fourth round (much the way his counterpart, Mike Davis, did at Torrey Pines' 14th in the 2008 U.S. Open) to purposely make the hole reachable from the tee with something less than a driver.
Without Rees's new bunker, the approach was too wide open. But with the new bunker, as well as out-of-bounds lurking to the right of the putting surface, there is enough of a gamble on this potential drivable par 4 to provide some real excitement coming down the stretch in the PGA Championship.
As soon as the championship is concluded, Rees will be back to rip up and renovate all of Hazeltine's greens in preparation for the 2016 Ryder Cup. Don't be surprised if he also knocks down a few trees and adds a small hilltop tee behind the 15th green to make the lakeside 16th a drivable par 4 for that event.