Equipment
First The Win, Now The Windfall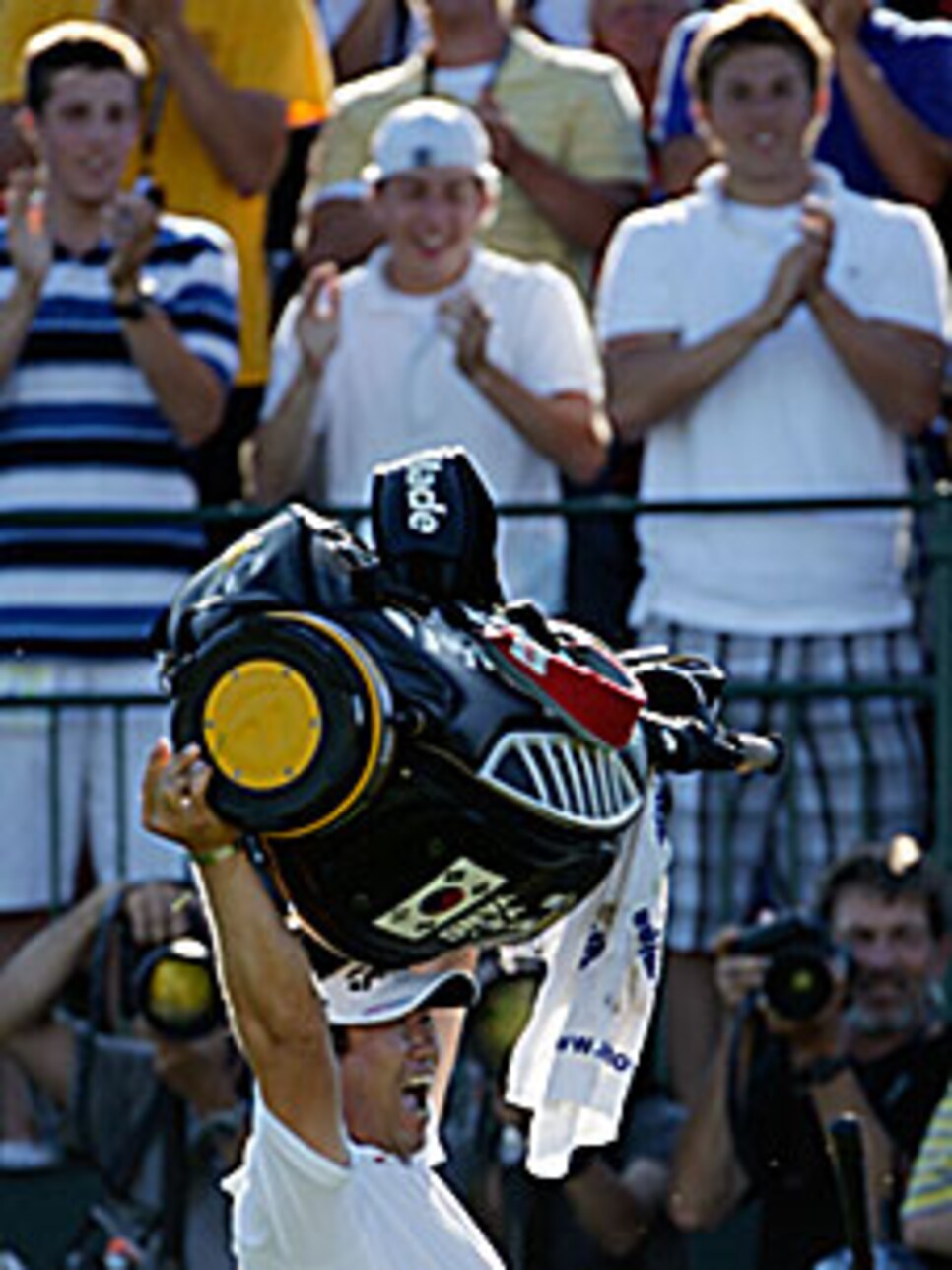 When Y.E. Yang was first announced in 2007 as a new signee by TaylorMade Golf, his name was misspelled in press releases.
Tuesday, he was the headliner during the national sales meeting at the company's worldwide headquarters in Carlsbad, Calif., and a two-story banner was draped over the company's main building heralding his arrival.
Yang's win, the first in a men's major by an Asian golfer and the first major in which a player overcame a Tiger Woods 54-hole lead, may have changed golf history in a global sense. But in a financial sense it's changed Yang's life even more.
How much? Although TaylorMade officials declined to speak about the specifics of Yang's endorsement contracts, several industry insiders not connected to Yang estimate the bonus for winning the PGA Championship could have been as much as $500,000. His club endorsement deal, which some experts believe lies somewhere in the $400,000 range, could jump to $1 million a year or more now, too. Yang's deal with TaylorMade is up at the end of the year, but negotiations already have begun to extend it.
With that in mind, Yang can think about naming his price, and companies already have an inkling he's better at promoting a brand than a NASCAR driver in Victory Lane. Witness his happily hoisting a TaylorMade staff bag over his head just off the 18th green after clinching the PGA Championship at Hazeltine National.
"When we met with him this week, he talked about how lifting the bag was his way of verbalizing his belief in the product," said Chuck Presto, TaylorMade's senior vice president for global sports marketing, who noted Yang also repeatedly pointed to his TaylorMade logoed visor after his win earlier this year at the Honda Classic. "He's shown us that even though he isn't able to maybe speak into a microphone to an English-speaking audience, he can be very visual, very clever and very creative."
Presto said Yang was given a standing ovation at the sales meeting, and with rock music pounding in the background, Yang was up on the stage playing air guitar. "He's certainly proven to us he can communicate very effectively."
Presto admitted that TaylorMade made an uncharacteristically quick decision in signing Yang in early 2007, only a few months removed from his victory in the HSBC Champions tournament in Shanghai, China, in November 2006, where he outplayed Tiger Woods in the final round. The deal didn't bring much to TaylorMade as Yang fell out of the Top 300 in the world and needed trips back to PGA Tour Qualifying School in 2007 and 2008.
But that deal started to make a little more sense after Yang's win at the Honda Classic in March, and of course, it became like winning the lottery with Yang's win at Hazeltine on Sunday. It was the first men's major victory by a TaylorMade staff player since Todd Hamilton, another relatively unheralded thirtysomething player, won the British Open in 2004. It also was the first men's major championship win ever for a player using a TaylorMade golf ball. In other words, the company all of a sudden got more than its money's worth.
"When you talk about the business of signing athletes to endorsement contracts, there are either good deals, bad deals or lucky deals," Presto said. "Externally, we're going to say this was genius, but internally, we're going to admit we got a little lucky."
Maybe not so lucky is French apparel maker Le Coq Sportif, whose trademark rooster was boldly on display on Yang's Sunday shirt. Although it's a popular brand in South Korea, Le Coq Sportif shut down its U.S. office (based in Portland, Ore.) more than a year ago, meaning it doesn't have access to the world's largest golf market. According to a company spokesman, Yang's victory doesn't immediately change that.
"It is an honor to be connected with such an amazing athlete and his incredible victory," said Laetitia Massoji, international public relations manager for Le Coq Sportif. "This victory will have great impact all over the world in terms of Le Coq Sportif brand visibility. We are currently focusing on our presence in Europe and Asia, but certainly have plans to enter the U.S. market in the future. Mr. Yang's victory will not directly impact our plans in terms of timing or strategy."
Still, the brand generated more than $2 million worth of exposure thanks to all of Yang's airtime during the final round of the PGA Championship, according to Joyce Julius and Associates, a leading research firm which monitors sponsorship value.
Which is not to say the sky is the limit for Yang. Though he may have global reach, a struggling global economy limits the pool of dollars available to him. Nevertheless, as the first Asian champion of a men's major championship, and with Asia as the epicenter of marketing potential for the immediate future, Yang is poised to be a highly marketable icon.
"We have had an overwhelming positive reaction in Asia to his victory, and I suspect that he will reap the dividends of his hard work for years to come," says Clarke Jones, IMG's senior vice president and global director of golf clients. Jones and Ryan Park, the IMG manager who works directly with Yang, believe there is genuine potential in Asia. "There will be opportunities in the USA for sure, but clearly more in Asia and we look forward to announcing them as details get finalized."
"It is safe to say that Y.E. will be very well compensated for the exposure and time that he will provide to corporate partners and TaylorMade going forward."
Yang also should benefit directly and significantly from appearance fees to events on the Asian and European Tour. (The U.S. PGA Tour does not allow appearance fees.)
There are some who believe that even with his major title, Yang still lags behind Ryo Ishikawa, the 17-year-old Japanese star who already is bigger than Tiger Woods in Japan after his five Japan PGA Tour wins. For instance, Ishikawa already has endorsement deals that bring in a reported $10 million or more a year, including deals with Panasonic, Toyota and Yonex. All this at an age younger than when Yang first took up the game 20 years ago.
But Yang's got the major title, and along with South Korean-born Danny Lee, who has already notched a European Tour win, he could clearly benefit from a focus on building golf and other brands in the emerging Asian marketplace. Indeed, Yang may be more marketable than any of this year's four major winners, even though he speaks very little English.
"I actually think Yang could be somewhat of the exception to what we've seen," says one insider, noting that individual players driving equipment sales hasn't exactly translated as a marketing strategy in recent years. "He could have a real commercial benefit in Korea. I'd use the hell out of him if I were TaylorMade, and try to take over that equipment market. You get a player that just stared down Tiger Woods? I think that's significant."