News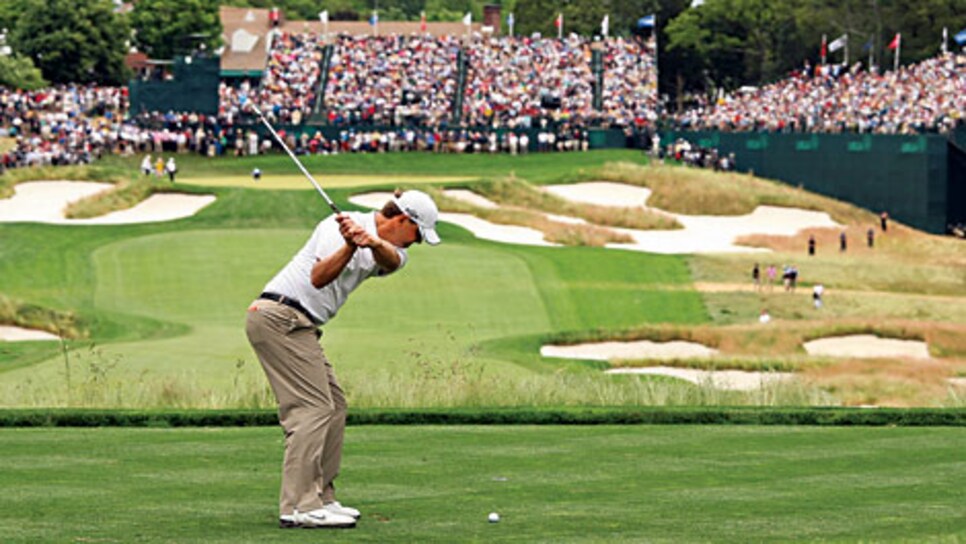 IRON-CLAD FINISH: Having built a two-shot lead coming to the 72nd hole, Glover had the luxury of playing a conservative 6-iron tee shot en route to clinching the title.
It was a U.S. Open, all right, even if everything turned out all wrong, a lament directed not at the man who won the tournament, Mother Nature or the meteorologists who seemed to whiff every forecast detailing her sour mood. For all the ankle-deep mud and marshmallow greens, for all the foul-weathered mystery and dubious history, America's 109th national championship was still ready, willing and waiting to be rescued.
A day late, perhaps, but not a dime short in the drama department. Two remarkable storylines, both of which emerged swiftly and out of nowhere, promised an oversize emotional climax on an overcast Monday afternoon. If par was made to be broken, however, promises are too -- and so it happened that a pair of the warmest and fuzziest plots in golf's modern era went cold less than 15 minutes apart on Bethpage Black's par-3 17th.
Make no mistake: Lucas Glover earned it. His four-under 276 led to a two-stroke victory that was as hard-fought as it was huge, his final-round 73 flawed early but steadier than anyone else's down the stretch. His only birdie of the day proved to be the game-winner: a perfect drive at the par-4 16th, then an 8-iron from 172 yards that stopped four feet left of the hole. If you're looking for more highlights, try a hair salon.
If you're looking for tragic endings, have a seat. Golf's short list of unforgettable performances does not leave much room for debate -- Jack Nicklaus' 1986 Masters triumph has been awarded an exemption in perpetuity, as has Tiger Woods' landmark pro debut at the same tournament 11 years later. Brilliance never gets old, but to overcome a personal or physical setback, advanced age or extreme odds en route to winning a major championship requires more than four days of superb golf.
You need a conflict, a real-life predicament, a pound of hope, a ton of guts and an audience to validate the climb. As it turned out, this U.S. Open had two hardship cases and a pile of unanswered what-ifs. "Certainly I'm disappointed, but now that it's over, I've got more important things going on, and ... oh well," is how Phil Mickelson characterized his fifth career runner-up finish at a U.S. Open. "I think this one is more in perspective for me. I feel different this time."
Irony is everywhere if you look hard enough. As Mickelson pondered another Big One That Got Away, the two late bogeys at the 69th and 71st holes that cost him a share of the lead, and a life turned upside-down by wife Amy's breast cancer diagnosis, David Duval took off his Oakley sunglasses and placed them over the eyes of his daughter Sienna, who turns 2 in August. Sometimes, leader boards almost seem irrelevant.
"I'm happy with how I played but extremely disappointed with the outcome," Duval said of his first top-10 finish since October 2002. "There was no question in my mind, I was going to win the golf tournament." Birdies at the 14th, 15th and 16th had vaulted Duval into a tie with Glover and Mickelson, if only for a few minutes, or until Glover stuck his approach at the 16th and Mickelson missed a six-footer for par one hole ahead.
After four long days of hurry up and wait, a beleaguered odyssey full of raindrops and oddities, it became almost scary to think what might happen next. Ricky Barnes, the strapping prodigy turned Nationwide Tour refugee, had begun his final round late Sunday evening leading the U.S. Open by one shot over Glover, having posted the lowest 36-hole start at a U.S. Open (eight-under 132) the previous day. Monday's front-nine 40 sent Barnes packing, at least temporarily, but who saw David Duval?
Mickelson will always be New York's favorite son, a superstar whose willingness to connect with the vocal locals earns him an abundance of love in return. They expect him to contend, and he always seems to oblige. Duval, on the other hand, showed up 882nd in the World Ranking, a fascinating stat if only to verify the ranking goes that deep. He had claimed a spot in the field after a surprisingly successful sectional qualifier in Columbus, Ohio.
Why does he keep grinding? "I love this tournament," Duval said as he cleaned out his locker while 4-year-old son Brayden examined the contents of his dad's wallet. "Daddy, you've got a twenty in here!" said Brayden. Duval is heavier and happier than a decade ago when he unseated Woods as the world's best player, but the body language is the same and for one week at least, so was the ball-striking. "I know it sounds silly," said Duval, now 142nd in the latest ranking, "but I can really focus when I have to aim at certain spots on the greens and hit certain types of shots."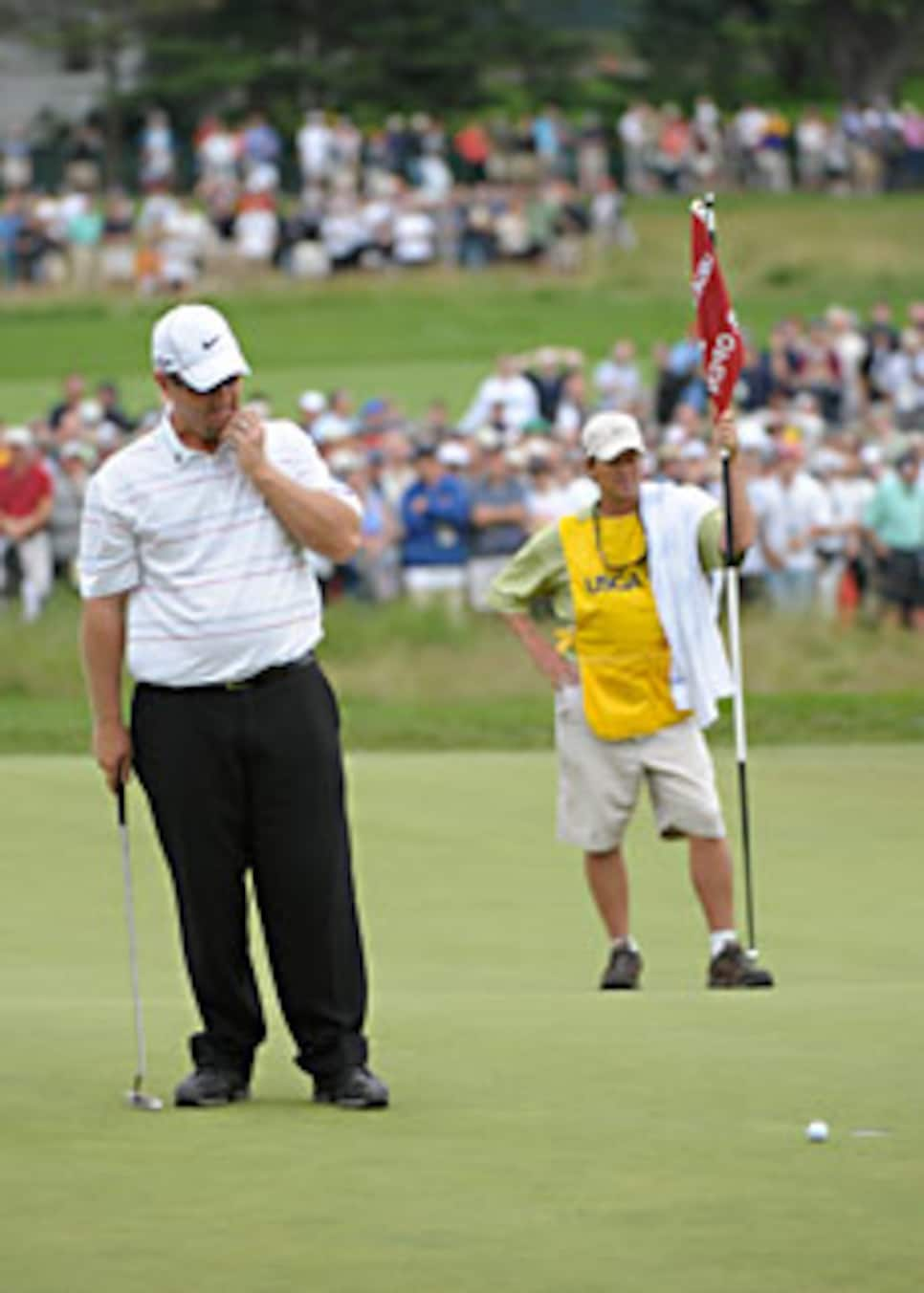 The last green he missed was the one that ended his run. A 4-iron at the 17th left Duval just short of the putting surface, where he faced a seemingly harmless chip from a lie better than the one Mickelson had dealt with a few yards away and a few minutes earlier. Duval's aggressive shot almost hit the flagstick, then scooted five feet past the cup. His par try was halfway down before fate spat it away.
"Lipped out twice on that hole today," he joked.
In his reinvented state, Duval might best be described as a part-time golfer and full-time father. He and his wife, Susie, had a full boat of kids with them at Bethpage, while Mickelson, the tour's ultimate family man, was there by his lonesome.
There's that irony thing again. "It will be a quiet ride home," said Steve Loy, Mickelson's longtime manager. But Loy thought the presence of Lefty's family would help cheer him up. "They'll go to Chuck E. Cheese's, and the kids will be all over him. Everything will be just fine."
Dealing with failure hasn't been as easy for Glover in his six years on the PGA Tour, and even he was surprised to end up with the trophy in his first time in contention at a major. "I hope I don't downgrade it or anything with my name on there," said Glover, now 18th in the World Ranking. "I'd never been there in a major and maybe that was motivation for me to prove to myself I belong. I played well under pressure, and I'm happy with myself."
Glover isn't a dance-in-the-end-zone type of guy, which was fitting, because this U.S. Open wasn't exactly a celebration of all things wonderful about pro golf or events that really matter. Mike Davis, the USGA's senior director of rules and competitions, estimated four inches of rain fell on Bethpage in the five days it took to play 72 holes.
All the precipitation didn't ruin the year's second major, but it came pretty close. Officially, there were three weather-related suspensions and two rounds that carried over a second day because of darkness. Things had fallen 24 hours behind schedule by the midway point, and if the 36-hole cut hadn't landed on the minimum number of 60 players, a Tuesday finish would have been a distinct possibility. There were 12 wet days in the two-week stretch leading into the tournament, then a biblical downpour that brought the opening round to a halt three hours and 15 minutes after the first drive was airborne.
You can blame it on the USGA's shameless Northeast bias, but the law of averages was a more logical culprit. This was the first time since 1983 that the final round of the U.S. Open didn't end on Sunday, but what made this particular weather pattern even more impressive was its insistence on making Tiger Woods' life miserable. Throughout the first half of his career, Woods perfected the art of landing on the sunny side of the draw at any major where weather became a factor.
Things began to change after the inaugural visit to Bethpage in 2002. Tiger's second U.S. Open title had been aided at least partially by his second-round tee time, which sent him out before the heavy showers that made it so tough on everyone -- most vocally Sergio Garcia -- who played that afternoon. You half-figured the golf gods might show up this time to collect their debt. What nobody could have figured was that Woods would actually pay it.
Of the 23 players at par or better after 36 holes, 18 came from the late-early side of the draw, including Glover, Mickelson, Duval and Barnes. Lee Westwood was the only guy from Tiger's half in the top 10, and though Woods would finish T-6, four strokes behind Glover at even-par 280, you can add this U.S. Open to the growing list of majors he let get away.
His title defense began in the rain Thursday with six completed holes and three shots on the par-4 seventh before play was suspended for the day. No damage done there, but under clear skies the next afternoon, Woods played the last four holes of his first round in four over.
"Two bad swings and a mud ball," Lord Eldrick said of the opening 74, but it was much more than that. Tiger's short game has rarely looked more unkempt -- a pair of poor chips at the 15th cost him three strokes in two rounds -- and there were perhaps half a dozen other instances when he failed to get up and down from spots where he usually saves par with his eyes closed. From the 10- to 18-foot range, Woods almost looked human, missing far more momentum putts than he made.
Meanwhile, Glover, 29, has made the rarest of leaps, going from talented underachiever to major champion in a fashion similar to that of Trevor Immelman, who has done little since winning the 2008 Masters. Glover's only prior PGA Tour win came at the 2005 Disney, which is a long time for a guy of his ability to leave his career stuck in neutral.
It wasn't long after that maiden victory that Glover lost his longtime swing coach and friend Dick Harmon, who died of a heart attack in February 2006. In the most poignant moment of Glover's interview Monday, he confirmed that Harmon was on his mind all week. "I think about him every day," said Glover, pausing and apologizing for the emotion in his voice. "He always told me I was good enough."
Where he goes from here remains to be seen. "Maybe this will be a springboard. Maybe this will be it," said Glover, who nine months ago was so fed up he granted himself a four-month break from the game that had made him rich and slightly famous but was beginning to consume him. "I wasn't playing well enough to keep playing and still be happy on the golf course. I was taking it home, and I wasn't myself."
Looking back, Glover's wife, Jennifer, says Lucas did the right thing by stepping away. "The decisions he makes in his job are his decisions, and I don't get involved in that, but he was frustrated all the time and needed to take that time off." When Glover returned to the tour in January at the Bob Hope Classic, his caddie, Don Cooper, saw a new calm in his man. "I noticed a change in him right away," says Cooper. "When he made a bogey there, he didn't look down and count blades of grass."
Come to think of it, a lot of the principals found themselves in unfamiliar roles at the 2009 U.S. Open. Duval and Barnes, two guys whose decorated pasts led to competitive dead-ends, found themselves in the heart of the final-round mix. Despite the giant mess he made on the front, Barnes hung tough and ultimately grabbed a share of second with Mickelson and Duval. If he figures out a way to get rid of that forward lurch in his swing, Barnes might find happiness and a home in the big leagues. "Am I stoked about what I shot today? No. But was I happy with the last six holes? Yes," Barnes said. "I'll take that with me to Hartford."
After spending so many years in the front row of the public eye, Mickelson will disappear to be at his wife's side. Duval will take three weeks off before returning for the British Open, which remains the biggest and last of his 13 career victories. For years Duval has been telling people he's close. Maybe he's finally right. "Most fun I've had on the golf course in a long time," he said.
After years of relative anonymity, Glover finds himself with a shiny trophy, a second pro victory and, one might guess, a brand-new set of expectations.
And finally, after a one-year reign as pro golf's glamour major, after the 2008 gathering produced one of those above-and-beyond memories some might rank with the 1986 and 1997 Masters, the U.S. Open has returned to its familiar surround, as the place where hopes and dreams come to die. It might not sound right, but there's not really anything wrong with that.
In U.S. Open winner Lucas Glover, the game has another major champion whose swing is a throwback. After the Masters we documented Angel Cabrera's old-fashioned "paintbrush" takeaway. Glover also uses his hands in an artistic way. His signature move is a dramatic increase of his wrist cock at the start of the downswing.
The most prominent exponent of such an action was Byron Nelson, in his prime perhaps the most accurate player who ever lived. Like Nelson, Glover takes the club back in one piece, creating a wide arc with little wrist cock. Also like Nelson, the clubface is slightly "shut" as it reaches the top of the swing.
From there, Glover noticeably drops his arms down and to the inside, narrowing the arc and creating tremendous stored power in the form of "lag." Bobby Clampett, who has long believed the whiplash effect of lag is the key to great ball striking, refers to Glover as a "snap loader." Players with his action tend to be powerful low-ball hitters, because the extreme lag they produce tends to deloft the club at impact. Sergio Garcia is another snap loader.
Accordingly, Glover's swing is founded on timing more than actions in which the transition is quieter. Like other snap loaders, he has to be careful not to let his lower body slide too far ahead of his upper body, which causes the club to drop too far to the inside and makes accuracy and proper trajectory difficult to attain. With swing coach Mike Taylor, Glover has worked on flattening his backswing so that the club doesn't drop quite as much.
A key to Glover's improvement is an intensified physical regimen with trainer Randy Myers designed to strengthen his lower body. "Lucas is extremely athletic," says Myers. "His program is similar to those designed for pitchers and quarterbacks. He has as much shoulder flexibility as anyone we've ever measured, so he needs a solid base to make it all work together."
Glover is currently leading the PGA Tour's total driving statistic, and according to Taylor, loves hitting it quail-high in heavy wind. The champion at Bethpage might be a very good bet at Turnberry.