News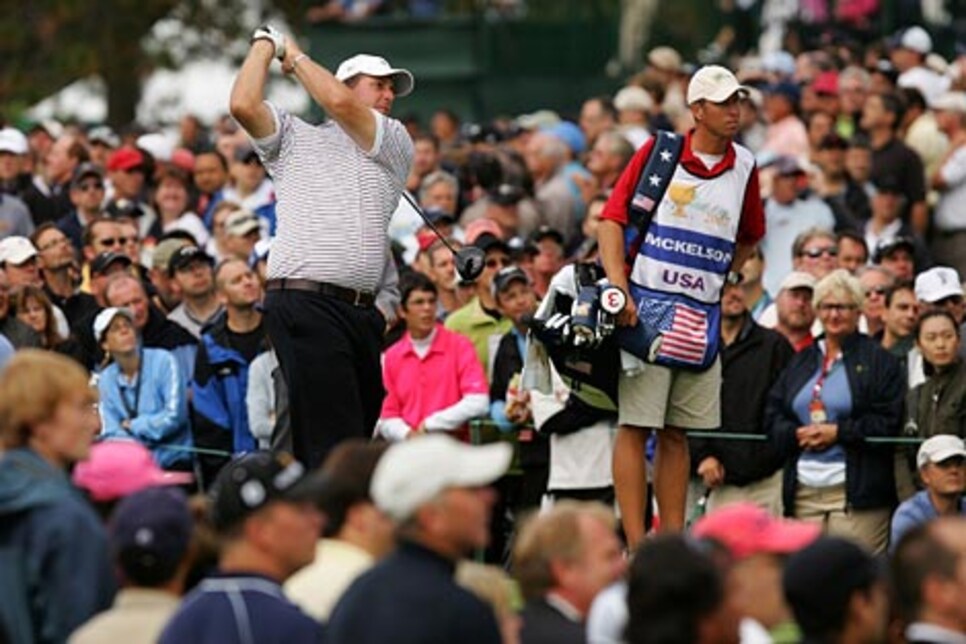 Mickelson, ranked No. 2 in the world, will be playing in his eighth Presidents Cup at Harding Park.
Phil Mickelson was 24 when he played in the first Presidents Cup in 1994, which is one way to measure the passage of time.  Or here's another way for Mickelson:  three major titles, 29 other PGA Tour victories and about $50 million in prize money ago.
If he was the Kid then, Mickelson has another role now, when the eighth version of the international match play competition not called the Ryder Cup is held at Harding Park Golf Course in San Francisco. He's the Veteran, and the only player on the U.S. team to play in each of the Presidents Cup competitions. Mickelson said he's fond of the memories, but happier to be looking ahead, especially now that he's fresh off his impressive win in the Tour Championship.
"It's going to be fun.  I think Harding Park is going to be a great site for it. I think San Francisco is going to be a great city."
It's a long way from San Francisco to Prince William County, Va., where the first Presidents Cup was played in mid-September at Robert Trent Jones Golf Club. Like everyone else, Mickelson was a newcomer to the scene, since it had never been held before.  President Gerald R. Ford was the honorary chairman and the captains were Hale Irwin and David Graham.
The U.S. won easily, 20-12, after taking a 5-0 lead after the first round of matches on opening day, never losing any of the five formatted sessions over three days.  Mickelson, who was 2-1-2 in the debut of the Presidents Cup, is a combined 11-13-9 in seven of them and just 1-3-3 in singles.
But those are only numbers and Mickelson said they do not totally reflect the way the Presidents Cup has grown on him over the years.
"It's interesting how the Presidents Cup has evolved," he said.  "I mean, here we are, 15 years later.  I mean, I think it's been successful.  I think it's been fun to play in.  It's fun to represent your country.  I mean, you get nervous on the first tee more in a Ryder Cup and a Presidents Cup than you do just about for any event, even majors.
"I think guys who play on these teams in the Presidents Cup and the Ryder Cup who handle the pressure tend to perform better in the majors thereafter."
Tiger Woods played his first Presidents Cup in 1998 and Harding will be his sixth appearance in the competition.  Woods is 13-11-1 -- tied with Jim Furyk for the most total points among U.S. players in the Presidents Cup.  Harding will also mark Furyk's sixth appearance.
Mickelson is the only current U.S. player who played in 1994, but U.S. captain Fred Couples was on the team, too.
"I think he realizes from a player's point of view what we enjoy about the week and what we dread about the week and he kind of gets rid of that and makes it a fun week," Mickelson said.
It's up to Couples to put his teams together and it wouldn't be surprising to see Mickelson paired with Zach Johnson.  Woods has already said he'd like to play with Sean O'Hair, Furyk or Lucas Glover.
Mickelson will be keeping a close eye on the pairings in San Francisco, just as he has since the first one in Virginia.
"I think it's interesting in the Presidents Cup when the pairings are made and the captains go in and get to match up with certain players that they think would be a good match for them.  That's always fun to watch."