News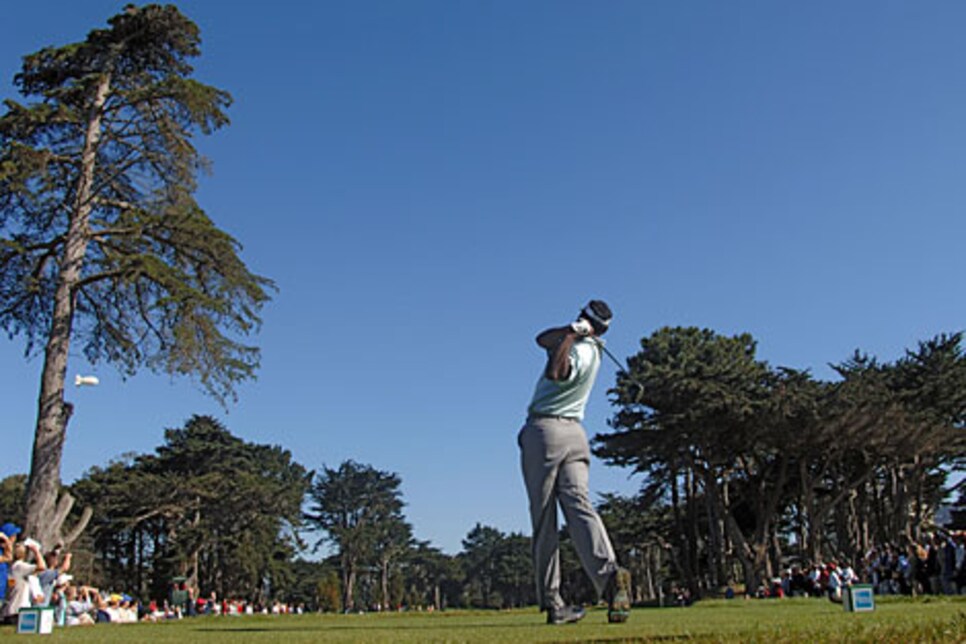 Vijay Singh will be among the players who will be returning to Harding Park after first competing there in the 2005 American Express Championship.
SAN FRANCISCO -- It's been more than four years since the PGA Tour staged a tournament in the San Francisco Bay Area -- the 2005 WGC American Express Championship - and it helped usher big-time golf into Harding Park Golf Course, a public course owned, operated and maintained by the Recreation and Park department of the city of San Francisco.
When the Presidents Cup is played at Harding starting Oct. 8, focus will once again be trained on the layout that hugs Lake Merced, separated from the Pacific Ocean by a two-lane street and a stretch of sand.
Tiger Woods said the current Harding is separated from its past life by a wide margin.
"When I played it the first time, it was a clover field," Woods said. "That was long before they re-did the course and made it such a fine track for the American Express. It's a fantastic golf course. What they did, to get it ready for the WGC, was just spectacular. And now that the Presidents Cup is there, it's going to shine again."
Harding got a new face in a two-year, $16 million makeover that primed it for the 2005 American Express, which Woods won in a playoff over John Daly. Harding had long since graduated from its clover field stage.
But the fact is that the Presidents Cup is something of a landmark occasion for pro golf in the Bay Area. It is just the third PGA Tour event here since the 1998 U.S. Open at the Olympic Club, which by the way, is only minutes away from Harding. Coupled with the prestigious San Francisco Golf Club and cozy Lake Merced Golf Club, they form a quality collection of layouts that any city could point to with pride.
Mike Weir, who tied for 18th in the 2005 American Express, said it's about time that professional golf has made a return to the area.
"I think it's really good," Weir said. "They've got such a great tradition down there, great golf obviously with San Francisco Golf Club, the Olympic Club, the way they've re-done Harding. It's probably about time we've got something back there."
It's arriving with a small bit of controversy. Nine of Harding's greens were burned in an over-fertilization mistake in July and four greens needed to be re-sodded in places, causing temporary greens to be used.
"We had a little boo-boo happen," said Steve Carmen of the PGA Tour's competition and rules department.
At the same time, why should golf be immune to controversy when it's part of the often-quirky local landscape? At Lincoln Park, another city-owned course, there is a movement to build a special events center squarely on the 17th hole -- the most scenic spot on the course with postcard-like views of the Golden Gate Bridge. And the future of Sharp Park, another public course, designed by Alister MacKenzie, is in doubt because environmentalists favor turning it into a wetlands to protect snakes and frogs.
Perhaps the courses reflect the often unpredictable city politics, where photogenic mayor Gavin Newsom is trailing in the polls in the Democratic race for governor in his own city. Out front is former governor Jerry Brown, who is mayor of Oakland, and hasn't even announced his candidacy. Brown is also 71, which makes him a staple of local comedian Will Durst's material about Brown's potential campaign. "He just got clearance from his paleontologist," Durst said.
Jim Furyk said Harding can easily stand on its own as a serious venue. He tied for 15th in the 2005 American Express at Harding and remembers it fondly.
"I thought it was a great golf course and I enjoyed it," he said. "I think the comments on the course were great and I think it's a super venue. I know the weather could be a touch iffy, probably can't be any colder than it is in the summer there, so we should be all right." Harding measures 7,169 yards and Weir said it has some bite.
"It's a long course, the 18th was a little different fit, but I heard they re-rerouted it. Good golf course, pretty tough."
The 18th at Harding is a 468-yard par four, but it will be played as the 15th for the Presidents Cup because of the re-routing for match play. Because many matches never reach the 18th hole and many end on the 16th, the 16th hole for the Presidents Cup is usually No. 1, a 395-yard par four. Harding's 18th for the Presidents Cup is usually played as the 525-yard 9th.
Weir said how he played Harding in 2005 isn't going to be the same as how he plays it at the Presidents Cup.
"It's stroke play and match play, so it's quite a bit different," he said. "I guess the sameness would be your strategy, how you're going to try to play each hole, and your targets and all that kind of stuff. But then when it gets into match play, you kind of maybe adjust that and if you get behind you maybe have to play more aggressive. And vice versa, if you're ahead, maybe you can just stick to your plan."