News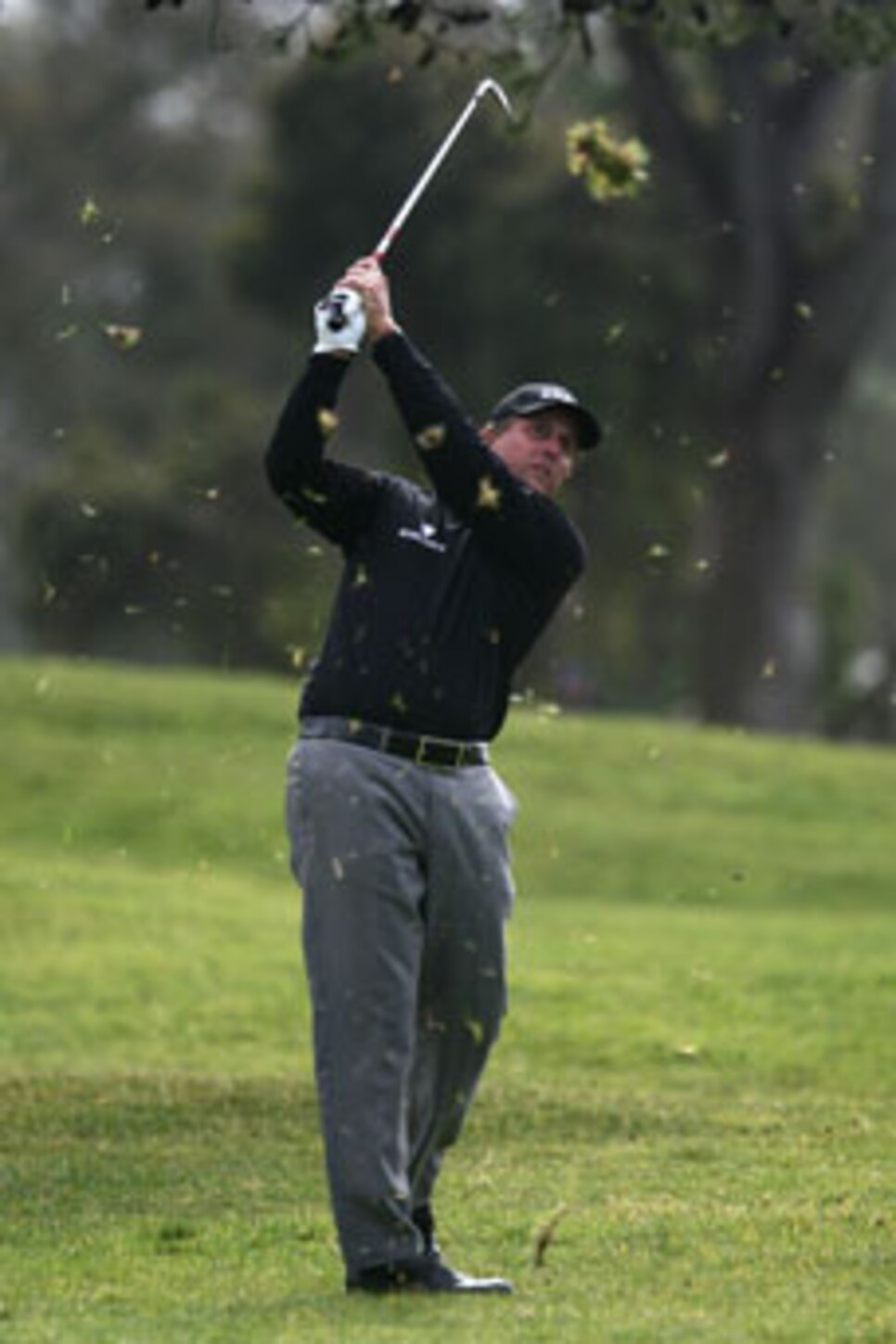 How shots out of the rough like this one will be affected by a new groove rule remains to be seen.
I have been racking my brain trying to get my head around the upcoming change to the groove rule (which will not be a rule at all until 2024 at the earliest, but rather a condition of competition). Is it a good idea or is it a bad idea? Are those who say it's bad for the game off the mark or the smartest guys in the room?
The reason it is more complicated than usual is that the stats suggest the impact will be minimal while the anecdotal evidence provided by some tour players point to it possibly being a very big deal.
In order to try and make some quantifiable sense of all this, I turned to my safety net -- statistics. So lets start trying to sort this out, numbers first.
I don't completely buy the USGA's premise there is little-to-no correlation between accuracy and success on the PGA Tour, which is important because it is pretty much the premise for the rule in the first place.
In compiling its correlation, the USGA used year-end accuracy stats and year-end money stats and if you went solely by that, you can see their point. A quick look at the top 10 in earnings last year would be nothing short of appalling in terms of accuracy as nine of the 10 finished 120th or worse in hitting fairways. Only two players in this group (Kenny Perry and Justin Leonard) managed to hit more than 60 percent of fairways for the year.
But is that a fair measure? You can argue about what qualifies as being a "success," but there is one metric that is not up for discussion: winning. If you win, you are a success that week. And the winners on the PGA Tour in 2008 did OK when it came to keeping the tee shot in the short grass. In 23 of the 46 events in which driving accuracy was measured, the winner managed to hit 66 percent or more of the fairways -- or basically two out of every three. The average of the 46 winners was 64.97 percent -- above the tour average of 63.16 percent. So the aim of the game's best isn't as bad as it appears at first blush.
Then we move to what happens when the ball is in the rough. The current cost of being in the tall grass is approximately a third of a stroke. Conventional wisdom says it should be a half stroke. I won't go through all the math machinations, but the difference between someone hitting 60 percent of their fairways and someone hitting 75 percent would be about 1.5 strokes in a four-round tournament in which most players are taking 280 blows or more. Are guys going to take their foot off the gas for fear of a stroke and a half? Highly doubtful.
Of course, I could be wrong. Guys might start hauling out fairway woods instead of drivers as the impact may be greater than the numbers suggest. Two years ago Golf Digest conducted a test that showed a 61-percent difference in spin between V and U grooves. Such a disparity may be why a half-dozen tour players voiced opinions to Golf World that the groove rule might have more of an impact than first thought. Stewart Cink, a player director of the PGA Tour policy board, was among them.
"What I think is happening is that two years ago it was announced that the grooves changes were going to come into effect in 2010. And everyone said, 'Whoa, that's good, new changes,' " said Cink. "But now players are getting out there and actually testing clubs with these new grooves and seeing that shots fly and they're realizing that it's actually going to have a pretty big impact on them.
"If there are enough rumblings it wouldn't be out of the realm of possibility that we could not adopt the rule. We never have wanted to do that. We're not a rule-making body. We don't want to be a rule-making body. We want to be the PGA Tour and let somebody else make the rules and we'll play by them. But it's going to be a very big change. Very big."