News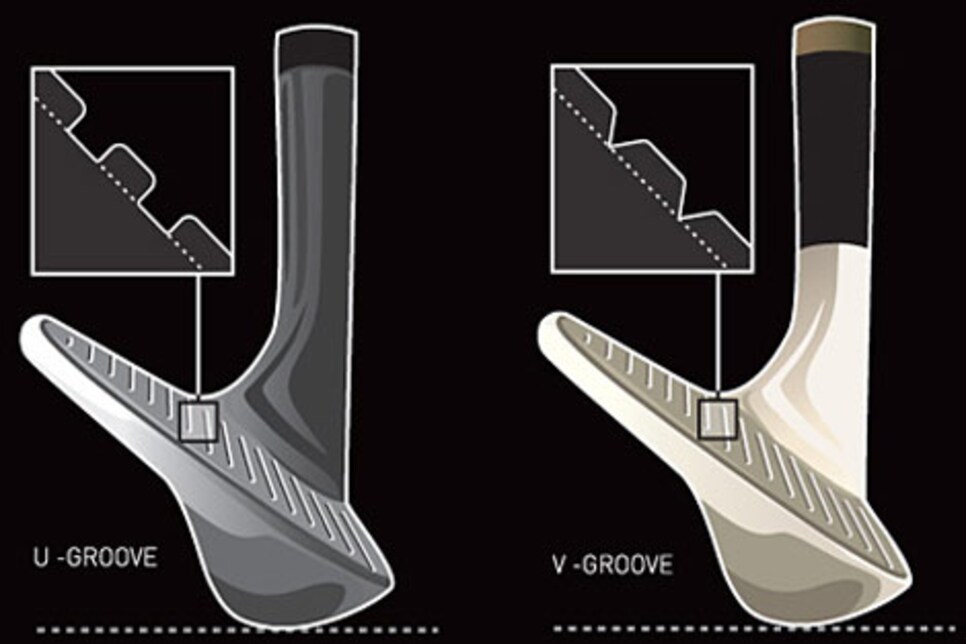 When tour players are forced to go back to V-grooves next year, some will be slower to adjust than others.
Karsten Solheim once called U-grooves "a gift to golfers." But the Jan. 1, 2010 date for when that gift has to be given back by players on golf's professional tours is rapidly approaching. And it may provide a bit of shakeup -- if not in the world order, then certainly the World Ranking.
The USGA's new rule on grooves will, according to many, reduce the effectiveness of grooves anywhere from one-third to one-half, which the USGA hope will bring accuracy back as an integral part of the pro game.
Here's a little Grooves 101. Off a tee, with no grass between the club and ball, grooves are virtually meaningless. But add grass to the ball-to-clubface impact and the equation changes dramatically. The force of the club-ball collision crushes grass into a watery mush that reduces spin. The more volume a groove has, the more that mush is channeled away from the face, leaving more clubface in contact with the ball. That leads to increased spin.
Put another way, think of grooves as the golf-club equivalent of tread on a tire. The larger and deeper the tread, the more water can be channeled away, providing a better grip on the road. In addition, the sharper the edges, the more they can grab the ball. The proposal, in short, lessens the grab of the edges and reduces the size of the "tread" by about half.
During its research, the USGA consistently pointed out that nearly half the approach shots hit from the rough on the PGA Tour found the green. When the groove rule first was announced, several players responded that they were confident that taking the ABS brakes off of shots out of the rough would somewhat harness the bomb-and-gouge style of play.
"It'll bring back a bit of doubt," said Stewart Cink. "You'll see some fliers. It won't be just a slash anymore." David Toms offered a similar thought, saying, "It'll put a premium on accuracy, but it will be interesting to see how they'll handle course setups. It might bring back a little more course management, bring back some strategy."
But will older players, some who have experienced playing with V-like grooves in the past, have an advantage? Word is that although some tour pros have been trying out the new grooves (Stephen Ames, for example, has been using them in competition this year), many are opting to wait until later in they year to even practice with them -- a move that might backfire.
"I think it's a good idea in kind of getting players involved and saying, hey, don't wait till the end of year," said Jim Furyk. "This is something you want to get a hold of early on."
To that end, Furyk received some wedges with the conforming groove to test just prior to the WGC-CA Championship at Doral. Those who opt to wait, he said, might be in for a bit of a surprise.
"There's going to be a break-in period," said Furyk. "Some people will start January 1 with no issues and other guys, they are going to need some time to get used to it. But eventually, give it six months or whatever, and everyone is going to be on the same page."
Although ballmakers also are working hard to come up with a golf ball that responds well to the new groove without sacrificing much on distance, fact is older players such as Furyk and Toms might actually enjoy a competitive advantage in the new-groove landscape while younger players who have enjoyed success (such as Camilo Villegas, Anthony Kim and Rory McIlroy) may take some time to get used to the new grooves.
A new World (Ranking) Order? We shall see.