News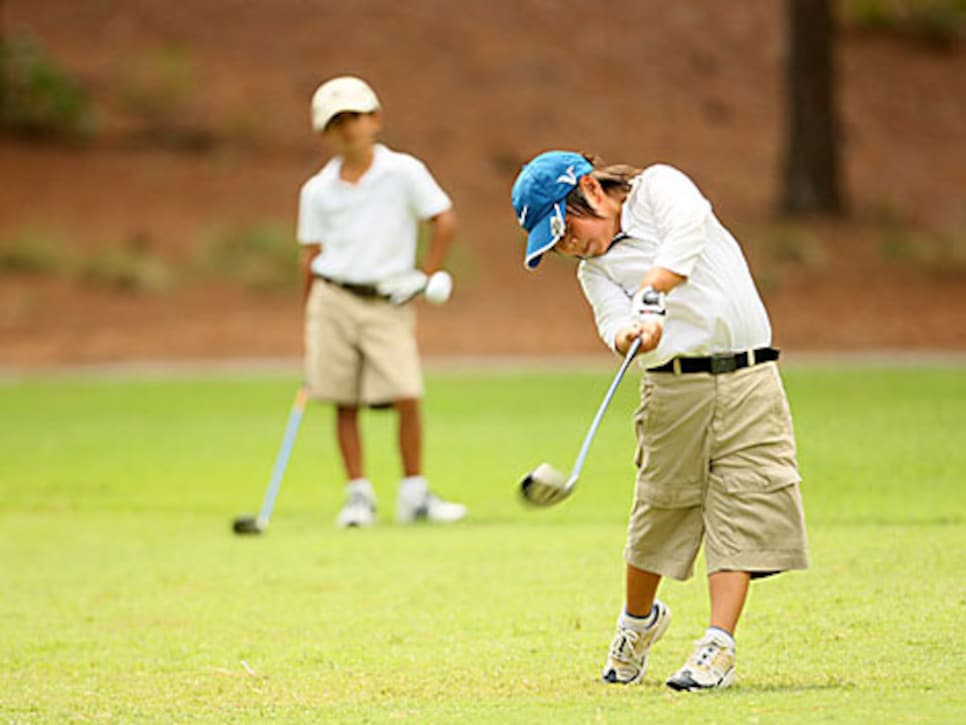 Pint-sized prodigies like Ethan Chung of California are commonplace in golf these days.
SUNRIVER, Ore. -- Following Hale Irwin in the first round of the Jeld-Wen Tradition Thursday at the Crosswater Club -- where his 68 was an excellent score compared to everyone but the birdie-binging leader, Brad Bryant, who shot a career-best 62 -- I kept thinking about Kota Murakami, who won his age group at the U.S. Kids Golf World Championship a few weeks ago.
Irwin is 64, and he has three U.S. Opens, a likeness in the World Golf Hall of Fame and 45 victories on the Champions Tour, which likely will remain a record long after Tiger Woods surpasses Sam Snead's 82 career titles on the PGA Tour. Murakami is 6, and his U.S. Kids triumph came on the heels of a victory in his age group in the Callaway Junior Worlds. Early at the U.S. Kids event, more than one parent pointed at Murakami's name on the scoreboard and said he was the one to watch. He proved them correct, shooting a nine-hole 33 the last day to win.
Irwin's first couple of clubs, he told me once, were cut-down specials with electrical tape "grips." I bet Murakami's bag contains about $1,000 worth of equipment, including two drivers.
We know where Irwin is at 64, but where will Marukami be when he's that age? Will his talent grow with him? Will all the regimented practice -- two hours a day, five days a week, Kota's father informed me -- result in a career as a professional golfer, a career that stacks up with those of players who were kicking cans and playing marbles at the same age?
In part because I went to the U.S. Kids World Championship the week after covering the U.S. Senior Open, it has been a good summer to contemplate golf's age spectrum. Prior to that double, there was the U.S. Women's Open, where 14-year-olds Alexis Thompson and Alison Lee made their presence felt. Appropriately enough, the outdoor interview area was adjacent to the kiddie pool at Saucon Valley CC.
Nothing was more riveting than Tom Watson's brush with victory at the British Open at 59 and, last week, South Korea's Y.E. Yang held off Tiger Woods to win the PGA Championship. Yang's win would be remarkable even without his backstory, which begins when the son of farmers took up golf at the decrepit old age of 19 after he got a job picking range balls. Dan Jenkins calls himself the "Ancient Twitterer" for getting on Twitter at 79, but it seems these days in golf, 19 is the old 35.
Yang's tale resembles the path taken by three-time major winner Larry Nelson, who came to golf at 21 after serving in Vietnam and throwing out his arm as a baseball pitcher. "I think starting late kind of equals out," Nelson said. "At least you're emotionally ready when you set your mind to something. The bad thing is, you've missed all those years of putting and chipping that juniors do, developing the feel. It was a liability for me -- it was probably 10 years until I was a proficient bunker player, and never really until I got on the Champions Tour. Same thing with putting. Although I had some good putting weeks on the PGA Tour, I wasn't that consistent. I think I was that way because of starting late."
For better or worse, hardly anyone is going to be able say that down the road.
Irwin was a grown man before he saw his swing on film. Most juniors who are heavily into the game have gotten swing analysis that wasn't even fantasized about decades ago. "Stand and look at the range at all those swings," club professional David Young, father and caddie of 12-year-old Cameron Young, said at the U.S. Kids. "Scary to think what the PGA Tour is going to look like in a few years. The instruction is so good, and so are the tools we have to work with. Kids get to see their swings, see good swings and compare them. Technology helps. Even the Tiger model. They're growing up looking at guys just ripping it. You've got better instruction. Better role models, or different ones anyway, and the equipment."
For a generation far removed from the immersion into the game so commonplace among juniors today, the developments are a mixed blessing. There is, Nelson believes, a bounty from self-searching. "For a few of us, we were able to find the swing that worked for us," Nelson said. "We were not put into an academy and told to 'swing this way.' For some that start out playing younger, they actually don't think for themselves. They don't get to experiment and think for themselves and see what's best for them. That can be a detriment, because everybody doesn't have the same personality or same physical ability. It's easy to learn but hard to change."
Irwin doesn't understand when kids of elementary-school age are being asked to practice as much as tour pros. "I think they're really taking these kids and trying to sophisticate them beyond their years," Irwin said. "They're not ready, these 6-, 7- or 8-year old kids. They haven't even gone through puberty yet. Let them grow. Let them be kids. I didn't take up golf in earnest until I was 14. If a kid plays other sports, if he has athletic ability, that's what counts whenever he takes it up. It comes down to what the child wants, what's in his heart."
While late bloomers might be an increasingly endangered species, Yang's PGA Championship victory gives them a lift for now. "Whenever you start, it's really a matter of learning the right way the first time," Nelson said, "and being able to apply what you learned under pressure. That's a combination of technique and concentration. It looked like Yang had both under pressure. Even though his swing changed a little bit the last three or four holes, he managed to keep the clubface where it was supposed to be and got through it."
Golfers are applying what they have learned under pressure at younger and younger ages. The ultimate effect on them -- and the sport -- might not be clear for a long time, until they are of Champions Tour age still chasing a little ball that can have a mind of its own.