News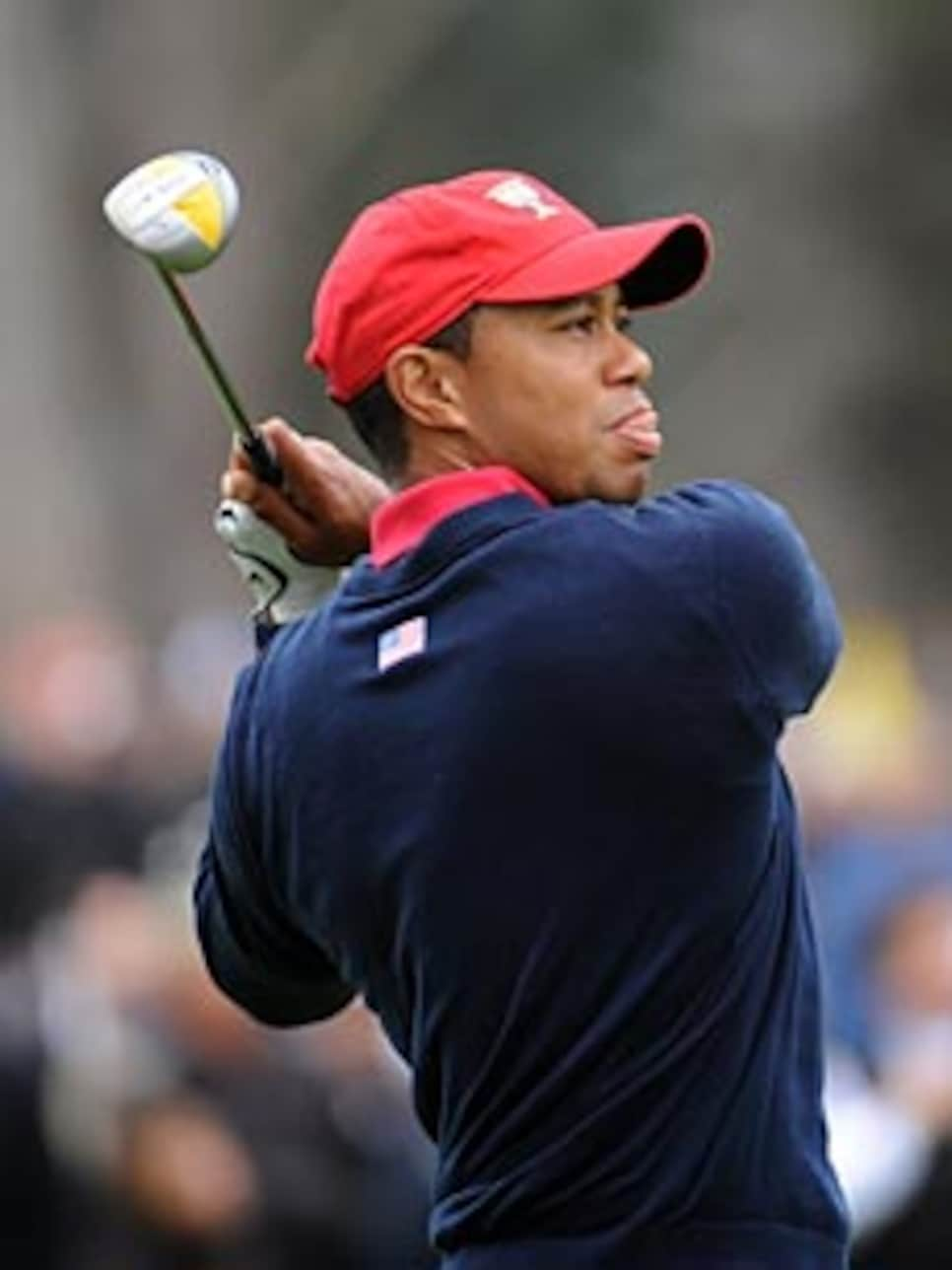 Woods defeated Y.E. Yang 6 and 5.
SAN FRANCISCO (AP) -- Tiger Woods provided a fitting conclusion Sunday to a perfect week at the Presidents Cup, for him and an American team that remains perfect at home.
With a flop shot out of the trees to set up one last birdie, Woods won the point that clinched the cup and made him only the third player in the Presidents Cup to win all five matches.
His 6-and-5 victory over Y.E. Yang was a tiny token of revenge for Woods blowing a final-round lead to him in the PGA Championship this summer. Even so, it was the first time in either the Presidents Cup or Ryder Cup that Woods earned the decisive point.
And he didn't even know it.
"Oh, perfect," Woods said, an apt choice of words. "All I knew was I was trying to get my point, and I was 5 up trying to make it 6."
Phil Mickelson wrapped up another anticlimactic finish with a 7-foot birdie putt for a 2-and-1 victory over Retief Goosen, leaving Lefty unbeaten (4-0-1) in the Presidents Cup for the second time in the last three contests.
The Americans won 19½-14½, the same margin as last time against an overmatched International team.
"They are just one hell of a team," Ernie Els said. "We have to pretty much go back to the drawing board, because they are a pretty well-oiled team, and it's hard to beat that kind of team."
The United States leads 6-1-1 since the Presidents Cup began in 1994, and it improved to 5-0 on home soil, the previous four victories coming across the country in Virginia.
"I'm sure we tried our best all week," Geoff Ogilvy said after his 2-and-1 victory over Steve Stricker. "Coming in today, we had too much to do and the U.S. team was obviously very motivated."
British Open champion Stewart Cink, disgusted with his performance Saturday, asked to play early and put the first point on the board by overwhelming Adam Scott, a questionable captain's pick who contributed only one point for the week.
Sean O'Hair and Anthony Kim followed with big victories of their own, and Hunter Mahan eventually won his leadoff match over Camilo Villegas of Colombia, the only player to get shut out at Harding Park.
That set the stage for Woods, whose performance has been mediocre since he started playing these team competitions in 1997.
He won four holes in a five-hole stretch in the middle of the round, pouring in one birdie putt after another, then sealed it with a 9-foot birdie on the 13th hole.
Woods went 5-0 for the week, joining Mark O'Meara (1996) and Shigeki Maruyama (1998) as the only players to win all five matches in the Presidents Cup. Woods has 18 victories, the most of any player in this event.
"It's one of my better Cup experiences -- we won, and that's the name of the game, whether you go 0-5 or 5-0," Woods said. "The fact that we won, that's the No. 1 thing. We came here to win as a team, and we did it."
Woods and Stricker became the first partnership in the Presidents Cup to win all four of their matches, with Stricker making all the putts and Woods providing the defining moment Saturday morning with a 25-foot birdie and a 3-iron to 8 feet on the par-5 18th that turned a certain loss into an inspiring victory in foursomes.
U.S. captain Fred Couples was the first to greet Woods with a hug.
When Couples was appointed captain, he called Woods and jokingly asked for a big favor: Make the team so Couples wouldn't have to waste a captain's pick on the world's No. 1 player.
What he didn't tell Woods were the expectations Couples had for him at Harding Park.
"I needed him -- this is going to sound stupid -- to go 5-0," Couples said.
It was the first time Woods and Yang have played together since the South Korean became the first player to rally in the final round at a major to beat Woods. This wasn't quite the same.
"He got me there, and I figured I could get him here," Woods said. "It certainly was not exactly the same atmosphere, but then it still was an important point."
Mickelson might have played the best for the Americans, carrying along three partners in the team matches and hanging on to beat Goosen. He went 4-0-1 for the week, and revealed after his match that his wife, Amy, had joined him on the weekend.
She is recovering from breast cancer and has not traveled with Mickelson since The Players Championship, a week before she was diagnosed. Amy Mickelson did not come to Harding Park on Sunday.
"I didn't think she was coming up, and she actually hid in the bathroom when I walked in my room," Mickelson said. "I didn't know she was there, and she scared me pretty good. It was an awesome surprise, though."
Among the few bright spots for the International team on a cold autumn afternoon was Tim Clark, who made eight birdies in 15 holes for a 4-and-3 victory over Zach Johnson. Ryo Ishikawa of Japan, at 18 the youngest player ever in these matches, kept his cool down the stretch to beat 49-year-old Kenny Perry.
Another moment came from Vijay Singh, who led the International team with a 2-0-3 record. It might have been slightly better, but after narrowly missing an eagle putt on the 18th hole, he graciously conceded Lucas Glover's 7-foot birdie putt to halve the match.
Glover had been 0-3 for the week, and it kept the U.S. Open champion from being shut out.
"He would have made it, anyway," Singh said.
By then, the Presidents Cup had long been decided. The Americans had a three-point lead going into singles, and picked up seven points in the final session.
Next up is a trip to Royal Melbourne in Australia in 2011, site of the International team's only victory. Greg Norman is expected to return as International team captain. The Americans, meanwhile, start qualifying in earnest next year for the Ryder Cup in Wales.
This is the first time since 2000 that the Americans held the Ryder Cup and the Presidents Cup at the same time.