News
Historic Hot Streak For Matteson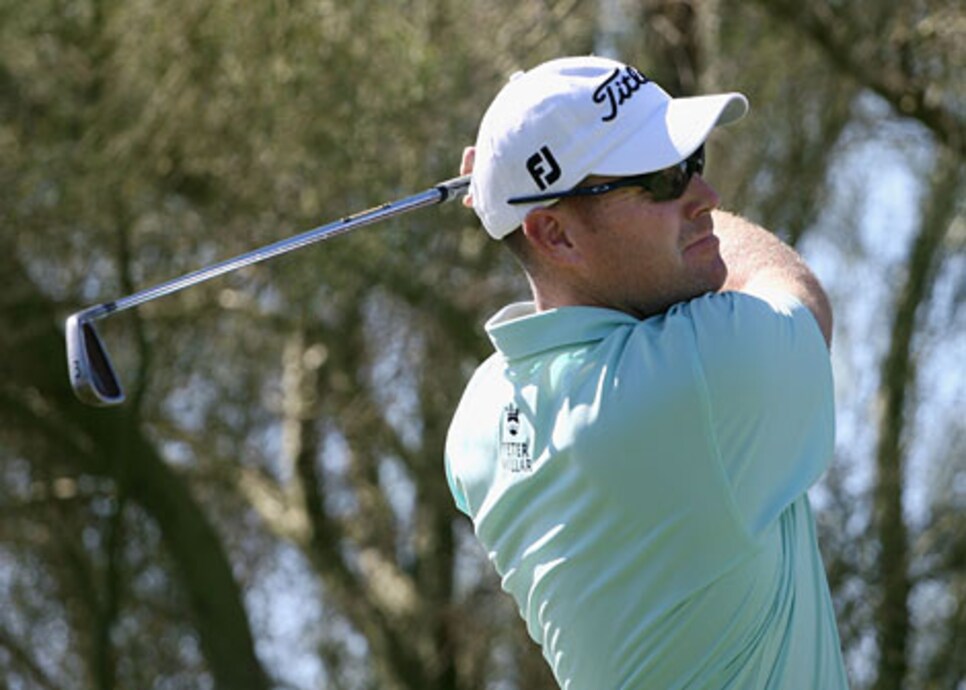 Matteson is an incredible 18-under par over his last two rounds.
SCOTTSDALE, Ariz. (AP) -- Troy Matteson had never shot a 61 until this week. Now he's done it twice in a row to set a PGA Tour record.
His second straight 9-under round at the Frys.com Open on Saturday gave him a three-shot lead at 16-under 194 heading into the final day of the third stop in the tour's Fall Series.
Matteson's 122 score in consecutive rounds broke the tour record of 123 set this year by Steve Stricker in the third and fourth rounds of the Bob Hope Classic.
"With the year I've had, it's -- first of all -- it's undescribable," Matteson said.
Webb Simpson (64), Tim Clark (65) and Chris Stroud (65) were tied at 13 under. Second round co-leader Rickie Fowler (69) and Nick O'Hern (67) were in a group of five at 12 under.
In an amazing stretch, Nicholas Thompson had a double eagle on the par-5 11th, followed by a hole-in-one on the par-3 13th, a drop of five shots in three holes. He finished with a 65 to tie Justin Leonard (69) at 11 under.
"He needs to go straight back to Vegas and put some money down," said Matteson, who teamed with Thompson at Georgia Tech.
Bill Lunde (65), Jamie Lovemark (65) and Ryan Moore (67) also were at 12 under.
Fowler was just two shots back before a double bogey on the par-4 17th.
"There's a little bit of life out there, you know, if you get things going a little bit," he said. "But the double at 17, ... killed the momentum."
Greg Owen, the other second-round co-leader, struggled to a 3-over 75 and was far back in a tie at 8 under.
Clark, who lives in Scottsdale, says three shots are not a lot to make up.
"This course, if you start to struggle, you can shoot over par easy," he said. "And obviously playing great, like Troy has done the last two days, you can shoot 9 under. So three shots is nothing."
Conditions couldn't have been better on the par-70 sun-splashed desert Raptor Course layout at Grayhawk Golf Club, playing at a short 7,013 yards. The result was some amazing shots, including two other aces, both on the 198-yard 16th.
The first, by Ted Purdy with a 5-iron, won him a Mercedes, which he kissed after making the shot. Chad Campbell later had one on the same hole, using a 6-iron.
But nothing could top Thompson's stunner.
He hit a 3-wood approach 261 yards into the hole on the 562-yard 11th. Thompson couldn't see it go in the hole and the Golf Channel didn't catch the shot.
"I heard some claps and I think, 'Nice, it's on the green,'" he said. "And I see a guy throw his arms up in the air and I'm like, 'Yes, tap-in eagle.' Then I hear them roar and I'm like 'Wait a minute. That's a double eagle. Yes!"
Two holes later, he grabbed his 6-iron and sent the ball soaring toward the pin on the par-3, 199-yard third hole.
"I underclubbed it purposely so that I could land it short of the pin over the false front," Thompson said. "I mean, I flushed it and I hit it good. I was like, 'Oh, be as good as you look.' Apparently it was."
Thompson was 5 under for those two holes -- and 5 under for the day. What made the difference?
"I didn't have to putt," he joked.
Matteson, who turns 30 next month, has one tour victory -- at a different Frys.com Open in 2006. That Las Vegas tournament is now known as the Justin Timberlake Shriners Hospital for Children Open.
This event was known as the Frys Electronics Open in 2007 and became the Frys.com Open last year.
Matteson ranks 131st on the money list and was hoping just to make the cut after shooting a 2-over 72 in the opening round.
"You know, it's just a struggle. Nothing would go in," he said. "All of a sudden I come out here the next day and it's like, 'Voila, there it is.'"
Starting the day two shots off the lead, he had four birdies on the first nine to make the turn at minus-11. He overcame his lone bogey of the day, on No. 13, with birdies on 14 and 15, then capped his day with birdies on the last two holes.
"You know, just making a lot of birdies out there and keeping my ball in play," Matteson said. "A lot of close opportunities, that's really the key out here. How many times can you hit it inside five, 10 feet. Twenty feet just doesn't cut it out here."
Matteson tied the 18-hole record for the three-year-old tournament. It was set by Kevin Stadler, whose 61 last year followed a first-round 81 and he missed the cut.