News
Rookie Fowler, Owen tie for the lead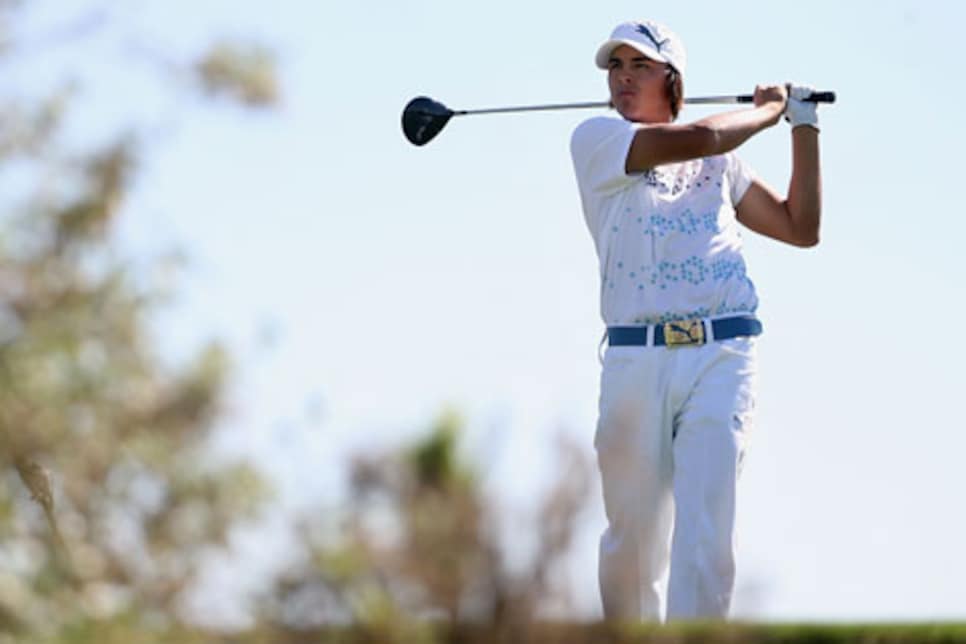 Fowler was unflappable throughout the round, which ended with a birdie on No. 18.
SCOTTSDALE, Ariz. (AP) -- Rickie Fowler is making his presence felt in a hurry as a professional golfer.
The 20-year-old former Oklahoma State standout, in his second tournament since turning pro, shared the lead with Englishman Greg Owen halfway through the Frys.com Open on Friday.
Both shot 6-under 64s in the second round in ideal conditions on the Raptor Course at Grayhawk Golf Club to reach 11-under 129.
Justin Leonard also shot a 64 and was one behind at 10 under. First-round leader Nick O'Hern (68) and Patrick Moore (65) were 9 under in the third stop of the PGA Tour's Fall Series.
Heath Slocum was in a group of five at 8 under. Troy Matteson shot a 61 and was in a pack with Tom Lehman (65) and Rocco Mediate (66), among others, at 7 under.
Fowler, who helped the United States beat Britain and Ireland in the Walker Cup last month, tied for seventh in his pro debut last week in Las Vegas at the Justin Timberlake Shriners Hospitals for Children Open.
He was even for the round through five holes on Friday, then kicked his game into high gear with an eagle on the par-4, 345-yard sixth.
"I swung out about as hard as I could and hit it about as hard as I could and it went about as straight as a ball could go," Fowler said. "I ended up about 12 feet behind the hole and rolled in a good putt to kind of get things jump started."
The youngster was unflappable throughout the round, which ended with a birdie on No. 18.
This wasn't all new to him.
He noted he had played "a few tour events" as an amateur, including two U.S. Opens. He also played stops on the Nationwide Tour and two Walker Cups.
"So I feel I've been through plenty of experiences to make me feel comfortable out here," Fowler said. "You know, what you're seeing is pretty much how I feel. I just feel like I'm going around and having fun. Right now the game feels good, so that makes it even more fun."
He plans to go to PGA Tour qualifying school after this weekend. That would be unnecessary if he wins the tournament, though, because a victory would qualify him for next year's full PGA tour.
Fowler, who lives in Las Vegas, seems a natural for the game. He says he hasn't had a swing coach since high school.
"Other than that, I'm basically on my own and doing my thing," he said.
Like Fowler, Owen played his round in the morning on the north Scottsdale course, not far from the site of February's FBR Open.
Owen entered the event 116th on the 2009 earnings list with $677,627. The top 125 automatically qualify for next year's tour.
"First of all, a good week would mean I've got a job for next year," he said.
Owen's best PGA Tour finish was a tie for ninth at this year's John Deere Classic.
Leonard is a 12-time PGA winner and part of this year's victorious U.S. Presidents Cup team.
Asked if he came to the tournament because he needed to just because he likes the Phoenix area, Leonard said "it's kind of a combination."
"I played here two years ago and enjoyed the golf course and had a nice week," he said. "I think the fact I had three weeks off after the playoffs and to really get rested up is another reason I am here."
Leonard said he spent part of those three weeks "analyzing the year and working on a few things, you know, toward next year. I like the way things are going so far this week."
The Australian O'Hern began the day with a two-shot lead after shooting a 63 on Thursday. Starting his round on the back nine, he had an eagle on his second hole -- the par-5 11th -- to go 9 under.
Then came the 18th, when his second shot hit the water and he wound up with a double-bogey to fall back to minus-7. He regrouped for two birdies and seven pars on the final nine holes.
"It wasn't a good way to finish that nine," O'Hern said, "but as I said, I was happy with how I played the second nine just to get over that as quick as possible."
Defending champion Cameron Beckman shot his second 70 and missed the cut.