News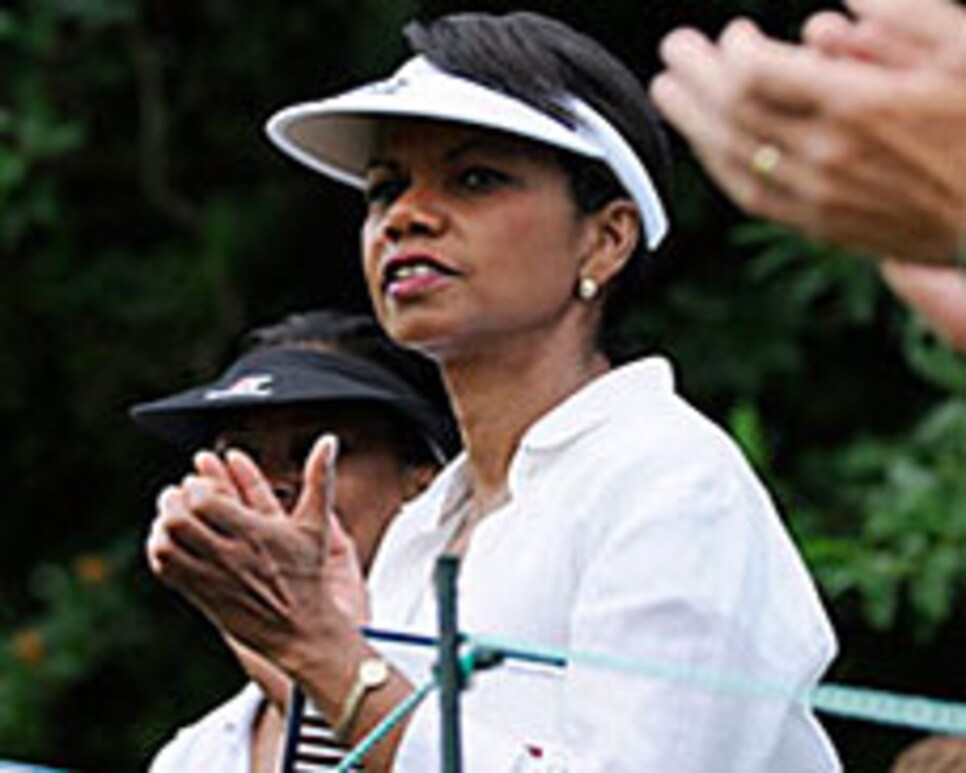 Condoleezza Rice joins Shoal Creek.
1. Na Yeon Choi wins the LPGA's Samsung World Championship at Torrey Pines.
Choi was 16 under, a clear indication the USGA didn't set up the course.
2. Some LPGA players take advantage of Torrey Pines visit to try paragliding.
But keep it to yourselves. We promised not to tell their parents.
__3. Utah man wins $1 million for ace at ex-Jazz center Mark Eaton's pro-am. __
Finally, a shot the big lug couldn't block.
__4. U.S. club pros beat GB&I counterparts in PGA Cup, 17½-8½. __
Is it time for GB&I to call in the Europeans? It worked for the Ryder Cup.
5. Vinny Giles wins the USGA Senior Amateur, setting new mark for most years (37) between USGA victories
One guy who doesn't want to break that record: Phil Mickelson.
6. Condoleezza Rice joins Shoal Creek.
Yup. That Condoleezza Rice and that Shoal Creek. Who says golf hasn't come a long way in the last 20 years?
7. Bandon Dunes' next project revealed: 12-hole par-3 course by Bill Coore and Ben Crenshaw.
Nice to know at least one place hasn't been hit by the recession.
8. Golf Digest U.S. Open Challenge to return for a third year.
Fringe benefit to entering? When else can you play Pebble Beach for free?
9. Man admits "scattering" up to 3,000 golf balls in California's Joshua Tree National Park.
He couldn't find anywhere else to work on his bunker play?