News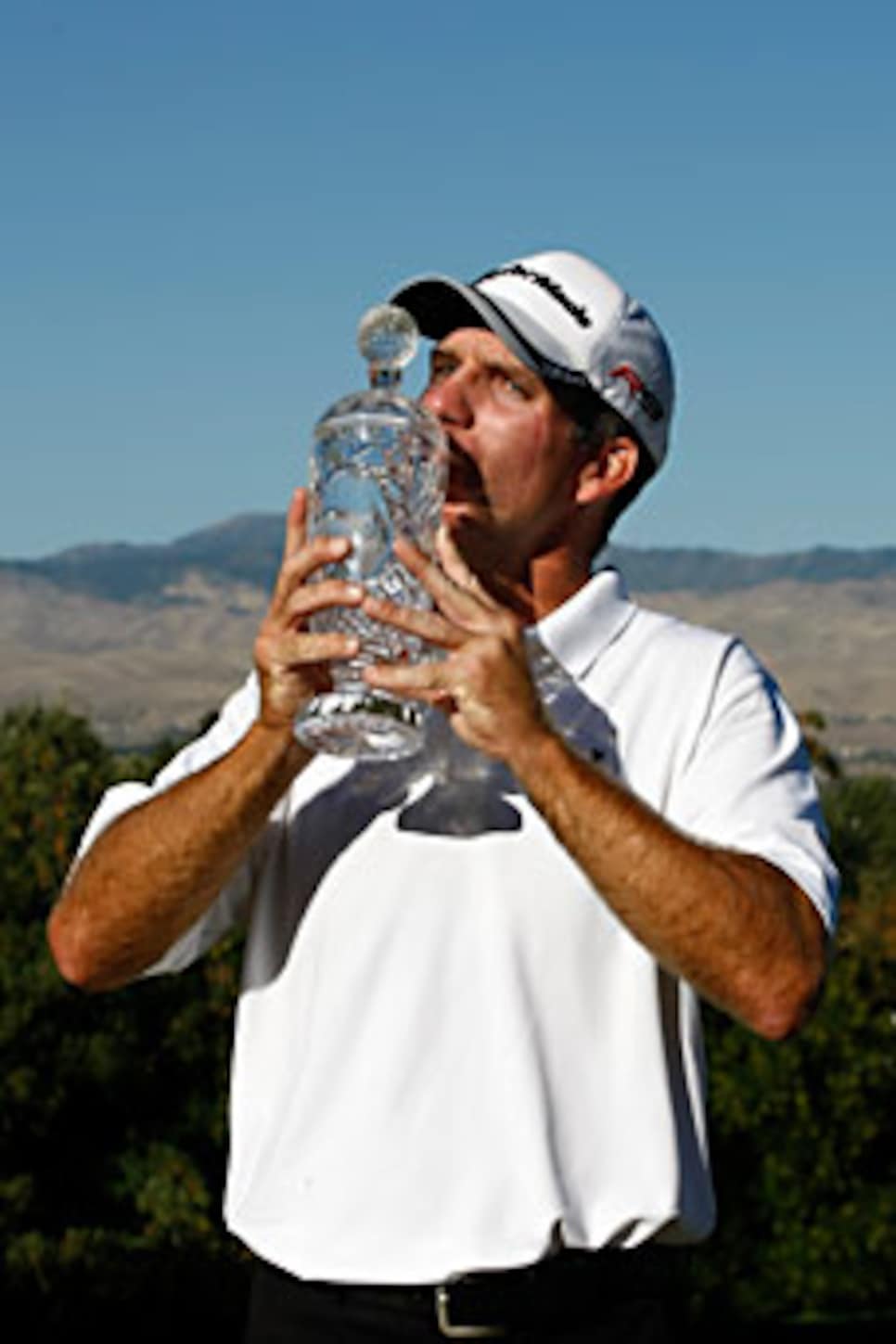 "It's been a grind and I'm not going to tell you for one second it hasn't been tough," Fran Quinn said of his pro career. "But at the same time I've made a lot of progress last few years."
ATLANTA -- While the rich get richer this week at the Tour Championship, Fran Quinn finds himself in the middle of nowhere, just grateful to have a job next year.
In golf circles, Quinn would qualify as a small businessman in stature and income level. While the top 30 players divvy up the FedEx Cup pot, Quinn is happy to be playing the WNB Golf Classic in Midland, Texas. He went from 94th to 18th on the Nationwide Tour money list this past Sunday by making birdie on the 72nd hole of the Albertsons Boise Open, all but locking up his first PGA Tour card since 1992.
The year is not a misprint. Fran Quinn is 44, and he embodies the weathered look and undying spirit that is New England. Born in Worcester, Mass., now living in Holden, Quinn has been knocking around the minor leagues for an eternity. Lori, his wife, worked 10 years as a nurse in the cardiac care unit at Boston Children's Hospital and is now working the recovery room of an outpatient surgery center near their home. His kids, Owen, 11, Katie, 9, and Sean, 7, have a golfing gypsy for a father, one who left Boise on Monday morning, flew to Phoenix and into El Paso before renting a car and driving four hours to this week's destination.
"Golf is a major roller coaster ride," Lori said Wednesday morning after putting Owen on the bus. "You can pay off all your bills in one week, or amount an amazing amount of bills after missing cuts for weeks in a row. I just felt all these years that he was definitely doing what he should be doing. He wasn't chasing a deal that was unreal. As a family, we always just tried to keep it going."
At a home on Sunday night, an assemblage of Quinn's friends and family gathered to celebrate the Golf Channel tape delay of the telecast. Lori and the children were there, along with Uncle Bill Cosgrove, his mentor. As Quinn told me driving across Texas on Monday, "They threw together a big party at a next door neighbor's house after they saw the result (online). It was nicer watching it knowing the outcome."
Quinn has had his close calls, only to try too hard on Sunday, put more pressure on himself, and stumble in the process. The week before at the Utah Championship, for example, he sat T-12 after three rounds in the 60s, but then shot 73 on Sunday and finished T-20. His last win was the 2000 Florida Classic, the first event on the schedule that year. His elapsed time between wins is nine years, six months and 14 days, the fifth longest gap in Nationwide history.
But this win, in his 320th Nationwide appearance, finally pushed him over the $1 million mark in career earnings. You'll have to pardon Quinn if he doesn't feel like a millionaire. Doing the math, it comes out to just over $3,125 per event. "It has been a long road, absolutely," said Quinn, whose $179,291 in 2009 earnings represents what he made the previous two seasons combined. "Do I wish I had my wins on the PGA Tour? For sure. But you take a look at it from a different perspective. It's that much more gratifying, the hard work, the patience, the perseverance ... It's been a grind and I'm not going to tell you for one second it hasn't been tough. But at the same time I've made a lot of progress last few years."
In 1991, Quinn finished T-8 in the Q school finals at Grenelefe, but only made six cuts and was 191st on the '92 money list. This is the closest he's come to returning since 1999. He finished 18th on the money list when 15 players qualified, went to the Q school finals and double bogeyed his 105th of 108 holes to miss by one stroke. Unhappy about not being able to close out a decent year, he went to Asia and matched up a schedule of 30 events on two continents.
"You hear about guys his age who leave their golfing career behind, but with Fran, the talent was definitely there," Lori said. "Something was standing in his way and he was finally able to overcome that. What is that something? What is it that was getting in the way all those years? There's a lot to be said for when you're struggling financially. How do you think clearly out there when you've got a five-foot birdie putt and you're not sure if you can make the mortgage payment that month."
By tour standards, Quinn's age would mean he's got good years left. Kenny Perry, who won the Payne Stewart Award on Tuesday night at the Ritz-Carlton, is having one of his best years at age 49, with two victories and a near miss in the Masters.
But when you're 44 and still scraping to make the big leagues, the age seems older. That's why he and Kevin Johnson, the former Clemson star from Plymouth, Mass., can relate to each other. A decade ago Johnson was two spots higher than Quinn on the Nationwide money list, missing out by $3,391. They made the trip together on Monday -- Johnson, with his card locked up after a win at the Knoxville Open but struggling with eight missed cuts in his last 10 events, now getting encouragement from Quinn.
"Maybe we both feed off each other." Johnson said Tuesday night from the Fairfield Inn in beautiful Midland, where they're sharing a room. "I've always questioned why I'm out here this long and he's been out longer. We've always been buddies; when I've been down, he's up, or when he's down, I've been up. It's like the dream of making it on the PGA Tour. Unfortunately, the further you get along in years, the further and further away it seems. To our credit, we've just stuck it out, and we're real close to where to we want to be next year."
On Sunday, it was the 42-year-old Johnson leaving a message telling Quinn to slow down and enjoy the day. That's what wingmen are for.
"Life on the Nationwide," Quinn said before losing his cell signal. "The glitz and the glamour."