News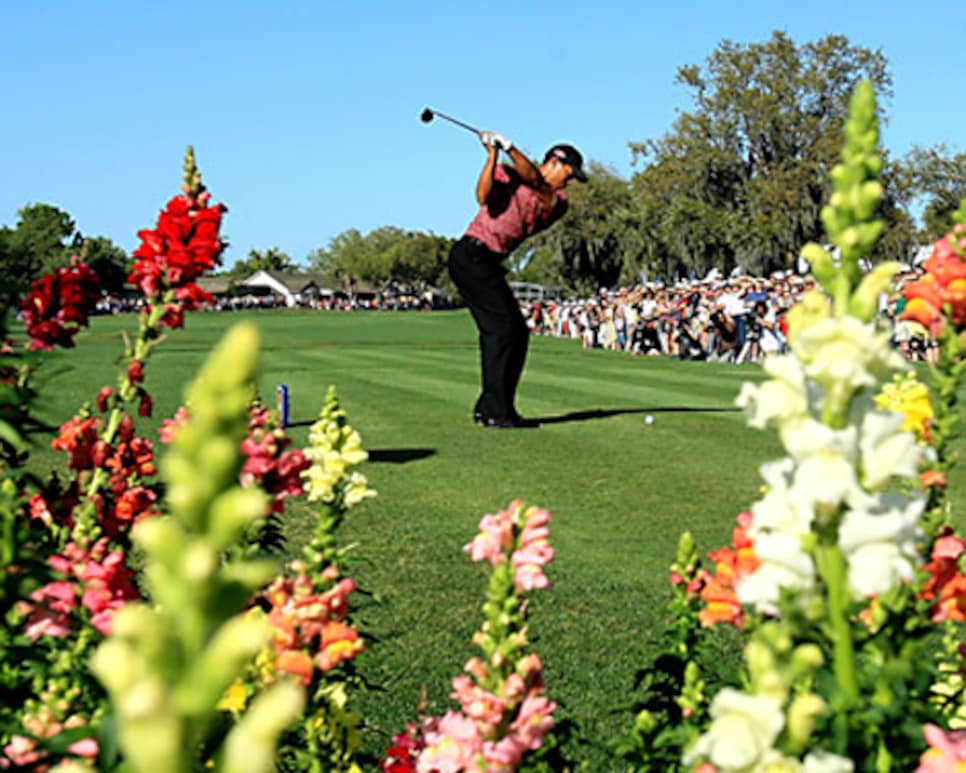 Tiger Woods' win at Bay Hill capped an eventful four-week stretch in Florida
Now that they've managed to squeeze the last drop out of the Florida Swing, and with the Houston Open all that's separating us from the Masters next week, some perspective about what we've witnessed the last month or so is in order. We can make it brief. Two words describe all you need to know about the just completed Florida Swing:
The television ratings for golf awoke from an eighth-month slumber, coinciding with the length of Woods' absence, and put up big overnight numbers, the best since he won the U.S. Open and the best in a regular PGA Tour event in 25 months. It didn't hurt that a rain delay pushed NBC's telecast of the Arnold Palmer Invitational into the early evening to catch bigger numbers in the East, but then having Woods in the mix and win it by one shot with a birdie on the last hole had its effect as well.
Of course, none of this is really fair to Phil Mickelson. He's probably used to it. Mickelson didn't play at Bay Hill, but he won the week before at Doral against a stronger field (that also included Woods). Mickelson, with two victories already this year, is at Houston and is probably going to show up at the Masters with a game that's in just as good a shape as Woods', just not as heralded.
That's Phil's fate and if he hasn't come to terms with it by now, it's probably too late to start. Just remember that Mickelson has won the Masters twice in the last five years to once for Woods.
But let's take a closer look at Tiger, Phil, and others who made news.
The Tiger Beat: Woods couldn't have chosen a better script in his comeback . . . he didn't plan it that way, did he? Florida was huge for him, but it was just the last step. In his return to competition at the Match Play, Woods got his feet under him. He improved every day at Doral and was in the top 10. And at Bay Hill, he came from five shots back on the last day, won with a birdie on the 72nd hole and claimed his sixth Bay Hill title.
Woods still isn't driving the ball as accurately as he would like, but the way he was holing out chip shots and bunker shots and draining long pressure putts, the Florida Swing turned out to be one long advertisement for him.
We'll have to wait to see if there will be any further commercial interruption.
The Phil File: Yes, he sat out Bay Hill and yes, he's following his usual plan of playing the week before the Masters. It's in Houston, which has taken the place of the more geographically-friendly tournament in Atlanta. That's because that event no longer exists.
We'll see if Mickelson over-thinks things, which is what he sometimes tends to do, usually when it concerns his driver. He used two drivers at the Masters and then none at Torrey Pines for the Open. How does that make sense? Never mind. Just don't forget that if it weren't Tiger's World, it would probably be Phil's. And Mickelson is the clear-cut second choice at Augusta. The choice for No. 1 is even clearer.
Mr. Consistency: Be honest, until he won at Torrey Pines, has anybody really spent much time thinking about Nick Watney? They probably are now, because he's playing as consistent as anyone.
Mickelson beat him by a shot at Doral and Watney was in the mix at both the Transitions (T-12) and at Bay Hill (T-4). He was a combined 22 under in those three events and so far this year, he ranks No. 2 in scoring, behind only Robert Allenby. It helps when you average 302.1 yards off the tee. It's probably worth it to keep track of him at the Masters.
South Korean Contingent: At what point does this wave led by Y.E. Yang, Kevin Na and Charlie Wi match up with their compatriots on the LPGA Tour as far as stature on their respective tours? Could be happening already. Yang, 37, won at the Honda where he proved he's not a long hitter but really solid with his irons. Yang did miss the cut the following week at Transitions, however.
Na turned pro in 2001, but he's still just 25, and although he's never won, he seems to be getting closer. Na ranks No. 3 in scoring average this year after a T-5 at the Sony, a 3rd at Scottsdale, a 5th at Cancun, a T-8 at the Transitions and a T-11 at Bay Hill that featured a 66 on Sunday.
Wi, who is also 37, doesn't hit it long, but he hits it straight. The martial arts fan has got the touch -- he ranks in the top 10 in putting. Inside of five feet, he's nails, making 271 of 276 for a 98.19 success rate. Wi tied for 9th at the Honda and tied for 4th at the Transitions, where he had three rounds In the 60s.
Young Rory: Rory McIlroy, the 19-year-old from Northern Ireland continues his U.S. tour at Houston and then the Masters. By all accounts, he looks like he can't miss. After making it to the semifinals of the Accenture Match Play, losing to eventual champion Geoff Ogilvy, McIlroy tied for 13th at the Honda and tied for 20th at Doral, with a 68-66 the first two rounds.
First-time players don't win the Masters, do they?
The Goose is Not Cooked: Not after Retief Goosen won on a difficult Innisbrook Resort Copperhead Course at the Transitions. That made three victories for Goosen in his last 11 events on three continents, including Asia (2008 Iskandar Johor Open in Malaysia) and Africa (African Open in South Africa).
Whether this signals the return to prominence of the 40-year-old two-time U.S. Open champion, we'll find out at Augusta. Goosen has three top 3s at the Masters in the last four years.