News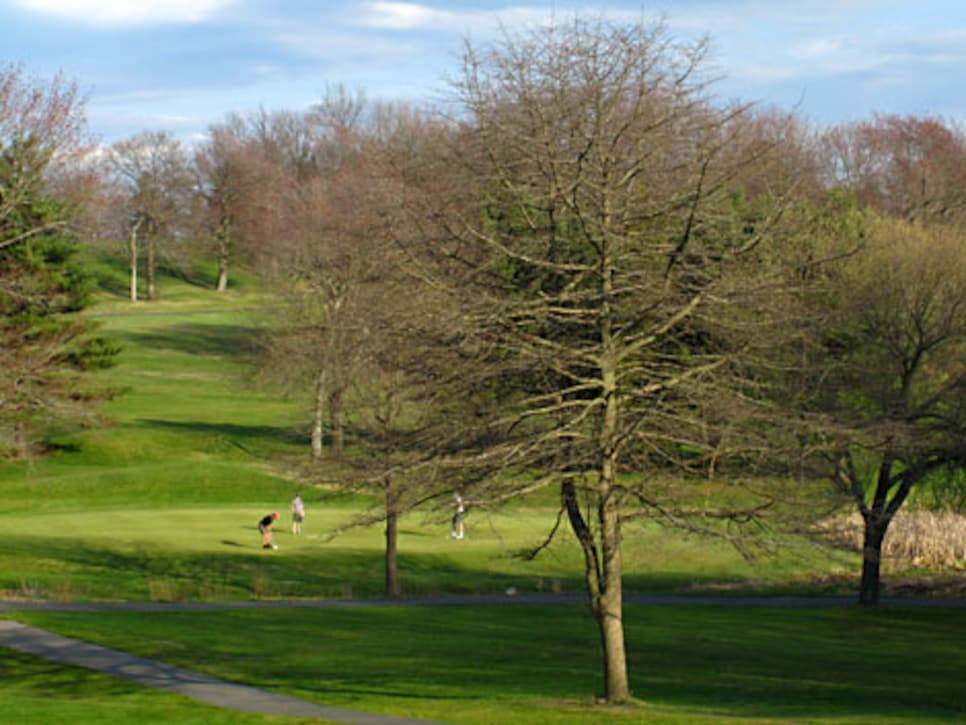 Bare trees and uneven swings are a familiar site at golf courses in spring.
I was a child of privilege, when it came to the weather. North Carolina was a place where year-round golf wasn't only possible but pleasant. Sure, there were occasional nights when I placed golf balls by a heat vent in hopes of supercharging their liquid centers, and days when I put Saran wrap over my socks to keep my feet warm, but for the most part there was no longing for golf in the winter, because it hadn't gone anywhere.
Things are different in my not-so-new home, New England, where after many years I can still get the blues when winter walks the walk. Snow cover lingers like a tedious house guest (it did this year), mandating phantom swings in the den or real ones on faux turf at the driving range. Even after the Masters (cue Spring!) layering is often a requisite and the landscape is still listless, all bare-limbed trees perked up only by a scattering of evergreens.
But then, one day, you notice the grass greening up, the forsythia shrubs begin to pop -- in places as if someone swiped whole blocks with a bright yellow highlighter -- and a couple of eager cherry trees add a gentle pink to the reluctant color parade. Swing thoughts begin to accompany the commute. At the office, I occasionally overlap above the computer keyboard. In the evening, I pay more attention to "Playing Lessons With The Pros" or "Champions Tour Learning Center" on Golf Channel. It's time for the first round of the year.
Others have rituals for the occasion, but I improvise. The older I get, the less I care about where I'm playing -- or with whom -- but that I am. Rapidly closing in on 50, I think of "one shot at a time" less as trite slogan and more as sound advice, on and off the course, which this day was a crowded nearby municipal course.
Arriving a little after 1 o'clock and expecting a wait, I quickly was paired with two twentysomethings in cart. Mark was a redhead with the sturdy calves of a hockey player. Tom was thinner, wearing slacks and a cap turned backwards. Both were not long out of college and weren't bullish about the job market. I told them a lot of people, of many ages, were crossing their fingers on that front. They turned out to be pleasant companions who got bemused instead of angry when they screwed up and didn't hunt for misfires as if a Rolex had fallen off their wrist. Moreover, I likely wasn't going to see them again, so they wouldn't be able to report my shortcomings, or rib me about them during a rematch.
Even decades ago, when I played all the time, my game was a buffet of good and bad. Nothing is much different now, except there is more of the latter, such as my drive on the fourth hole. I can't blame inactivity, but I might have pleaded it, had my right-to-right tee shot injured one of the college students playing basketball outside a dorm 60 yards wide of the fairway. I yelled "Fore!!!" loudly and was relieved when I didn't see anybody fall to the court.
On the seventh hole, a long, difficult par 3, I began to forget that power push when I hit a solid 4-wood into a 20 mile per hour wind to within eight feet of the flagstick. This isn't a fancy course, the tee markers being freshly painted red, white and blue squares, golf's old color code before some courses started to offer as many choices as a J. Crew catalog. ("You can play from the salmon markers, but if it's OK I'll hit from the misty lavender ones.") Our threesome was playing from the friendly middle tees in basic white. Common sense goes a long way, especially early in the season, when there is more rust around than anything else.
The seriousness of the golf this day could have been judged by the trash can on the eighth tee, where beer cans outnumbered water bottles six to two. But while I was noting the breakdown of the empties, a ranger drove up and pointed to his head as he admonished Tom about his hip-hop/rally cap style. "Part of the new dress code," the ranger said. Tom complied, and I presently went about the business of walking up the eighth, a par 5 of modest length but steeply uphill, always a good gauge of early-season fitness. The verdict on that front wasn't nearly as positive as that 4-wood to No. 7, or 4-iron to No. 15, also into the wind, which set up a six-foot birdie.
I had a couple of three-putts, was undistinguished out of greenside bunkers and made two dumb strategic errors. Maybe I'll be thinking better in August than I am in April, but I'm going to try to keep the swing theory to a minimum and remember the giant building blocks I noticed at The First Tee facility near the ninth green. FUN.
According to the car thermometer as I left the course, it was 73 degrees. I didn't come close to matching that number on my scorecard, but if you can't be optimistic on opening day, you're in trouble. When it warms up, I thought, I could be content to shoot the high temperature. Unless it's a really hot summer. And if somebody talks me into playing the vintage cobalt tees someplace, maybe even then.