News
Anticipation Is A Beautiful Thing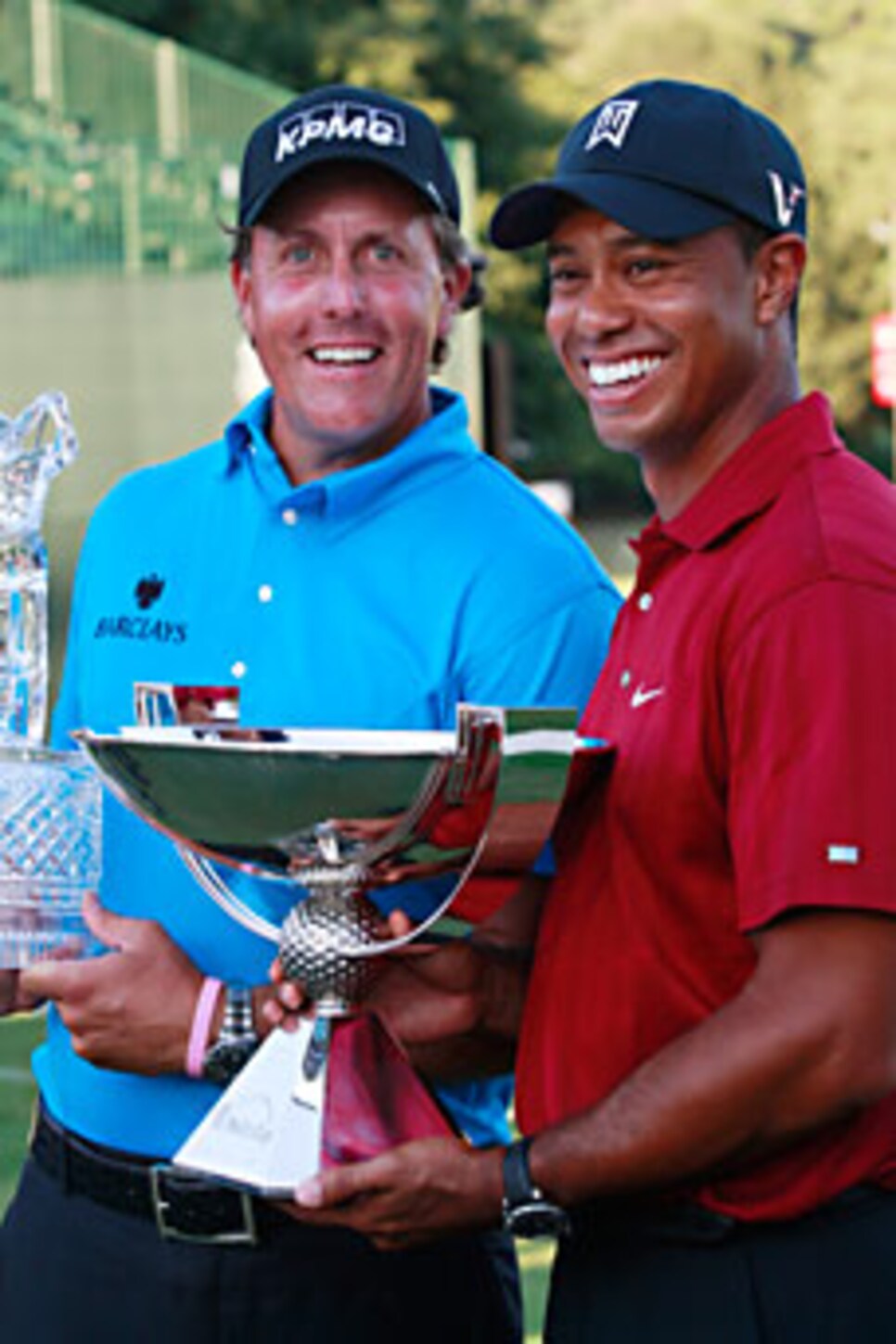 Mickelson and Woods both winning at East Lake left golf fans looking forward to next season.
There was an axiom among performers during the heyday of vaudeville's traveling road shows that you should always leave your audience wanting more. It's better to exit the stage too early rather than too late. In that regard, the FedEx Cup and, in fact, the entire PGA Tour season, golf's version of a vaudeville road show, was a huge success. It ended at just the right time.
Tell me seeing Phil Mickelson holding the Tour Championship trophy next to Tiger Woods caressing the hardware that accompanied the $10 million check direct-deposited to his account for winning the FedEx Cup didn't leaving you chomping at the bit for next year. And it seems absolutely perfect that we have three months to savor the season past and foment anticipation of the year to come.
In an odd sort of way, it was appropriate we had two winners Sunday at East Lake, Mickelson taking the tournament and Woods the victor in the playoffs. Neither of the game's two biggest stars won a major championship in 2009, but they both achieved greater victories for which they deserve recognition: Tiger overcoming a wounded knee and Mickelson recovering from a bruised heart. Them sharing the winner's circle gave symmetry to the season.
That Tiger won six times the season after undergoing major reconstructive knee surgery was impressive. That Lefty claimed three victories in a year in which both his wife Amy and mother Mary were diagnosed with breast cancer was inspiring. Mickelson's triumph Sunday was his first since cancer intruded on his life, but it certainly won't be his last. And this certainly won't be the last time we see Woods and Mickelson in the same camera shot.
And that's why it is perfect that the heart of PGA Tour season -- those events that comprise the FedEx Cup -- have ended. We tend to say that Woods has had no rival in his remarkable 14-year PGA Tour career, and for the most part that's true.
But to meander into physics for a moment to make an apt comparison, even if Mickelson has fallen short of being Albert Einstein he's done a helluva Niels Bohr impersonation. There's no shame in being the second-best genius of your generation. And truly, when if comes to golf, genius is not an inappropriate word to use for either Woods or Mickelson.
Fred Couples, who at times can sound like a cross between Casey Stengel and Yogi Berra once, when discussing the over use of the word "great," said: "I'm not great, I'm good. And being good is not bad." Niels Bohr couldn't have said it better. Or Einstein.
Woods has 71 PGA Tour victories, trailing only Jack Nicklaus and Sam Snead. Of those, 14 were in the majors, trailing only Nicklaus. Mickelson's win at the Tour Championship was the 37th of his career, just two behind Gene Sarazen and Tom Watson for tenth place all time.
Three of Lefty's wins have come in majors, the only slight blemish on his nearly flawless resume. Watson had eight majors and Sarazen seven. Next year would be a great time for Mickelson to add to that total. And next year would be the perfect season in which for Woods and Mickelson to finally have their "Duel in the Sun" major moment, as Nicklaus and Watson had at the 1977 British Open.
Think of the major venues in 2010: Augusta National, Pebble Beach, St. Andrews and Whistling Straits. Any one of those would serve as a perfect backdrop for the Lefty-Tiger tussle we were teased with at this year's Masters when they were paired in the final round, Mickelson shooting 67 to Wood's 68 as they finished fifth and T-6 respectively.
Yes, there are still five events on the PGA Tour schedule, those post-Tour Championship tournaments known as the Fall Series. But the big boys are done. Mickelson and Woods won't be in the same PGA Tour event until the new decade has begun. And that's just perfect.
There may be those who still are confused by the FedEX Cup points system, while others rebel at the use of the word "playoffs" which, in truth, does imply something it doesn't produce: the champion golfer of the year. And there will be those offended that Mickelson can win the Tour Championship and still not win the FedEx Cup.
Yes, there are arguments to be made on all those fronts. But the one aspect of the brave new world on the PGA Tour that seems beyond dispute is that ending the season in September is a good thing. Absence, they say, makes the heart grow fonder.
Anyone who is a real baseball fan will tell you the first thing they do the day after the last game of the World Series is calculate the number of days until pitchers and catchers report for spring training. When will we see Mickelson and Woods together again? The season-opening SBS Championship? Torrey Pines? Augusta National?
Take a look at that photo again, the one with Mickelson holding one trophy and Woods the other. Doesn't it make you long for April and Augusta, June and Pebble, July at the Old Course and August in Wisconsin?
There are those who say it was wrong to have two winners on Sunday at East Lake. I couldn't disagree more. In fact, what I love is that there were more than two winners, there were millions of them. The others were all those who love golf, love competition and came away from the FedEx Cup season wanting more. Tiger and Phil in the same camera shot? What's better than that?
Anticipation is one of the most relentlessly compelling of all human emotions. Happiness, a wise friend once said, is having something to look forward to. The Tour Championship gave us such a gift. And ending the season now makes the build-up even better. How many days until caddies and players report to Hawaii? Let the show begin.