News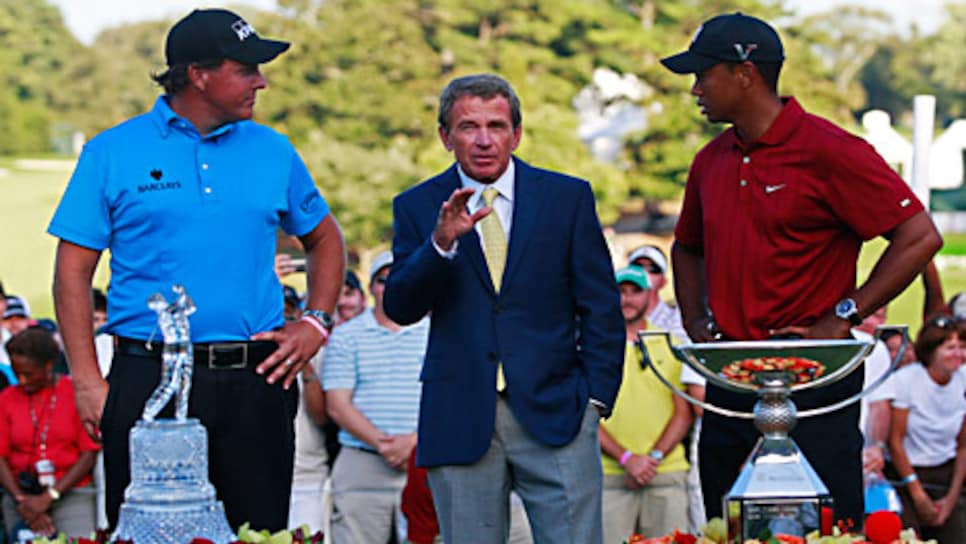 Commissioner Finchem may have been the happiest man in Atlanta Sunday.
ATLANTA -- So how lucky are those guys from the PGA Tour in the pressed slacks and the blue sports coats? Let's just say that Sunday at East Lake Golf Club, they closed their eyes and got the best possible result they could have hoped for, the one which had them crossing their fingers all week -- Phil wins the Tour Championship and Tiger wins the FedEx Cup.
Say what you want about the FedEx Cup, it just may have arrived.
Woods and Mickelson, the two planets that orbit around the PGA Tour, are exhibits 1 and 2 in star power. So here's what they did. They hogged the spotlight, snagged the trophies, took home the most money, soaked up the publicity, bumped up the ratings and wrote a fitting conclusion to the last big-time individual event on the PGA Tour schedule.
Time to pass out the spoils. For Mickelson, he closed with a 65, won for the third time this year, moved to No. 2 in the rankings, officially said goodbye to a three-month case of golf blahs, claimed the Tour Championship's $1.35 million winner's share plus $3 million from the FedEx Cup bonus pool.
For Woods, he finished with an even par 70, beat every other player except one despite an uncomfortable workweek on the greens, probably wrapped up his 10th player of the year award, won $810,000 in tournament money and collected the $10 million bonus that goes to the FedEx Cup champion, $9 million of it in cash.
Afterwards, Mickelson joked about who got what prize money.
"I shot 65, Tiger shot 70, and he gets $10 million and I get how much?"
Mickelson said his round was one of his best all year.
"It means a lot to finish the year off on such a good note," he said. "You know, we've been through a lot, and I'm very proud of my wife and my mom on the fight that they've been through, and we've been fortunate in the long-term. We're in good shape." The Tour Championship trophy rested on the table in front of him. It seemed right at home.
The Phil-Tiger parlay was probably mathematically destined by somebody, but it was hard to tell while it was in progress Sunday. There were so many numbers and scenarios and dollar combinations being tossed around, you could have filled both East Lake and the FedEx Cup to overflow with them all.
Maybe everyone is worn out by all that stuff. The next time anyone talks about points, it had better be about toast.
It looked like it was supposed to be Kenny Perry's day, especially when he took a four-shot lead on Woods and the field after just two holes. But Perry started leaking money soon after and was not a factor.
Mickelson's closing bogey-free round couldn't have been much better. Remember he made an eight in Thursday's first round? For what it's worth, the only other player to make an eight and go on to win a tournament was David Toms on the last hole of the 2003 Wachovia.
On Sunday, all that was way in the past. Mickelson seemed completely at home on the Bermuda greens, starting the day four shots behind Perry, and winding up beating Woods by three.
Yet for awhile on the back nine, it didn't look like there was a clear outcome to be found anywhere. Tiger couldn't make a birdie, and then made two in a row. Steve Stricker was a factor, and then he wasn't. The same with Sean O'Hair, and even Padraig Harrington got himself into the mix for a minute.
Stricker wound up sixth on Sunday and if that sounds only so-so, consider this: He grabs $2 million out of the FedEx Cup bonus pool for finishing third in total points. Stricker said he wasn't sure if the points distribution and the emphasis on the four-event playoff system is exactly right.
"What is right?" he said. "I think you've got to put something together like they did this year that creates a lot of excitement like this did, with five guys having the opportunity to win. It did do that."
O'Hair, who shot a 69 and finished third, one shot behind Woods, was asked if Mickelson had just won the battle while Woods won the war.
"I'd prefer, I think, the 10 million bucks in my pocket," said O'Hair. "Yeah, I think Tiger wins today."
Woods said he would be more pleased about what happens after he gets a little time to consider it. It was Woods' third second-place this year.
"I think it's just one of those things where obviously I'm a little disappointed," he said. "I didn't win the championship. I was right there. But the FedEx Cup is something very similar to what you have for Player of the Year. It's a cumulative total and something that you have to have to be consistent the entire year, and it's something that I was."
Many players expect the points system to get tweaked in time for the fourth FedEx Cup in 2010. In the first one in 2007, Woods could have won the FedEx Cup without playing the Tour Championship. Last year, all Vijay Singh had to do was play four rounds at East Lake and finish standing up, since he already had it wrapped up.
This year was a little different, although not perfect. Woods could have missed the first three playoff events and still have been seeded as high as second. He also could have won the first three and it wouldn't have given him any more of an advantage coming in. "It is what it is," Woods said. "And it's very similar to what they do with NASCAR, what they try to do with playoffs in other sports. It's just kind of our version."
The points system could have been too volatile. Heath Slocum jumped from No. 124 to No. 5 entering the Tour Championship by winning the first playoff tournament. Marc Leishman jumped from No. 78 to No. 16 (even though he missed the cut at the Barclays), because he tied for 15th at the Deutsche Bank and tied for second at the BMW.
"There were some big movers early on," Stricker said. "There's so much weight put on the playoffs, and I don't know if that's a right thing or a wrong thing."
It's just a different thing, at least this year.
Next year could be different, too.
Maybe. But after seeing Tiger and Phil standing shoulder to shoulder in the presentation ceremony at the 18th green Sunday night, the boys from the home office in Ponte Vedra Beach are probably hoping for more of the same.