News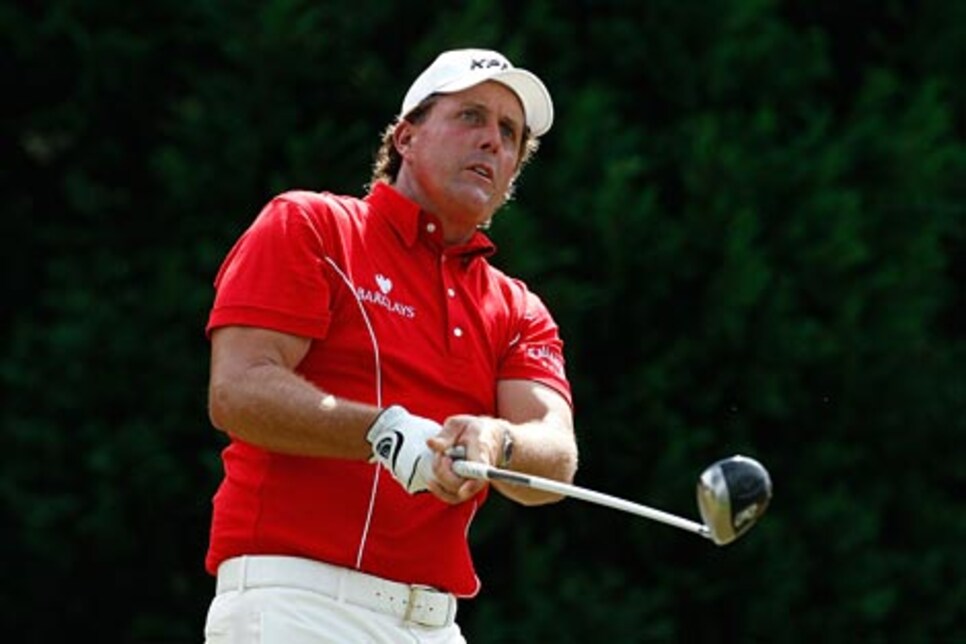 A 67 in the second round is proof Mickelson's game is coming together.
ATLANTA -- His shirt was the color of a cherry Popsicle, but that was all right, because so was the color of his face. If you put it all together, with his white belt, white slacks and white shoes, Phil Mickelson looked like he should be driving an ice cream truck.
But on Friday, it wasn't about Mickelson's driving. For the first time in awhile, Mickelson looked at home on the greens at East Lake Golf Club. He moved into a tie for 12th when he shot a three-under 67 in the second round of the Tour Championship, a round that couldn't be spoiled even with a bogey at the end.
Mickelson said he's getting the full package together.
"I've got the right track, the right direction," he said.
That's got to be good news, because Mickelson's direction has been a question mark following his tie for second at the U.S. Open in June. He hasn't come close to being a factor since, during a period of time marked by the serious illness of his wife, Amy, who is still undergoing treatment after breast cancer surgery.
Privately, Mickelson doesn't blame any inconsistent play on his challenging personal life, but it must be difficult to separate the two. Those in his camp say Mickelson's plan to bring Amy to the Presidents Cup in two weeks isn't going to happen because she is not close to being ready to appear in such a public forum. If his off-the-course life has been difficult, then Mickelson's round at East Lake should be regarded as a positive step in his professional life, even if it may be a small one. Since Bethpage Black, Mickelson hasn't finished higher than 27th in any of his five tournaments and he's a collective 18-over par.
Phil looked lost, and played like it. Mickelson is still ranked No. 3 in the world, despite his shortcomings of late, and he's clearly going to be counted upon to pull his share of the load at Harding Park and the Presidents Cup. Mickelson said U.S. captain Fred Couples has been following his play and sending text messages. And while Mickelson as recently as the BMW Championship two weeks ago seemed to hold back slightly on his commitment to play at Harding, he firmed it up Friday. He said he's excited.
"I am, I think that I have been struggling with the putter for two years almost, with an occasional good week here or there," he said. "You know, Butch [Harmon] has really helped me, but it hasn't come through in the scores because I haven't capitalized on the greens. I think now it's going to start to show."
Mickelson needed just 25 putts Friday -- only 10 on the front nine -- and credited a two-day practice session with putting guru Dave Stockton, who saw Mickelson last week at Rancho Santa Fe. Stockton was close by, working with Michelle Wie on her putting at an LPGA event at Torrey Pines.
The fix Mickelson worked on was to position his hands ahead, or in front of the ball, in his putting stroke. That's intended to improve the spin and help the ball roll truer.
"It just reaffirmed the way I've putted since I was a kid. I've gone back to it, and it just seems to feel much more natural, much more comfortable. I've been rolling the ball great and making a lot of putts."
The reality is that Mickelson's going to need to make a few more the next two rounds, if he's going to come close to the FedEx Cup. He was in 14th place in the FedEx points on Thursday, and he's 16th now.
Delving into the $35 million in bonus money, that position would be worth $245,000.
Of course, first-place is worth $10 million, but Mickelson is not close to that now. In reality, winning the FedEx Cup would be a long shot proposition -- Mickelson would have to win the tournament, 36-hole leader Tiger Woods would have to be tied for eighth or worse, Steve Stricker must tie for fourth or worse, Jim Furyk must tie for third or worse, Zach Johnson must finish in a three-way tie for second or worse and Heath Slocum must tie for second or worse.
Just keeping track of all that is enough to induce a headache or worse, but Mickelson doesn't seem fazed.
At this stage of the year, Mickelson is usually shutting it down for the year, and he's getting close to that stage now. After the Tour Championship and all its scenarios, he's got the Presidents Cup, and then he's got some time off before the HSBC Champions in Shanghai in early November.
Mickelson has a chance to finish the year on an upswing now. The trend looks like this: He gets his putting stroke back, he makes a late splash at East Lake, he pulls his weight in the Presidents Cup, and then he gets most of the fall to spend with his family. That's a scenario Mickelson would probably like to think about.