News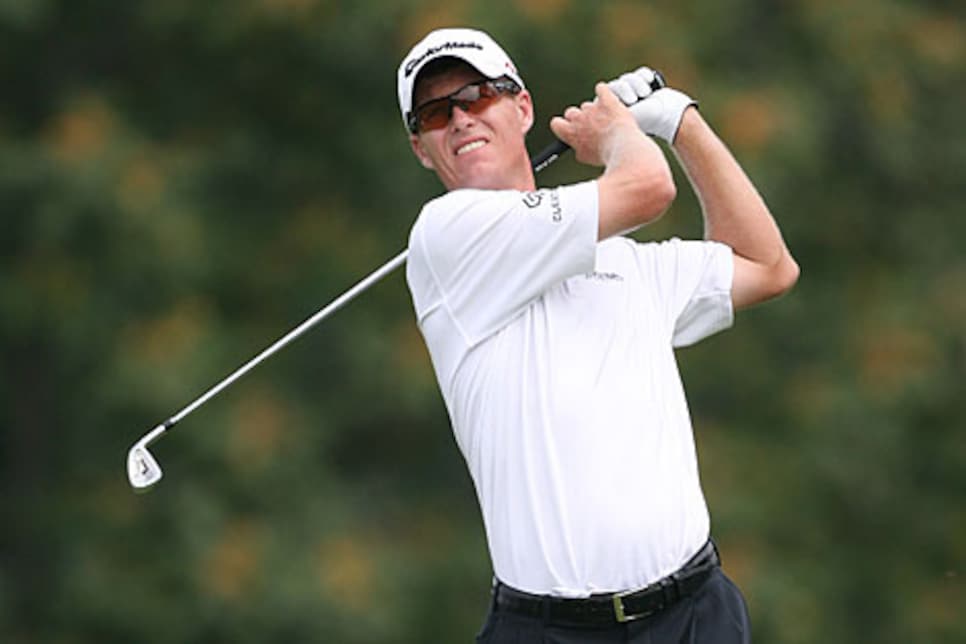 John Senden needed a final-hole collapse by Brandt Snedeker just to earn a spot in the field this week at Cog Hill.
ATLANTA -- John Senden doesn't really consider himself a guy who thinks too much about luck. Sure, he uses a coin with the image of St. Christopher to mark his ball, which his caddie always has to keep track of. And he favors low numbers like one, two, and four, but never three.
But Senden really is one lucky guy. The mere fact that he's even here this week, playing the $7.5 million Tour Championship with at least a mathematical chance to win it and the $10 million bonus as FedEx Cup champion is nothing short of a rabbit's foot wrapped in a four-leaf clover inside a pot of gold.
It's all because of what happened two weeks ago on the last hole of the last playoff event, the BMW Championship at Cog Hill.
Senden wasn't going to make it into the top 30 on the points list and qualify for the Tour Championship. Brandt Snedeker was safely inside the top 30. Senden double-bogeyed the 71st hole, saved par at No. 18 and was convinced his lucky number was not going to come up.
Snedeker missed a 12-footer for par, missed a three-foot comebacker, lipped out his tap-in and wound up four-putting the 18th hole for triple bogey when a bogey would have been good enough to punch his ticket for East Lake Golf Club. Senden was back in, filling the 30th and final position, edging out No. 31 Ian Poulter by .492 of a point.
In Thursday's first round at the Tour Championship, Senden shot an even-par 70 and then revisited that wild finish at Cog Hill one more time.
"That was just one hole for me and one hole for Brandt," Senden said. "Unfortunately for Brandt, it went the wrong way, and that's golf."
Senden said he timed his sudden and unexpected reversal of emotions, from frustrated to ecstatic and from out to in, knowing just how long it took.
Granted, this isn't the only time something good landed on Senden's side recently: He made a double-eagle at the Deutsche Bank, which helped him stay in the FedEx Cup playoffs.
Double eagles are rare, but then so are classic flubs on the last hole like Snedeker's. In the days that followed, Senden still wasn't sure what to make of it.
"Thinking I'm lucky to be here," he said. "You know what, I've played well all year. If every shot counts, then I'm No. 30, because I'm No. 30. Points are points, whether Tiger Woods is 1 or I'm 30. It works out. I come in here with the idea that this is an opportunity for me, rather than thinking I'm damn lucky to be here. Everyone is lucky. That's the way golf is. Golf becomes a game of good play and good luck."
And it's perhaps to be expected that Senden is a fan of the FedEx Cup point system.
"Worked for me," he said.
It's been an up-and-down year for Senden, although it's clearly up again now. He has missed seven cuts, including the only two majors he played -- the British Open and the PGA Championship. But he's also had four top 10s, with his best result a tie for second at the Buick Open, where Woods won.
The 38-year-old Australian isn't exactly an unknown, even though his only PGA Tour victory in nine years was the 2006 John Deere. Senden is regarded as one of the most accurate players on the PGA Tour and he's the leader in hitting greens in regulation.
So Senden has got something going for him. Maybe it's luck, maybe it's something else. Maybe it could all add up to another win. At the very least, he's going to make some prize money this week at the Tour Championship, where there's no cut and even last place is worth $120,000.
At this stage, though, Senden has set his sights higher. He can still win, he says, jumping from 30th to first in the points list. He's going to have to be lucky, though.
"Obviously, mathematically, I have a chance of winning the FedEx Cup. But a lot of things have got to happen."
Here's Senden's near-miracle scenario: Woods must finish last, Steve Stricker must finish seventh or worse, Jim Furyk must finish fifth or worse, Zach Johnson must be fourth or worse, and Heath Slocum and Padraig Harrington must be third or worse.
Let's just start with Woods in last place.
"I don't think that's going to happen," Senden said.
No one thought Snedeker was going to four-putt his way home, either. Maybe Senden's lucky streak is going to last a while longer. But even if it doesn't, he's come a lot farther than he could have expected.