News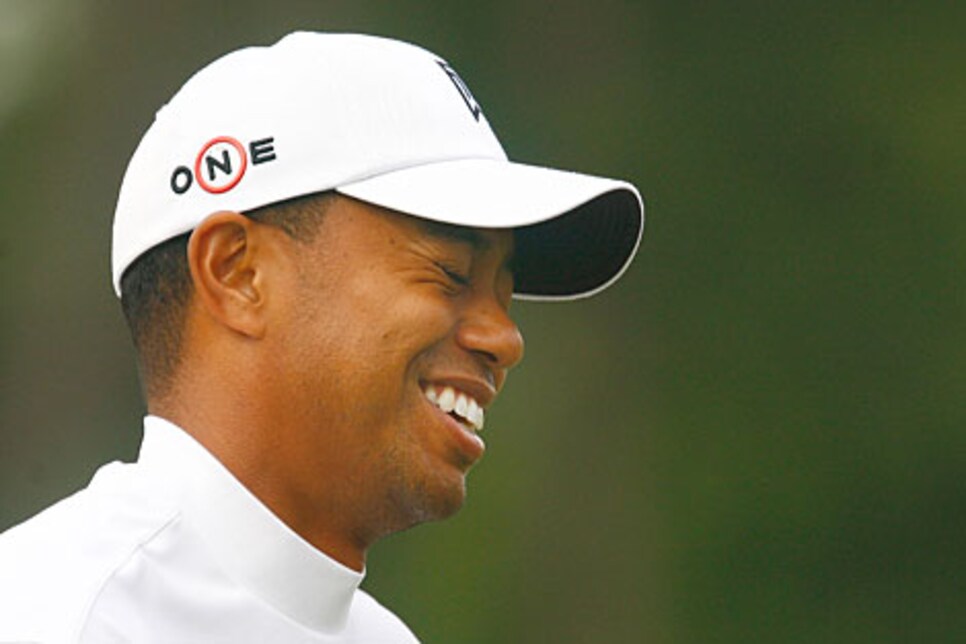 Tiger Woods isn't likely to be fazed this week, even if he did have a putt for more than $10 million on the line.
ATLANTA -- Maybe it's because he's already won more than $90 million on the PGA Tour, but if Tiger Woods is standing over a putt Sunday on the 18th green at East Lake Golf Club and there's $10 million in FedEx Cup bonus money and $1.35 million more for winning the Tour Championship at stake, the last thing he's going to be thinking about is, well, money.
"When you're over that putt, all you think about is where you're playing that ball," Woods said Wednesday. "All the other stuff takes care of itself. It's nothing else but starting the ball on that line and making that putt. You think about just making that putt."
The $7.5 million Tour Championship starts Thursday at soggy East Lake, where the sheer volume of money on the line may upstage the importance of the tournament or the trophy that goes along with it. But where that kind of money could be life-changing for the likes of Heath Slocum or Jason Dufner, Marc Leishman, Woods just looks at it as a byproduct of winning.
The sun peaked out from behind the clouds by mid-morning Wednesday and Woods used the time to get in nine holes of practice. He spent it playing only the back nine, and then after a quick interview, headed for the driving range followed by a session on the putting green.
Woods is the points leader after the first three playoff events that trimmed the field to a final 30 players. He won the last one, the BMW Championship, by eight shots, his sixth PGA Tour victory in a year that featured no major titles, but months of remarkable consistency. Given that it all comes in the wake of knee surgery that cost him the last half of 2008 and the beginning of 2009, Woods has already said this season ranks as one of the best of his career.
In 16 events, he has 13 top 10s and tied for 11th at the Deutsche Bank. If you take out his early loss at the Match Play Championship, the only other stroke play event where Woods finished out of the top 10 was when he missed the cut at the British Open.
His numbers add up to something special, even when they're not all about prize money. Holding down the No. 1 spot in the Official World Ranking, Woods' lead is 8.0 points over No. 2 Steve Stricker, and there is not eight points difference between Stricker and the last player in the rankings. Woods' scoring average of 68.06 is the best on the PGA Tour, and it's nearly a shot and half better than Stricker
Furthermore, Woods' six wins -- from Congressional to Firestone to Cog Hill -- came on some of the tour's toughest courses.
"I think that if you look at this year, I've won on some pretty good golf courses against some pretty good fields, and that's something that I've always been proud of, [plus] if you can beat some of the tougher fields of the year," Woods said.
"Obviously, not winning a major, those are the best fields that we get, but outside of that, most of my victories came at some of the more difficult golf courses and more of the top players played in some of the tournaments [I won]."
And, if you want to think about it, you'd better watch Woods closely this week at East Lake, because you're not going to see much more of him the rest of the year. The Tour Championship is his last PGA Tour event of 2009. He plays the Presidents Cup in two weeks at Harding Park in San Francisco, but other than the off-season event he hosts in December in Thousand Oaks, Calif., the Chevron World Challenge, Woods is through with official, regular-season PGA Tour events as of Sunday night (Woods is also playing the HSBC Champions in China in October and the Australian Masters in November).
Meanwhile, there is pressing business to handle. Piles of money are stacked up this week at East Lake, ready to be passed out. Last place is worth $112,000, but Woods has set his sights much higher.
"There are a lot of things at stake this week," he said.
But if he finds himself with a putt to win the Tour Championship, the FedEx Cup, and an obscene amount of money, Woods insisted all he'll be thinking about is that putt rolling into the hole.
"You've seen me play enough," he said. "I kind of get into the moment of playing and I get into my own little world and my own little zone. And I think that's just how I've always played. I get into my own little world and my intensity just allows me to kind of go there."