News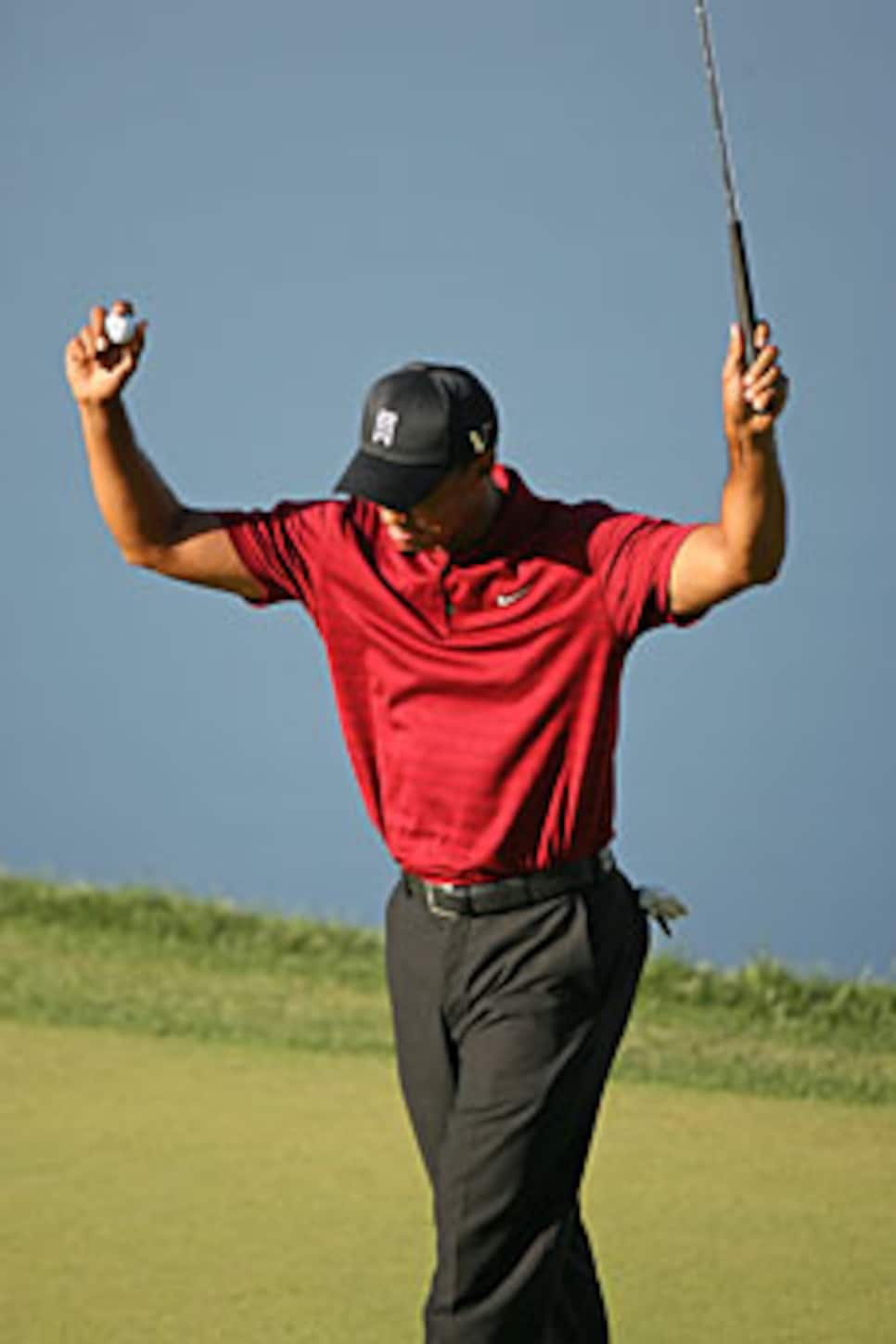 Even if Tiger Woods has had plenty of opportunities to celebrate this year, that doesn't make 2009 one of his best seasons,
If greatness can be measured by the ridiculous expectations that come with it, Tiger Woods is the greatest golfer ever. Jack Nicklaus never dealt with half the negative repercussions Woods faces when he goes three or four starts without a victory, and though Nicklaus' 19 runner-up finishes in major championships are looked upon as a tribute to his resiliency, Tiger gets hammered pretty hard when he fails to close the deal.
Appraising Woods' performance objectively over any length of time can be a tricky proposition. Never has it been tougher than in 2009, a year in which Eldrick Almighty has won six times but went majorless for just the fourth time in his 13 seasons on the PGA Tour. Coming off the major knee surgery that sidelined him for the second half of 2008 and the first six weeks of '09, nobody knew what to expect, and in that respect, Woods' comeback has been an unabashed success.
After last week's eight-stroke triumph in Chicago, Tiger was asked if he considered this one of his best years ever. "Absolutely," he said. "There's no doubt about that. I haven't won as many times as I did in 2000, didn't win any majors, but I've never had a year where I've been this consistent [and had] this many high finishes. There were so many question marks at the beginning of the year. The work I've put in with my trainers and [swing coach] Hank [Haney] to get to this point is something I'm very proud of."
There is absolutely nothing surprising about his answer -- Woods did not become one of the most dominant and mentally tough figures in sports history by viewing his accomplishments as a glass half-empty. Besides, six wins is awfully impressive, but one of his best years ever? With a nod to perspective, I'm not sure '09 even belongs in his top five.
Those six Ws fall right in line with Tiger's average victory total over the last five seasons, even if you include the injury-shortened '08, when he won four times in six starts. You have to go back to 2003, however, to find a year when Woods won five or more events without claiming a major title -- he contended only at the British Open in '03 and joined a host of big names who finished behind Ben Curtis.
That led to the transition year of 2004, when Tiger began working with Haney and took on substantial swing refinements, which resulted in a 3 ½-year stretch when he won six majors in 14 starts and 25 of 58 tournaments overall. To date, that extended period comprises the heart and soul of the Woods dynasty, as this ranking of his finest years will attest.
Nine victories in 20 starts, three of them majors, including the 15-stroke mind-blower at Pebble Beach and an eight-shot runaway at the British Open. Add the unforgettable playoff triumph over Bob May at the PGA and you've got the anatomy of the greatest year in golf history. Tiger finished outside the top five just three times all season, never worse than a T-23 at the Western Open, and played 76 of his 80 rounds in par or better. Any questions?
Six consecutive Ws to finish and eight overall, which trivializes the missed cut at the U.S. Open in Woods' first start after the death of his father, Earl. Included in that streak were his third British Open and third PGA, two World Golf Championships, and a furious front-nine rally in Boston to dust Vijay Singh, who had beaten him there two years earlier. Tiger led the tour in pre-cut scoring average, third-round scoring average and final-round scoring average. Those guys are usually tough to beat.
Seven wins and three seconds in 16 starts. Woods' scoring average (67.79) was the same as in 2000, and in his final 11 rounds of the season, his highest score was a 67. After failing to contend at the British, Tiger won four of his last five, including another PGA, to turn what had been a frustrating year (runner-ups at the Masters and U.S. Open) into one of his best.
His half-dozen triumphs included the Masters and British. Beat Chris DiMarco in a playoff at Augusta -- that was the year Woods holed the chip from behind the 16th green. He missed two cuts, which has to count for something, and managed to play in six other tournaments without finishing in the top 10. The consistency wasn't quite where it is now, but after failing to win the money title in '03 and '04, TW passed $10 million in single-season earnings for the first time in '05.
Won the first two majors and five times overall, although Woods failed to win anywhere in his first five starts, prompting the original whispers of a "slump." Although no one knew it at the time, Tiger's mid-season dismissal of swing coach Butch Harmon would serve as the end of the first stage of his competitive dynasty. After winning the U.S. Open at Bethpage, TW went 34 months between his eighth and ninth major titles.
Only at this point does 2009 receive serious consideration. Woods missed the cut at the British and struggled with his putter at the other three majors, the last cold spell leading to the first squandered 54-hole lead of his career. His only finish outside the top 10 at a stroke-play event occurred when Woods ended up T-11 in Boston, but his putter cost him a chance to win in Charlotte, then again four months later at the first FedEx Cup playoff gathering.
One could make a case that 2008, surgery and all, was better than '09. Tiger won four of six, finished a distant second at the Masters and fifth at Doral. The U.S. Open triumph on one leg was as legendary as anything he has ever done, although winning a national championship by 15 isn't bad, either.
A decade from now, we may look back on '09 as one of the most important years of Tiger's remarkable career. Not just because of the successful return from knee surgery, but the likelihood that he'll finish in the top half of the tour in driving accuracy for the first time since 2000. Woods has hit just under 65 percent of his fairways in 2009 and currently ranks 75th overall.
Both numbers are a dramatic improvement from recent years. The putter won't stay cold forever, and if Woods keeps driving the ball the way he has in '09, Nicklaus' all-time mark of 18 major titles won't stick around a whole lot longer, either.