News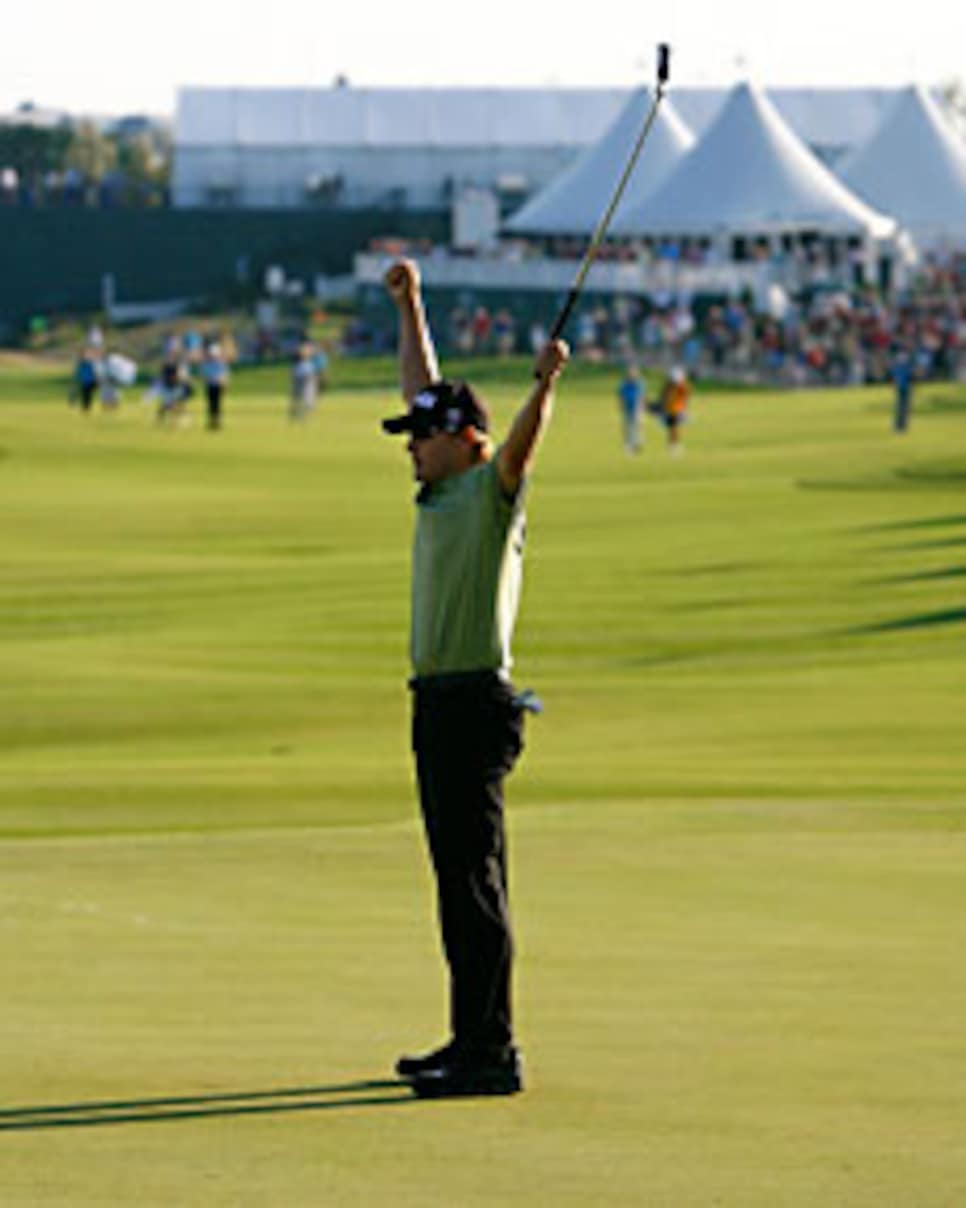 "I expect things out of myself that maybe others don't," Heath Slocum said.
NORTON, Ma. -- Thinking of himself as a wildcard team that just advanced through the first round of the playoffs, Heath Slocum arrived for pro-am day at the TPC at Boston believing he could win it all. The swag was not from his visit to Calvin Klein in New York City, where he was fashionably late for his meeting with the clothing designer. It was from the shot of confidence still running through his body after running in that 20-footer across the 18th green at Liberty National, destroying all hopes of an epic FedEx Cup playoff that would have put Slocum in the ring with Tiger Woods, Padraig Harrington, Ernie Els, and Stricker. "It's going to be hard for me to expect more from myself than I already have," Slocum said. "I expect things out of myself that maybe others don't."
Meanwhile, Tiger was on the grounds under a red sky dawn, trying to figure out how he could win the next two FedEx Cup events, starting with the Deutsche Bank Championship, and not win it all. If the PGA Tour wanted volatility, it got it. While Woods was answering questions about his putting and the comeback of Tom Brady from similar ACL surgery, Slocum continued to slide under radar even after jumping 121 spots in the point standings, ahead of everyone except Woods and Stricker.
"You know, we talked about it among the players," Stricker said Thursday. "We don't know what the right answer is. I think you can debate that until you're blue in the face if you want."
While others debate the point system, Slocum will keep trying to push forward, like five NFL wildcard teams have to win the Super Bowl, like four Major League Baseball teams have since Tiger's first pro season in 1997, including the Red Sox in 2004. On paper, this TPC could look like another green monster for Slocum, who hits 70 percent of his fairways but not many tee balls into the go-zone. While he's surprised playing partners since going to the new Ping G-15 driver, Slocum still ranks 99th on tour in driving distance.
His caddie, former University of South Alabama teammate D.J. Nelson, hits it farther, but even on long courses -- and tee balls were plugging at Liberty National that measured over 7,400 yards -- Slocum has been known to have his days. He opened with a 64 last year at the Deutsche Bank and hung around the top 10 until a 74 on Sunday.
Now he's thinking like Eli Manning, the Giants quarterback and MVP of the 2008 Super Bowl. "I'd like to, maybe in a month down the road, see my name still way up there, and maybe going into the Tour Championship have a chance on Sunday to win it all. I mean, that's what we're here for, if you've come this far now. I've gotten off to a great start and gotten myself in the mix, so (let's) just see what the next three weeks have in store for me."
Just on story value alone, Slocum is deserving of more attention and respect than he's been getting. Ignored by all the SEC schools, out of golf for two years with a crippling form of ulcerative colitis, weighing all of 150 pounds in a land of giants, he slay more than the big names last Sunday in New Jersey. Yet when he walked through Manhattan, and had a picnic in Central Park with pregnant wife Victoria and baby daughter Stella, there was not a soul that asked him for an autograph.
The background is pretty well known: Wins three times on the Nationwide Tour in 2001 to earn that circuit's second battlefield promotion. Father Jack is a golf pro who caddied for him in his second win, at Jackson, Miss., not far from where he grew up in the Florida Panhandle. But what are missing are the lost years of 1997-1999. While Woods was capturing a Masters title and the public's imagination, when he was down to 122 pounds because of colitis and couldn't get up off a couch.
Before Barclays he would always get third billing among the boys from Milton, Fl.; behind folk heroes like Boo Weekley and the long-hitting Bubba Watson, it wasn't hard for the quiet pro to get lost in the grind. As can be imagined, when he and Weekley represented the United States at the 2007 World Cup in China, it was Boo who got all the press while Heath just kept hitting the shots in a respectable second-place finish.
His sports psychologist, Dr. Gio Valiante, has said that Slocum's mental strength is comparable to Woods'. "If you see how much this guy gets out of what he has," Valiante said from his office at Rollins College on Thursday. "And for him to stay out there eight years and get better every single year, to be 150 pounds and not a gifted ball striker and do what he's done, is why he's the model for the junior golfers I teach."
Valiante's book, Fearless Golf, is the result of a research project that involved over 125 interviews, where he talked to everybody from Jack Nicklaus and Arnold Palmer down to Heath Slocum. Asked seven years ago what modern-day golfer was most wired like Ben Hogan, Valiante replied Slocum. "For the purity of his motivation, the professionalism in how he goes about it," Valiante reiterated, adding that Slocum is "the antithesis of the golf academy kid."
The victory guaranteed a spot in the Tour Championship, which guarantees spots into majors, and puts him on the edge of Presidents Cup consideration. His two victories prior to the Barclays were second-tier events, but sitting in his hotel room Sunday night in Manhattan, after putting Stella to bed, Heath and Victoria started to realize the doors that had opened in their lives.
"You just never know when lightning is going to strike and when it's going to be your turn to have a putt to win a golf tournament," Slocum said. "The bigger tournaments you get into, the bigger tournaments you have a chance to win."