News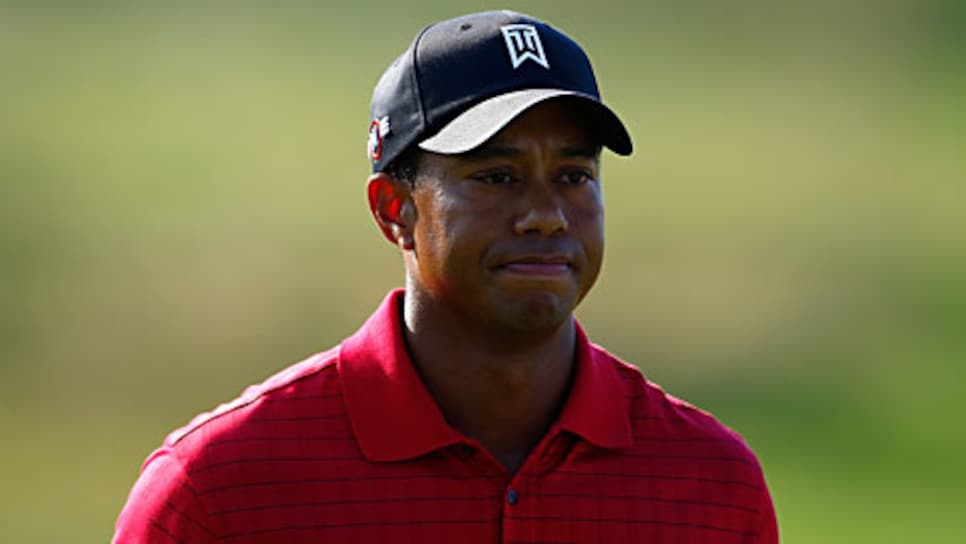 After misreading a putt that cost him a possible victory, Woods' frustration left him speechless.
JERSEY CITY, N.J. -- By the fourth hole Sunday, Tiger Woods was muttering to himself. Woods had just left a 28-foot birdie putt three feet short, the gallery had let out a collective groan, and the frustrated player was now reduced to his own internal monologue.
Just a guess, but he probably wasn't wondering whether he could come back to play in the member-guest.
No, it's safe to assume Tiger Woods will never return to this architectural curiosity known as Liberty National Golf Club, a converted landfill that he resisted from the first tee shot of his Pro-Am round Wednesday straight through to his 7-foot birdie putt on the 72nd hole Sunday evening.
Had the putt fallen, Woods likely would have found himself in a sudden-death playoff, if not winning the tournament outright. Instead, a birdie attempt that both Woods and caddie Steve Williams read as inside right dove left at the last moment. Woods stared blankly, walked toward his ball, then stared blankly again. Muttering to himself earlier in the day, now he was speechless.
Later, after it was official that he had lost the FedEx Cup playoff opener by a shot to the 124th-seeded Heath Slocum, Woods was asked what he thought of The Barclays returning to Jersey City. Woods smiled faintly. He offered no words in return. Someone else would have to provide the blurb for the membership brochure.
Of the countless reasons the 33-year-old Woods is the dominant player of his generation, one shouldn't discount how he can play 72 holes on a course that he'd happily see converted into a shopping mall and still only lose by a single stroke. For any other player, such disdain often amounts to two rounds over par and a plane ticket home on Friday. And yet even here, the disparity in two players' attitudes toward the golf course may have had more than a small role in the outcome.
Because if Woods this week looked as if he'd rather be co-hosting "The View" than playing here, Slocum was happy to be anywhere with tee markers and flagsticks. Ranked 197th in the world heading into the tournament and needing a favorable confluence of outcomes at the Wyndham Championship just to earn a berth in the playoffs, he showed up at Liberty and immediately made himself at home.
"He liked it right from the start," Slocum's wife, Vicky, said. "He said it felt like a links course."
Most important, it felt like somewhere he could play. For all of its quirky slopes and artificial flourishes, Slocum also saw Liberty rewarded an accurate hitter such as himself. And he knew there was no sense in being picky.
"I told [caddie D.J. Nelson], 'This is our favorite course this week,'" Slocum said. "That's what we typically do."
So Slocum put his head down and played. After opening with a 66, he started the final round four shots off the lead. There were some breaks along the way -- a holed 7-iron from 159 yards for eagle on the par-4 fifth, then his unlikely 20-footer for par on 18 that clinched the win. But positive vibes can come back to you in funny ways. Just as negatives ones can as well.
"I heard some grumbling this week," said Slocum's playing partner Steve Stricker, who missed his own 10-footer for par on the 72nd hole that would have forced a playoff. "I'm sure you all have. You better be going out there with an attitude that you can still play well here. That's what my attitude was."
Rare is the golf tournament in which a winner is predicted on Tuesday. In a way, that may have happened here. Asked which player Liberty National favored, the defending Barclays champion Vijay Singh said it was the "player who just doesn't worry about what the golf course is and just plays each shot at a time."
That player turned out to be Slocum, seeded 124th in these FedEx Cup playoffs when the week began, now in third place heading into Week Two. It was not Tiger Woods, who after missing his potential tying putt and tending to his post-round obligations, walked out a side door of the clubhouse at Liberty National with security guards at his side and a phone at his ear.
The world No. 1 never looked back. And he probably never will.