News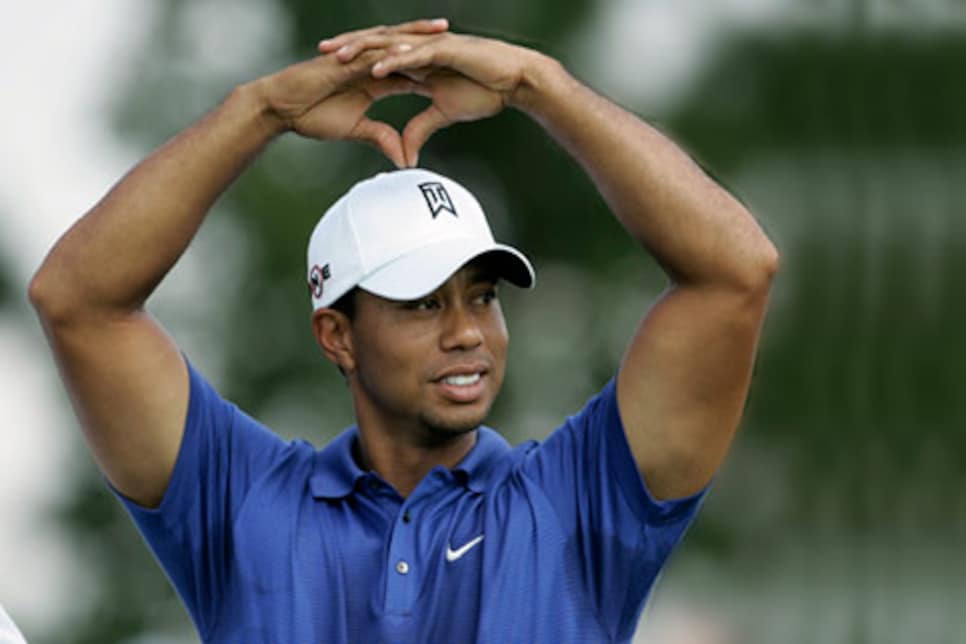 For the first time, it appears Woods will play in all four FedEx Cup events.
JERSEY CITY, N.J. -- He had a fairway stretched out before him and the Statue of Liberty peeking over his shoulder, but at this moment, Tiger Woods was busy talking basketball. Something about the salary cap, and a team needing one more piece to complete the puzzle -- all the idle tee-box musings of a man who pays more than fleeting attention to the NBA.
There is an irony in there somewhere that on the eve of the first event of the PGA Tour's FedEx Cup playoffs, golf's most recognizable figure was preoccupied with a sport that is two months away from training camp. But don't read too much into it. Woods is at least here at The Barclays at Liberty National Golf Club, and in the three-year history of these curious playoffs, that may go down as the biggest upset of all.
In nearly any other context, a question about why a golfer has chosen to play a tournament that could eventually result in the rewarding of $10 million is not unlike asking a starving man why he just had a bite of a sandwich. With Woods on Wednesday, though, it was a question worth asking.
"I want to play," a circumspect Woods said. "I qualified."
Well, yeah. But Woods also qualified for the playoffs two years ago and he still thought enough of Tim Finchem's new brainchild that he took the first week off, putting the tour's much-hyped format on the defensive before the first ball was even in the air. The fact that he went on to win the FedEx Cup and the $10 million that went with it only seemed to undermine the whole thing even more.
But now, after missing all of the 2008 playoffs because of knee surgery, he is here -- plodding his way through a Pro-Am round, taking in the views of the Statue of Liberty and the occasional oil refinery, trying to contain a chuckle when asked his opinion of a layout that is only a few years removed from its heady days as a land fill.
"It's interesting," Woods said.
"It's interesting," Woods repeated.
No elaboration was necessary. Woods isn't here for the golf course anymore than he's here to sign photos of Y.E. Yang hoisting the Wanamaker Trophy. And yet he's here for something. Maybe it's a chance to end his season on a higher note than where he left off with Yang at Hazeltine. Or perhaps, as he indicated Wednesday, it's a chance to finally put his weight behind a tour endeavor that needs his support more than ever.
"Granted, you want to help out and you want to help the tour, especially the way our economy is going," Woods said. "Our tour is coming up -- some of the contracts are coming up and you want to support it. I certainly couldn't do that at the beginning of the year. I was just hoping not to hurt myself at the beginning of the year."
But Woods, in the midst of a stretch during which he will likely end up playing seven tournaments in nine weeks, is in a position to help now. It likely wasn't as pressing a concern two years ago, when days before the start of The Barclays, Woods issued a release saying he wouldn't be coming. But that was in a different economy, and of course, it came on the heels a commanding but draining PGA Championship win at Southern Hills.
And that's the other part to consider. Woods has no such major championship to point to in 2009. As much the tour might like to position the FedEx Cup as a chance for players to salvage their season, the reality is these four playoff events do have more relevance than ever before. With Woods' five wins this year pitted against four players who each claimed major championships as their only wins of the season, the playoffs may indeed be a tiebreaker in the Player of the Year race.
Had Woods held off Yang at Hazeltine, it wouldn't have even been a debate. But an unintended consequence of his historic loss that Sunday was that it injected new life into the end of the season.
"That night was tough, no doubt," Woods said of the PGA. "It was disappointing I didn't win, especially since I was hitting it so well on Sunday. But it's just like golf, you move on to the very next week."
In other words, his loss may have been a lot of other people's gain. Woods might be here to help the tour or he might just be here to help himself. The point is that he's here. Compared to two years ago, that's a much better place to start.