News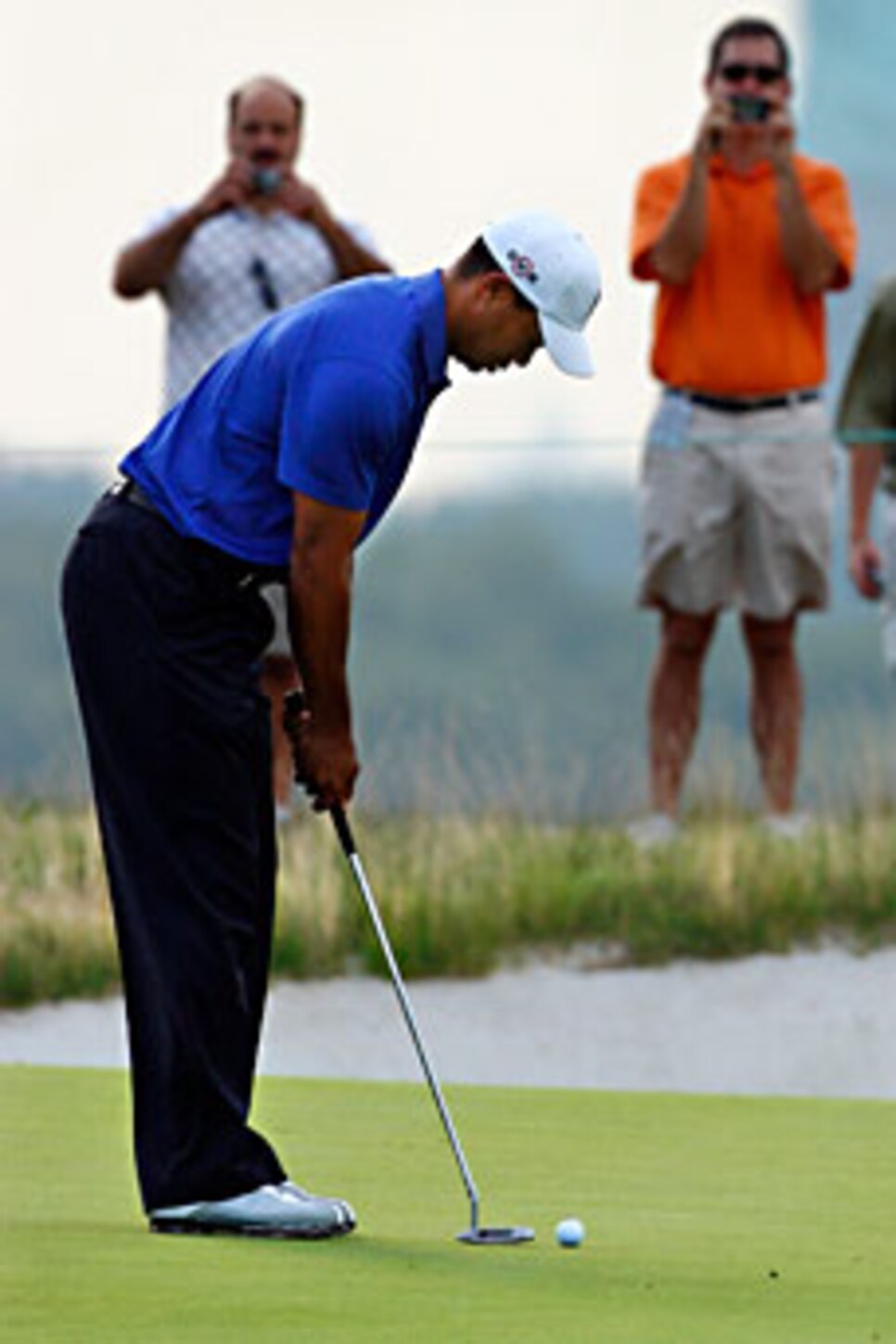 Putting has been the main thing holding Tiger Woods back from winning a major this year.
JERSEY CITY, N.J. -- The stretch run begins this week for Tiger Woods at the Barclays, which kicks off the Fed Ex Cup playoffs and will also showcase the last appearances of Woods in official PGA Tour stroke play events this year in the U.S.
If he plays all four tournaments of the Fed Ex Cup, Woods would wind up with 16 PGA Tour events -- about average for him. But his schedule would also be heavily back-loaded, with nine tournaments in 12 weeks.
Woods' swing coach, Hank Haney, said there's still plenty in Tiger's tank.
"Tiger works so hard and takes care of himself, he can pace himself, so I think he's going to be fine," Haney said.
Woods is coming off a disappointing runner-up finish at the PGA Championship, where he lost a fourth-round lead in a major for the first time and was defeated by Y.E. Yang. Missing out on a major that was in his sights isn't something Woods usually does, but Haney said his client held up well in what was an uncertain year coming back from reconstructive knee surgery.
"He's had a good year, won five times coming off ACL surgery. It's fairly obvious, since Memorial, he's not been bad. He had one bad six-hole stretch at the British or he might have had a chance to win all four majors.
"You have to be realistic, too. Sometimes, at majors, there are people who just play really good. It's hard to win major championships. I guess that Tiger was going to win 45 majors and only finish second three times or something. Jack has the greatest record ever and he was second 19 times. Wouldn't you think that their (Woods' and Nicklaus') records would be somewhat similar?
"He's awfully good at not letting things bother him."
But Haney has reacted strongly to the criticism of Tiger's game this year.
"Have you checked his record lately?" Haney said. "If he hadn't done better, then I could see criticism, but the record is very clear. Some people in the media know more than Tiger Woods. I don't know how that's possible. The only person I have to please is one person. If people would just examine the record."
Woods has won 32 times in 71 events worldwide since 2005, when he hooked up with Haney and has been second 14 times.
"How can you win five times this year, play only the hard courses, lead in scoring average and not be hitting the ball well?"
Mark O'Meara, who helped put Woods with Haney, said there's no doubt that Haney has positively influenced Woods. "He's played a major role for Tiger to be where he is," O'Meara said. "Whether Tiger could have done that without Hank, I'm not sure."
O'Meara also said it's not unexpected for Haney to hear some criticism, because Woods and those in his camp are under constant scrutiny.
"It's always difficult when you teach the No. 1 player in the world, he doesn't win a major, you're going to get some criticism. If you want to be at the top, you have to take the heat. Hank is a very black and white guy. It's his way or the highway. But with fame and glory comes criticism. Tiger gets criticized a lot. You never see him go off."
Haney said he would rather talk about Woods and his five wins in his comeback from knee surgery.
"And the year's not over yet," he said.
But the majors are over and Woods was 0-for-4.
"He puts more emphasis on major championships, everybody knows, but sometimes they don't go your way. Despite all the emphasis on ball-striking, the difference was in putting. He's had a lot of good putting weeks, just didn't have them at the majors."